Australians warned of 'bonanza' of deadly funnel-web spiders after flash floods
Recent weather provides 'perfect conditions' for arachnids to thrive
Andy Gregory
Wednesday 22 January 2020 15:08 Comments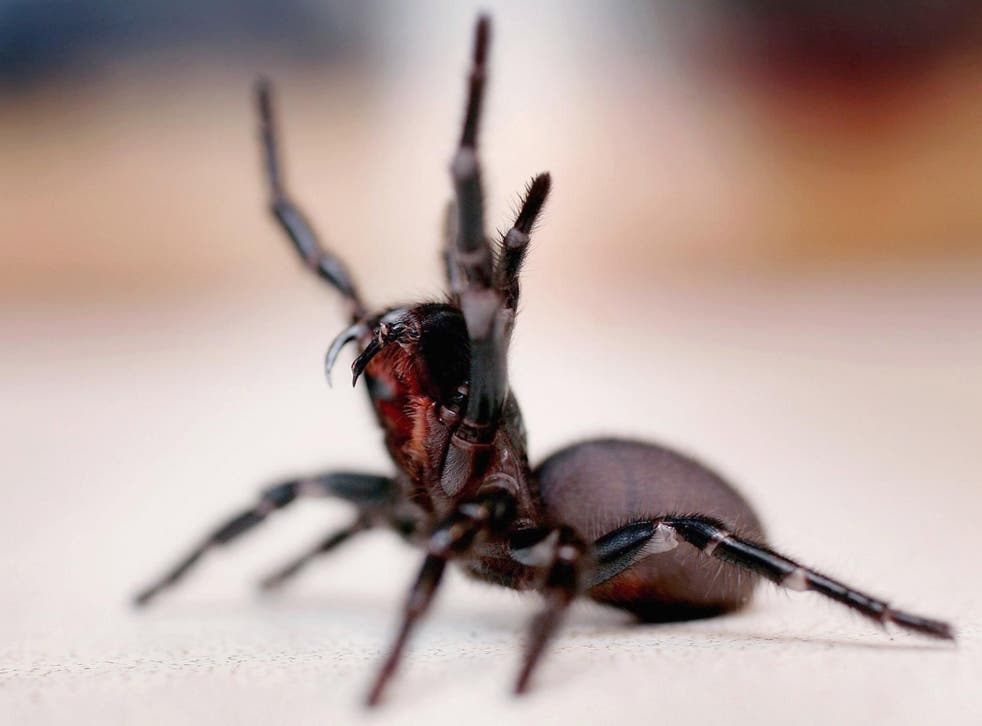 Australia's recent deluges brought some much-needed relief to the devastating bushfires ravaging the country, and saw several drought-stricken areas experience rainfall for the first time in nearly a year.
But in addition to causing destructive flash floods which damaged homes, businesses and left two people injured, wildlife experts are now warning that the weather poses a new threat.
Residents of New South Wales have been warned to expect a "bonanza" of funnel-web spider sightings in the coming days.
The downpour and hot days that followed have provided perfect conditions for what is regarded as the world's most venomous spider, the Australian Reptile Park said.
Spider season has arrived later than usual this year due to the dry conditions, but the funnel-webs' mating season has now begun. Males, which are six times more venomous, tend to go looking for a female mate on more humid nights, while increased rainfall can also flood their their nests.
Australia fires: Dust storm and flooding that followed

Show all 20
"Funnel-web spiders are potentially one of the most dangerous spiders on the planet, in terms of a bite towards humans, and we have to treat it very seriously," said Daniel Rumsey, the park's head of reptiles.
While raising awareness of the dangers, Mr Rumsey also encouraged adults to capture the arachnids, if they felt able, and to bring them to the park.
The park can use the venom from live spiders to create antidotes, and since its programme began in the 1980s there have been no deaths caused by funnel-webs.
While dangerous, they're "very, very easy to catch", which can be done using a long spoon and jar, while keeping your hands at a safe distance of around 15 centimetres away.
"Because they're a ground-dwelling spider, they can't climb smooth surfaces like plastic or glass," Mr Rumsey said, and thus they can be transported in a jar, preferably with a some damp cotton wool to stop them from drying out.
The reptile park has likely only recently dried out itself – gaining global media attention last week after it was struck by severe flash floods.
Viral footage showed zookeepers rescuing sodden koalas and mopping a flooded visitor's centre, while others used brooms to keep alligators at bay as the water levels within their enclosure appeared to be on the verge of letting them escape.
Register for free to continue reading
Registration is a free and easy way to support our truly independent journalism
By registering, you will also enjoy limited access to Premium articles, exclusive newsletters, commenting, and virtual events with our leading journalists
Already have an account? sign in
Join our new commenting forum
Join thought-provoking conversations, follow other Independent readers and see their replies