Australia's political soap opera reignites as Julia Gillard claims Kevin Rudd tried to physically intimidate her and he accuses her of betrayal
The former PMs were speaking in a documentary that underlines the desire of both to protect their respective legacy and enshrine their own version of history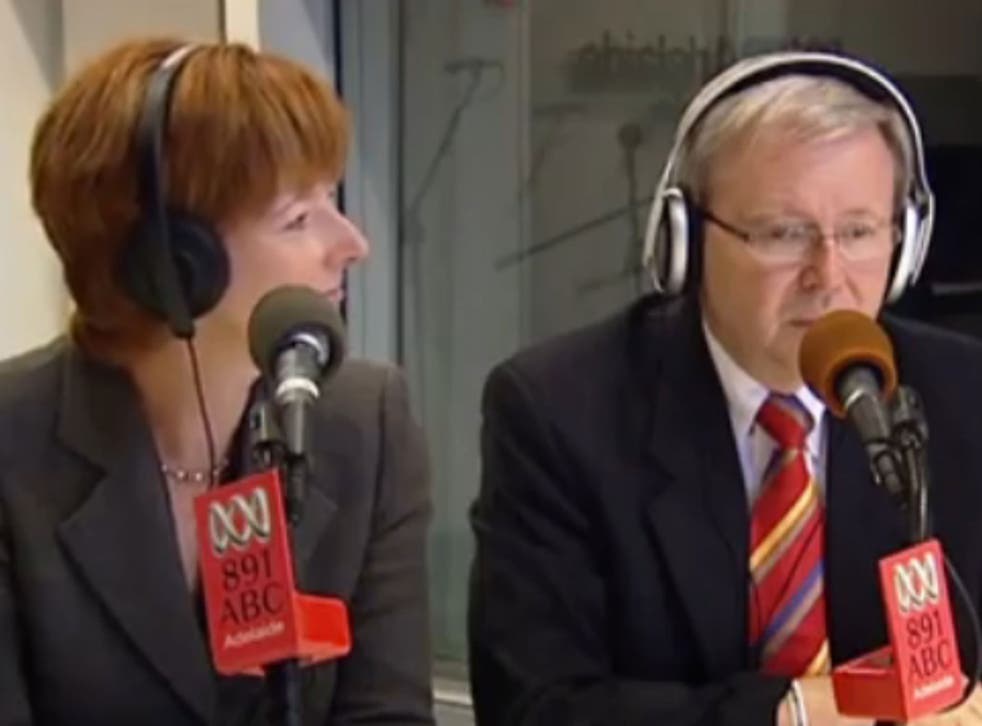 For three years, their serial backstabbing created a gripping soap opera that overshadowed Australian politics. Now the poisonous feud between Kevin Rudd and Julia Gillard has been reignited by a documentary in which she claims he tried to physically intimidate her and he accuses her of rank betrayal.
For the public, it all began when Ms Gillard – hitherto regarded as Mr Rudd's loyal deputy – ousted him in June 2010, becoming Australia's first female prime minister.
But three years earlier, she relates in the documentary, they had a deeply unpleasant encounter after she clashed with him at a tactical meeting ahead of a parliamentary Question Time.
At the time, the Labor Party they led was still in opposition. Mr Rudd, according to Ms Gillard, was "always very anxious to strut his stuff at Question Time". After the meeting, he "very physically stepped into my space, and it was quite a bullying encounter… It was a menacing, angry performance."
"Utterly, utterly false" is Mr Rudd's response to the claim. On the contrary, he tells journalist Sarah Ferguson, who made the three-part series for ABC TV, there were "never" any sharp words between him and Ms Gillard – not even on the night she walked into his Canberra office and told him she planned to take his job.
Party powerbrokers had decided that Mr Rudd, elected in 2007, could not win the election that was due later in 2010. He never forgave Ms Gillard, and his supporters waged a destabilisation campaign that culminated in him staging a counter-coup in 2013. Labor lost the subsequent election to Tony Abbott's conservative coalition.
In the first episode of the series, to be broadcast next Tuesday, Ms Gillard claims she had no choice but to oust her boss, citing the "decision-making chaos" that many have said characterised Mr Rudd's government. She also calls him psychologically "frail", with a perpetual need to be at the centre of attention. Mr Rudd, for his part, recalls that night of the long knives in 2010, apparently more in sorrow than in anger.
"I didn't believe that she would do that until that point," he explains. "I said to her repeatedly: 'But Julia, you're a good person. Why are you doing this?'"
Did her coup against him hurt? You bet. "I'm a human being," replies Mr Rudd. "I sleep, I dream and, as a result, a lot of these things come back in more vivid ways than either of us would like."
The most painful memory, he adds, is of "the active sense of betrayal. Betrayal by people who were very close to you. Betrayal by people you thought you could trust."
The documentary underlines the desire of both former leaders to protect their respective legacy and enshrine their own version of history. Their main legacy, though, is the precedent they jointly set of unseating a serving prime minister – one that has already seen Mr Abbott face an attempt by his own party to replace him, albeit unsuccessful.
Register for free to continue reading
Registration is a free and easy way to support our truly independent journalism
By registering, you will also enjoy limited access to Premium articles, exclusive newsletters, commenting, and virtual events with our leading journalists
Already have an account? sign in
Register for free to continue reading
Registration is a free and easy way to support our truly independent journalism
By registering, you will also enjoy limited access to Premium articles, exclusive newsletters, commenting, and virtual events with our leading journalists
Already have an account? sign in
Join our new commenting forum
Join thought-provoking conversations, follow other Independent readers and see their replies