Australia's stolen generation: 'To the mothers and the fathers, the brothers and the sisters, we say sorry'
Today marks a historic apology by the Australian government to its Aboriginal community for years of estrangement, lies and abuse. But while the official admission of guilt is welcomed, the question of compensation still remains. By Andy McSmith and Christopher Finn
Wednesday 13 February 2008 01:00 Comments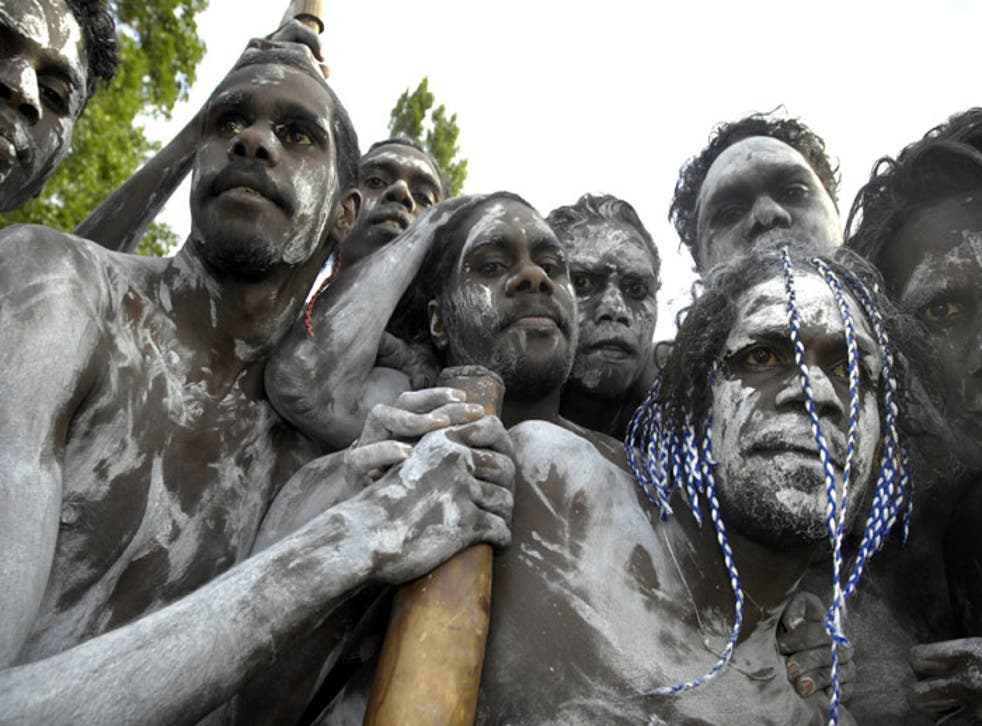 It has been a long time coming, but at last Australia has said the word its Aboriginal population wanted to hear. It was uttered three times, early this morning, when the new Prime Minister, Kevin Rudd, addressed the Australian Parliament. That word was "sorry".
For years, Australians have agonised over the fate of about 100,000 Aborigine children who were taken from their families because the government believed that their race had no future and they would be better off being brought up in white society.
Yesterday, as Australia's Parliament returned from its summer break, its formal opening was turned into a ceremony designed to draw a line under one of the nastiest episodes in Australian history and usher in a new era of "mutual respect".
If nothing else, it made for one of the most colourful starts to any parliamentary session, as thousands of Aborigines poured into the capital, Canberra. Kirstie Parker, the managing editor of the Aboriginal newspaper the Koori Mail, said she found the apology "very moving".
Though they have now had the satisfaction of an official admission that they were wronged, it is still a vexed question as to whether the victims are to be compensated. Only one has been so far. Bruce Trevorrow was 13 months old when, on Christmas Day 1957, his father, Joseph, asked neighbours to take him to hospital in Adelaide for treatment for stomach pains. When he arrived, it was recorded that he had no parents and he was handed on to be fostered by a white couple. This information was deliberately withheld from his parents, and he never saw his father again. He was reunited with his mother at the age of 10. Trevorrow won a court judgment that his alcoholism, depression and inability to hold down a job were attributable to his having been "stolen" as a child, and he was awarded A$525,000, about £240,000. His case was unusual because the lies told to his parents had been set down on paper and were retrieved from the files.
Tasmania has set up a £2.2m fund to compensate 106 former victims, but none of the other Australian states has declared a willingness to pay. Mr Rudd has rejected calls for a A$1bn fund to be set up at national level. "Aboriginal people ... feel that compensation is an absolute possibility, notwithstanding the Prime Minister's vehement statement about not considering it," Parker said. The Australian Greens are also backing the case for restitution. Their leader, Senator Bob Brown, told journalists: "With the statement of sorry, there have to be reparations."
Arguments about the "stolen generation" have dominated Australia's media for weeks. The former prime minister John Howard consistently refused to apologise, fearing that if he did he would open the floodgates to litigation. He argued that the present generation should not be held responsible for past wrongs, and refused to support what he called the "black armband" view of Australian history. He was conspicuously absent from yesterday's ceremony.
Dr Brendan Nelson, who succeeded Mr Howard as leader of the defeated Liberal Party, warned: "These calls for compensation will seriously undermine the goodwill of good-hearted Australians who are prepared to go along with this apology, if not enthusiastically support it."
About 100,000 Aboriginal and mixed-race children were forcibly removed from their parents between 1910 and the 1970s, under federal and state laws designed to integrate the children into the mainstream and eventually "breed out" their colour. They grew up in orphanages, church missions or white foster homes, where many were physically and sexually abused or used as unpaid labour. Often they never saw their families again.
Ten years ago a task force funded by the Australian government wrote a report entitled Bringing Them Home, which found that many victims suffered long-term psychological effects as a result of their treatment. It recommended a formal apology and compensation.
Leonie Pope, now 36, was one of the lucky ones. She was fostered and then adopted by Neil and Gloria Pope, who lived in Brisbane before moving to Cwmbran, Wales, in 1972. The Popes proved to be loving parents, although they told Leonie that she had been abandoned at birth. In fact, her mother was tricked into signing an agreement stating that Leonie should be fostered, thinking that she was giving consent for an inoculation. She was later told that Leonie was dead.
Leonie learnt the truth about her origins in 2005. Having failed to find any record of her birth, she remembered being told by a nurse's aide that she was cared for in Mater Mother's Hospital, Queensland, before being fostered. She wrote to the hospital and they confirmed that a girl had been born there on 23 January 1972, which is her birthday, and gave her mother's name as Gladys Anderson.
Through an international registry, Pope then made contact with her sister, Rosemary Connors, who had spent 15 years trying to find her. Her sister sent her a black-and-white photograph of her parents, the first memento of them that Leonie had ever owned. Leonie first met her sister and four of her five siblings when she visited in Australia in January last year. She also saw her mother's grave and met her uncle, Jeffrey Dynevor, who had been the first Aborigine to win a gold medal at the Commonwealth Games, in 1963. All of her siblings were taken away from their mother.
Later in the year, Leonie moved to Brisbane with her husband, Michael, and children Joshua, Matthew and Ffion. She told BBC News Online yesterday: "I still feel as dumbfounded as I did on the first day that I found out [about the stolen generation], as to why they felt that it would work. I'm not sure [the apology] will bring me complete closure. It does create acceptance and healing, but I think the fight for the stolen generation still has a long way to go. From a historical point of view, it ... [is] a remarkable day in history."
Parliament reassembled yesterday with the unprecedented traditional welcoming ceremony staged by the Ngambri-Ngunnawal tribe. Their tribal elder, Matilda House-Williams, dressed in a cloak made from possum skins, sat alongside the Prime Minister. The ceremony, designed to welcome newcomers, was the government's way of admitting for the first time that the land on which Australia's capital was built was once owned by the Ngunnawal and was taken away, without compensation.
House-Williams described how a solitary Aboriginal man was forced to leave the old parliament building in Canberra 80 years ago. "I stand here before you in this same great institution of ceremonial dress, barefoot, honoured and welcome," she said.
Mr Rudd compared the event to the first opening of the Canberra parliament in 1927, when no indigenous people were invited. "Today we begin with one small step to set right the wrongs of the past ... It is a significant and symbolic step," he said. His 344-word statement was agreed by the Parliament after long consultation with Aboriginal elders and with the backing of both main political parties. It was Mr Rudd's first formal statement to Parliament since he was sworn in as Prime Minister in December, and fulfils a promise made by the Labor Party during its election campaign.
"We reflect on [the Aborigines'] past mistreatment," the statement said. "We reflect in particular on the mistreatment of those who were stolen generations, this blemished chapter in our nation's history. For the pain, suffering and hurt of these stolen generations, their descendants and for their families left behind, we say sorry. To the mothers and the fathers, the brothers and the sisters, for the breaking up of families and communities, we say sorry. And for the indignity and degradation thus inflicted on a proud people and a proud culture, we say sorry."
The statement promised "a future where we harness the determination of all Australians, indigenous and non-indigenous, to close the gap that lies between us in life expectancy, educational achievement and economic opportunity – a future based on mutual respect, mutual resolve and mutual responsibility".
Closing the gap could prove easier said than done given the appalling poverty, unemployment and ill-health of many of the 450,000 Aborigines, whose average life expectancy is 17 years shorter than the national average. Crime, drug addiction, alcoholism and infant mortality rates are also significantly higher among Aborigines, who make up a little over 2 per cent of Australia's population of 21 million.
Jenny Macklin, the minister for Indigenous Affairs, has said that investment to close the gap should take priority over compensation. "If we're going to improve the chances of an Aboriginal child born today, they need to have the same level of health services as any other Australian."
Michael Mansell, an outspoken leader of the National Aboriginal Alliance, said he was pleased with the wording of Mr Rudd's statement. "I think the stolen generation will be very relieved that that word [sorry] is finally being used, because, as we know, the previous prime minister refused," he said. "The fact that these words were used does indicate that the door is open for negotiations and we think there is a real possibility that compensation could come, during the passage of this year."
But Tom Calma, the Aboriginal and Torres Strait Islander Social Justice Commissioner, said: "It is not about black armbands and guilt. It is about inclusion and learning from the past. And, ultimately, it is about providing space in the telling of our national story for the stolen generation."
Register for free to continue reading
Registration is a free and easy way to support our truly independent journalism
By registering, you will also enjoy limited access to Premium articles, exclusive newsletters, commenting, and virtual events with our leading journalists
Already have an account? sign in
Join our new commenting forum
Join thought-provoking conversations, follow other Independent readers and see their replies