Unvaccinated children could be banned from attending preschool across Australia
Tough new measures proposed in a bid to get more parents immunising their children against diseases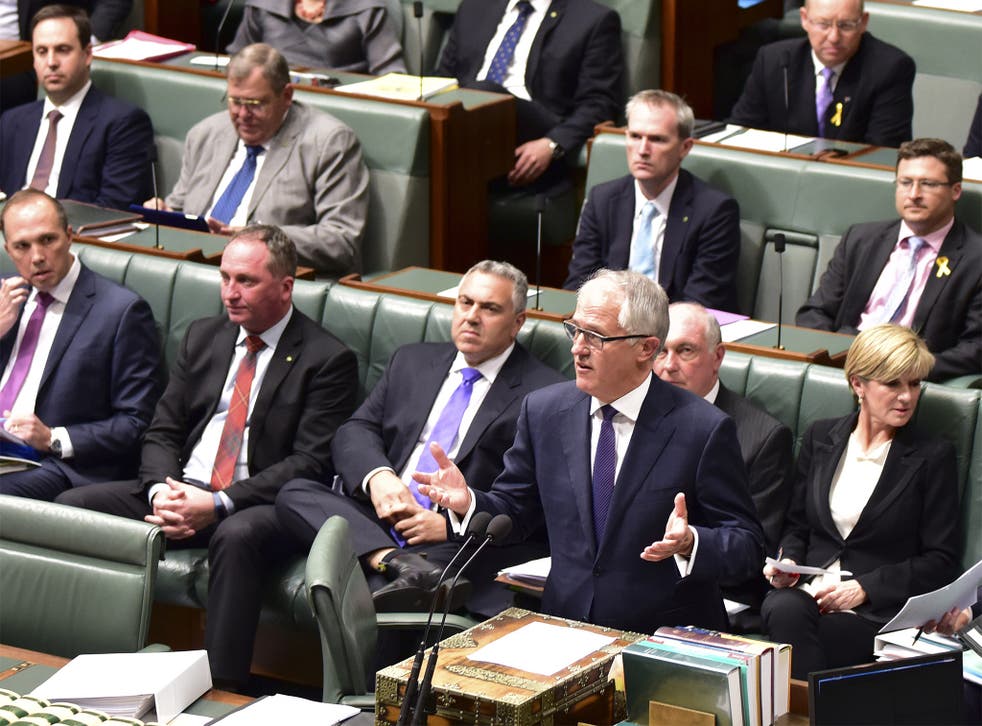 The Australian government wants to ban unvaccinated children from nursery schools across the country.
Prime Minister Malcolm Turnbull has written to state and territory leaders to push for nationally consistent laws to protect young children from disease.
Under his new proposal, the immunisation rates of all preschools and daycare centres would be made publicly available to parents, and the right to make a formal objection to vaccination would end.
Mr Turnbull said in the letter that he will take the policy to the next Council of Australian Governments (Coag) meeting.
He writes: "At our next Coag meeting I propose we agree that all jurisdictions implement legislation that excludes children who are not vaccinated from attending childcare or preschool, unless they have a medical exemption.
"Vaccination objection is not a valid exemption. We must give parents the confidence that their children will be safe when they attend childcare and preschool.
"Parents must understand that if their child is not vaccinated they will be refused attendance or enrolment."
Mr Turnbull told News Corp: "If you don't vaccinate your child you are not just putting their own life at risk but you are putting everyone else's children at risk."
The federal health minister, Greg Hunt, said the government's "no jab, no pay" policy of withholding family payments to parents of unvaccinated children was being supplemented by an "equally tough" policy of "no jab, no play".
"We want to work with all of the states and I'm very confident that they'll come on board," he told the Seven Network. "Ultimately it's about protecting kids against horrendous illnesses that are agonising and potentially in some cases tragic."
Senior Labour MP Mark Butler said the opposition was willing to sit down and talk constructively with the government on the issue.
"The AMA says that, next to clean water, this is probably the most important public health measure that a country can have," Mr Butler told ABC television. "We've said that we think there is also some need for consideration of a public advertising campaign at a national level, just to reinforce that public health message that the AMA is talking about."
Polio: iron lungs, leg braces and vaccination

Show all 8
The policy to increase vaccination rates was proposed after a public debate sparked by the leader of the right-wing, nationalist One Nation party.
Pauline Hanson was forced to apologise after she was criticised by the Australian Medical Association and others for suggesting vaccines were not safe and incorrectly claiming that parents could conduct their own tests to evaluate vaccination safety.
She told the ABC's Insiders programme that successive governments had "blackmailed" people into having their children vaccinated because Australia has a policy of withholding childcare fee rebates and welfare payments from parents who do not have their children fully immunised.
Mr Turnbull had attacked Ms Hanson's comments, which came a week before the Western Australian state election.
Her comments were denounced by both the Coalition and Labour, with Mr Hunt saying: "The clear and categorical advice from experts including the chief medical officer, based on decades of research and evidence, is that vaccinations save lives."
Additional reporting by Australian Associated Press
Register for free to continue reading
Registration is a free and easy way to support our truly independent journalism
By registering, you will also enjoy limited access to Premium articles, exclusive newsletters, commenting, and virtual events with our leading journalists
Already have an account? sign in
Register for free to continue reading
Registration is a free and easy way to support our truly independent journalism
By registering, you will also enjoy limited access to Premium articles, exclusive newsletters, commenting, and virtual events with our leading journalists
Already have an account? sign in
Join our new commenting forum
Join thought-provoking conversations, follow other Independent readers and see their replies