Australian asylum seekers sew their mouths shut in hunger strike protest at being moved to 'unsafe' accommodation
Manus Island detainees have 'real fears for their safety and lives'
Heather Saul
Wednesday 14 January 2015 17:36 Comments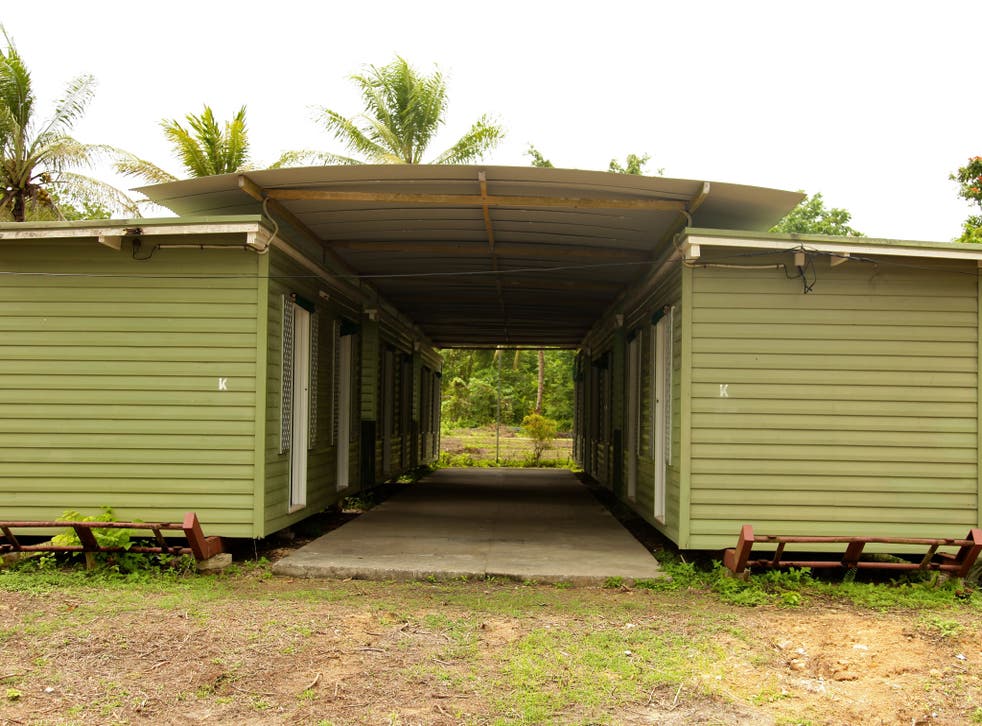 Asylum seekers in an Australian detention centre have sewn their mouths shut in protest at their conditions and over fears of being resettled.
The Manus Island detention centre in Papua New Guinea is used by Australia to process asylum seekers trying to enter the country, many of whom arrive there often in unsafe boats after paying people-smugglers in Indonesia.
Ian Rintoul, executive director of Refugee Action Coalition, said protests began this week after some detainees granted refugee status were informed they would be moved into new accommodation on the 22 January.
He said between 20 and 25 people have now sewn their mouth shut in protest at their detention and over fears for their safety in the new facilities, and claims one desperate asylum seeker even swallowed razor blades in protest at being resettled. His team are trying to find out their current condition.
A photograph obtained by the Reuters news agency shows what appears to be a detainee with his lips stitched shut. He says sources have confirmed others have followed suit and sewn their mouths closed.
The immigration department in Canberra denied hunger strikes, telling AAP no detainees are "involved in food and fluid refusal".
Mr Rintoul said the new accommodation in Lorengau town is insecure, unguarded and unfenced, leaving detainees exposed and vulnerable to attacks from local residents.
Manus Island is one of the poorest regions of Papua New Guinea and residents have repeatedly expressed anger at the prospect of refugees being resettled in a community already lacking jobs.
The detention centre was the scene of deadly riots in February 2014, in which one asylum seeker was killed and more than 70 injured after residents overran the camp, attacking detainees with makeshift weapons.
Many of the detainees have been held in the camps as long as 18 months and a technical problem has left them without running water, meaning they are unable to bathe.
Mr Rintoul told The Independent: "The whole situation has highlighted the fact that there is no viable settlement arrangement in Papua New Guinea.
"It was only a year ago when one person was killed – this is a very real issue. We had another incident on Saturday when people with machetes were gathering at the fences, threatening detainees and telling them: 'you won't be protected out here, we will kill you'."
"People there are now appealing to be handed over to the UN.
"There is no durable solution for them – some of them have been there 18 months now."
He told Reuters it is "impossible to exaggerate" the "real fears" that people being held at Manus Island have for their safety and for their lives.
The government claims the offshore camps have helped to remove the financial incentive for people smugglers, in the process saving hundreds of lives that might otherwise have been lost at sea in unsafe boats.
Senator Sarah Hanson-Young of the opposition Greens Party said it was clear that refugees inside the Manus Island dentition centre are suffering and "resorted to self-harm in an act of desperation".
A spokesman for Immigration Minister Peter Dutton did not respond to requests from Reuters for comment. The Independent has contacted the department of immigration and border protection.
Register for free to continue reading
Registration is a free and easy way to support our truly independent journalism
By registering, you will also enjoy limited access to Premium articles, exclusive newsletters, commenting, and virtual events with our leading journalists
Already have an account? sign in
Join our new commenting forum
Join thought-provoking conversations, follow other Independent readers and see their replies