Australian government paid people smugglers $30,000 to take asylum-seekers back
Prime Minister Tony Abbott praises border protection officials for 'incredibly creative' strategies in dealing with asylum-seekers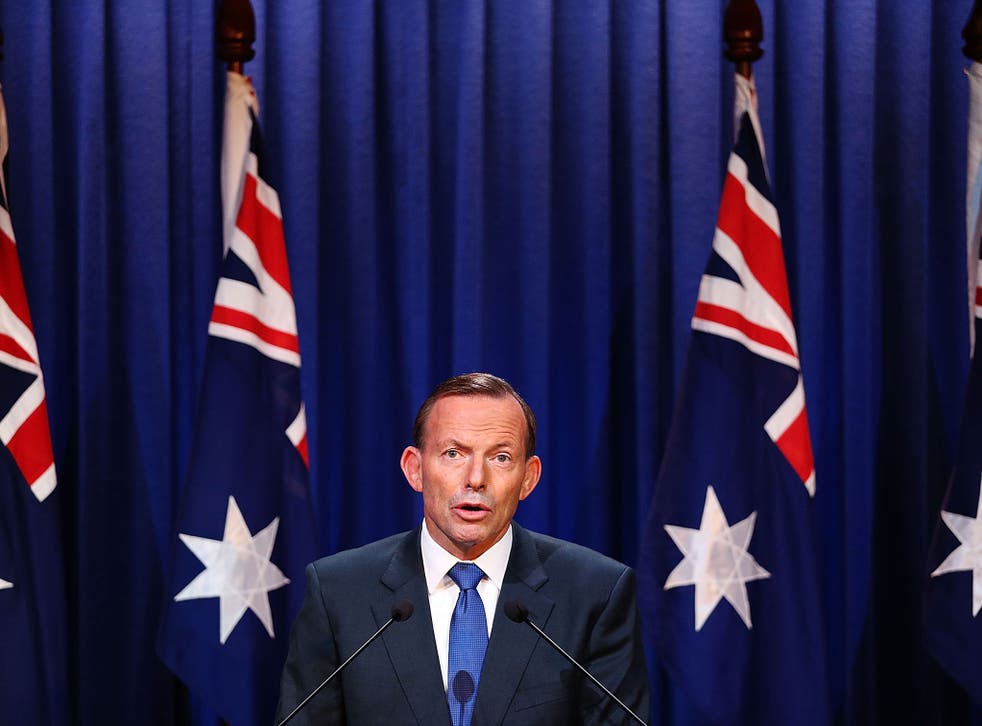 The Australian Prime Minister, Tony Abbott, stands accused of hypocrisy – and much else besides – after effectively admitting that his officials paid people smugglers US$30,000 (£19,368) cash to turn around and take a boat full of asylum-seekers back to Indonesia.
Questioned about the incident, which reportedly took place in the Indian Ocean late last month, Mr Abbott said his government was determined to halt the people smuggling trade "by hook or by crook", and that they were prepared to do "whatever was reasonably necessary" to prevent boats containing asylum-seekers from reaching Australia.
In a series of interviews yesterday, Mr Abbott also praised border protection officials – who patrol Australian waters in naval ships – for being "incredibly creative in coming up with a whole range of strategies".
The comments caused an uproar in Indonesia, where the government said such payments could constitute bribery, and in Australia, where the opposition Labor Party's immigration spokesman, Richard Marles, described them as a "dangerous development" that could turn naval vessels into "floating ATMs" for people smugglers.


Human rights lawyers said Mr Abbott's comments raised all manner of legal and ethical questions, not least whether the government had made itself complicit in people trafficking. The reports of the transaction first surfaced in Indonesia, where police on the island of Rote – where the boat headed after being intercepted near Australia's Christmas Island – said an Australian customs official paid the six crew members $5,000 apiece.
The boat was carrying 65 asylum-seekers from Bangladesh, Sri Lanka and Myanmar, who were, they say, trying to reach not Australia but New Zealand. According to one Bangladeshi who had been on the boat, Nazmul Hassan, the customs official spoke to the captain, who then told the passengers: "We have to go back. Australia wants to pay us."
Mr Abbott's comments, which did not dispute the claim, followed flat denials by his Foreign and Immigration Ministers this week that payments were made. Critics accused the Prime Minister – who in the same interviews described people smugglers as "evil" – of hypocrisy. They also warned that giving the crew money, far from stopping the trade, was more likely to boost it.
Julian Burnside, a leading refugee lawyer, noted that the government's main rationale for "stopping the boats" was the imperative to save lives at sea. In the past, asylum-seekers – who converge on Indonesia from the Middle East and South Asia – have drowned during the hazardous crossing to Australia.
"Why then does he think it a good thing to pay the people smugglers to take their passengers back along their perilous voyage?" Mr Burnside wrote on a blog site yesterday. "Surely, if his concern was the safety of boat people, he would have them rescued from the smugglers as quickly as possible."
A spokesman for the Indonesian Foreign Ministry criticised Australia's policy of turning back boats mid-ocean, saying it was "endangering life". The asylum-seekers are now in West Timor, while the crew are being investigated by Indonesian authorities.
Register for free to continue reading
Registration is a free and easy way to support our truly independent journalism
By registering, you will also enjoy limited access to Premium articles, exclusive newsletters, commenting, and virtual events with our leading journalists
Already have an account? sign in
Register for free to continue reading
Registration is a free and easy way to support our truly independent journalism
By registering, you will also enjoy limited access to Premium articles, exclusive newsletters, commenting, and virtual events with our leading journalists
Already have an account? sign in
Join our new commenting forum
Join thought-provoking conversations, follow other Independent readers and see their replies