Australian man punched in the face for defending Muslim women from abuse on train
Jason Cias says: 'If anything, I wish I'd intervened earlier'
Adam Withnall
Wednesday 27 May 2015 10:44 Comments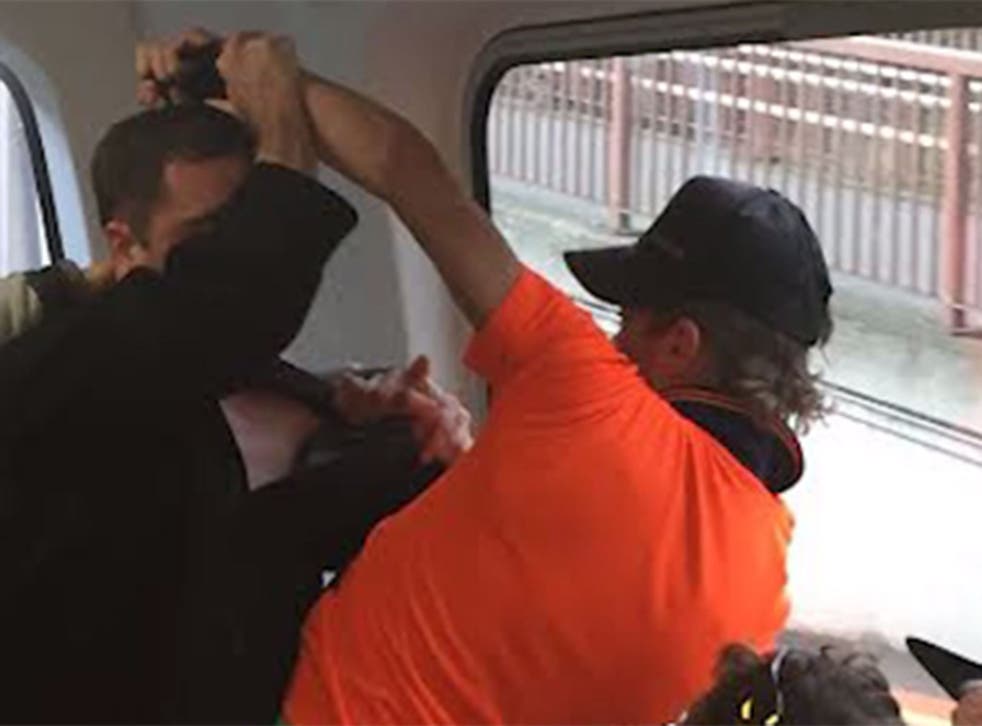 A man in Australia has allegedly been punched in the face after standing up for three Muslim women on a train in Melbourne.
Police are investigating the incident that began with two men in fluorescent orange tops verbally abusing a group of women for wearing headscarves.
According to Australia's The Age newspaper, one of the men referred to the religious clothing after the women sat down next to them, saying: "You shouldn't be wearing that s*** in Australia."
Jason Cias, 36, claims an argument ensued, during which the older of the women spoke in Arabic to try and calm things down. The men then said: "You shouldn't be speaking that s*** in Australia."
As the women got off the train, one of the men shouted an apparent sexual threat. Mr Cias told The Age: "I said to the guy, 'Mate, they're women'. The implication there was you don't threaten people, particularly women."
Mr Cias said one of the unidentified men then punched him in the face, after which there was a short scuffle caught on camera by onlookers. Pictures and video evidence were passed to police.
Speaking later to news.com.au, Mr Cias said the incident had left him with a "pretty good black eye" but insisted he'd do the same again. "If anything I wish I had intervened earlier," he said.
Heartwarming news stories from around the world

Show all 30
A spokesperson for Victoria Police said officers were investigating the incident, which occurred at about 3.30pm on a train bound for Craigieburn from Melbourne Central Station on 15 May. Witnesses were asked to contact Crime Stoppers.
Register for free to continue reading
Registration is a free and easy way to support our truly independent journalism
By registering, you will also enjoy limited access to Premium articles, exclusive newsletters, commenting, and virtual events with our leading journalists
Already have an account? sign in
Join our new commenting forum
Join thought-provoking conversations, follow other Independent readers and see their replies