Baby Gammy granted Australian citizenship
Baby Gammy became mired in a surrogacy scandal last year
Kashmira Gander
Tuesday 20 January 2015 21:25 Comments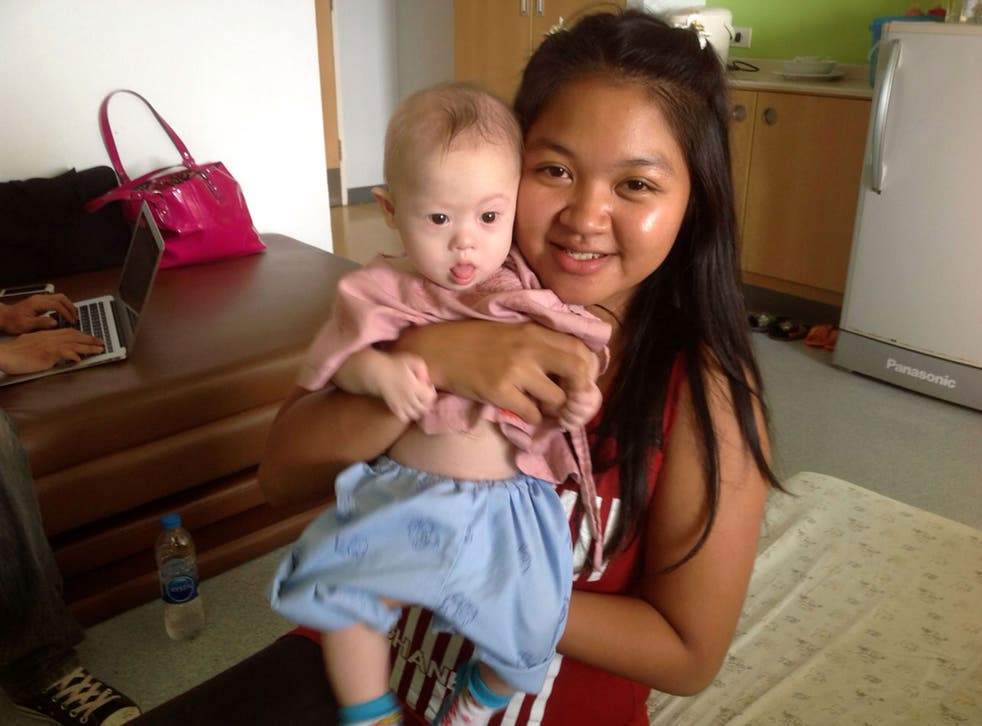 Baby Gammy, who was embroiled in a surrogacy scandal at birth after he was born to a surrogate mother in Thailand, has been granted Australian citizenship.
Gammy, who was born with Down syndrome and a congenital heart condition, was left behind in Thailand by his adoptive Australian parents - who took home his healthy twin sister Pipah.
Pattaramon Chanbua, 21, who carried Gammy, said she applied for Australian citizenship for the infant because she wanted to safeguard his future, Australia's ABC News reported.
As Gammy's father, David Farnell, is an Australian national, the young child is now eligible for a passport, although the process has not yet started.
Gammy turned one on 23 December last year. As reports of his tragic situation spread online last summer, the public raised more than $240,000 (£129,174) to help him.
A portion of the money, which is being managed by an Australian charity, has been used to buy the Pattaramon family a new home in Chonburi, 90 kilometres south of Bangkok.
The Farnells were heavily criticised last year for leaving one infant behind, prompting robust discussion about laws and regulations surrounding international surrogacy arrangements.
It was later revealed that David Farnell, 56, had 22 child sex convictions, including indecent dealing with young girls - prompting the Department for Child Protection to launch proceedings in the Family Court.
The family retained custody of Pipah, subject to strict court conditions.
Ms Chanbua claimed that the Farnells wanted her to abort Gammy when doctors told them he would be born with Down's syndrome, but she refused and said doing so would be against her Buddhist beliefs.
Speaking in a TV interview following Gammy's birth, the Farnells said they wanted to bring both infants home. Ms Chanbua later told the Associated Press that she had then not allowed Gammy to go with them.
Register for free to continue reading
Registration is a free and easy way to support our truly independent journalism
By registering, you will also enjoy limited access to Premium articles, exclusive newsletters, commenting, and virtual events with our leading journalists
Already have an account? sign in
Register for free to continue reading
Registration is a free and easy way to support our truly independent journalism
By registering, you will also enjoy limited access to Premium articles, exclusive newsletters, commenting, and virtual events with our leading journalists
Already have an account? sign in
Join our new commenting forum
Join thought-provoking conversations, follow other Independent readers and see their replies