Bali Nine: Indonesia and Australia in war of words over planned executions of ringleaders Myuran Sukumaran and Andrew Chan
#BoycottBali is fuelling the debate on the prisoners' futures on social media
Kashmira Gander
Wednesday 18 February 2015 16:32 Comments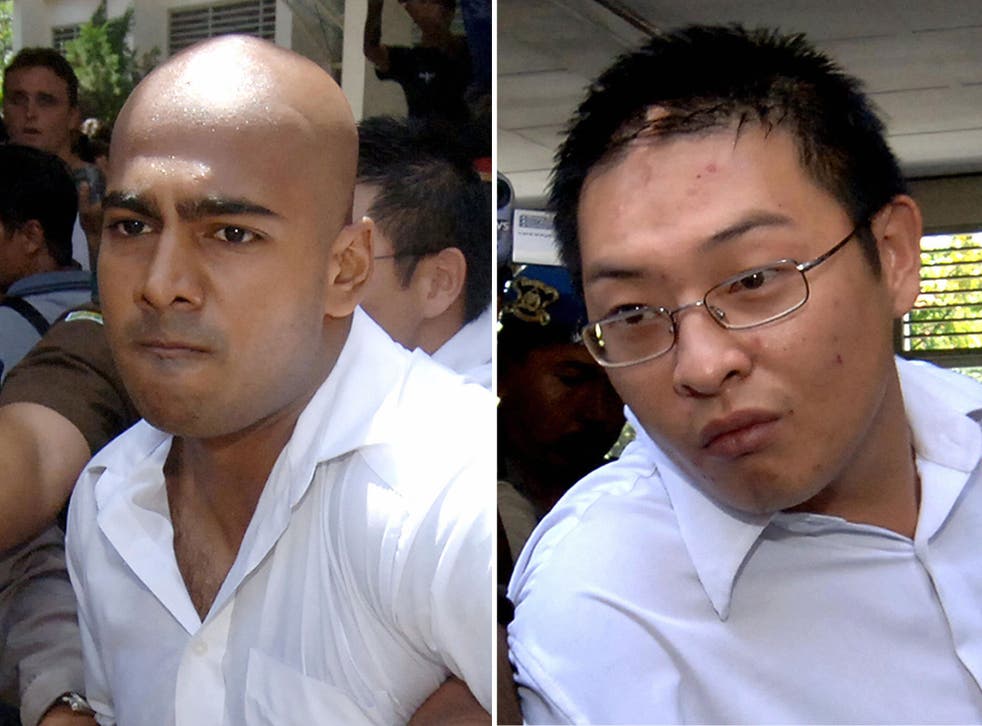 An escalating war of words is being fought between Indonesia and Australia, over the planned execution of two convicts by firing squad.
Australia has been attempting to save the lives of Myuran Sukumaran, 33, and Andrew Chan, 31, who were sentenced to death in 2006. The pair were convicted in 2005 as the ringleaders of a group known as the Bali Nine, which attempted to smuggle 18lb (8kg) of heroin out of Indonesia.
Earlier this month, a local court rejected a petition to review their cases and President Joko Widodo did not grant the pair's request for clemency.
However, a combination of medical concern for the inmates and families' request for more time with the prisoners saw Indonesia postpone moving the two Australians and three other death-row inmates from another facility for execution on Tuesday
Addressing the prisoners' situation today, Australian Prime Minister Tony Abbott warned that his nation would feel "grievously let down" if the executions went ahead, citing the 1billion Australian dollars (£505,000,000) donated in the wake of the devastating 2004 Indian Ocean tsunami. Hundreds of thousands of people in Indonesia's Aceh province perished during the natural disaster.
"I would say to the Indonesian people and the Indonesian government: We in Australia are always there to help you, and we hope that you might reciprocate," he said, BBC News reported.
Yesterday, supporters of Chan and Sukumaran staged vigils across Australia, including in Syndey, Brisbane, Adelaide, Perth and Melbourne, ABC reported.
But Indonesia has insisted it will carry out the executions, with Armanatha Nasir, a spokesman for the Indonesian foreign ministry, responding to Abbott's remarks by telling reporters in Jakarta that he hoped the Prime Minister's statement did not "reflect the true colours of Australians".
"Threats are not part of diplomatic language and no one responds well to threats," he said.
The UN has also waded into the debate, with UN Secretary-General Ban Ki-moon mirroring Abbott's appeal to Indonesia, in an attempt to save the lives of other drug crime prisoners from Brazil, France, Ghana, Indonesia, Nigeria and the Philippines.
Amid the tensions, #BoycottBali is being used on Twitter to urge Australians not to visit the picturesque tourist island. Others have harnessed the hashtag to spark a debate on whether drugs should instead be the central issue, and to consider if the Australian prisoners should have respected Indonesian law. Some have argued that Bali would not miss what they regard as disrespectful Australian tourists.
The row comes after Indonesia froze military and intelligence co-operation with Australia in 2013, following reports that Canberra had spied on top Indonesia officials including former President Susilo Bambang Yudhoyono's wife.
Full diplomatic co-operation was only restored last May, but Foreign Minister Julie Bishop last month refused to rule out withdrawing Australia's ambassador from Jakarta if the executions went ahead.
Additional reporting by Reuters
Register for free to continue reading
Registration is a free and easy way to support our truly independent journalism
By registering, you will also enjoy limited access to Premium articles, exclusive newsletters, commenting, and virtual events with our leading journalists
Already have an account? sign in
Join our new commenting forum
Join thought-provoking conversations, follow other Independent readers and see their replies