Bali Nine pair spend 'last day' eating KFC, painting, praying and saying goodbye to families
International appeals and diplomatic efforts did not succeed in a reprieve
Lizzie Dearden
Wednesday 29 April 2015 08:26 Comments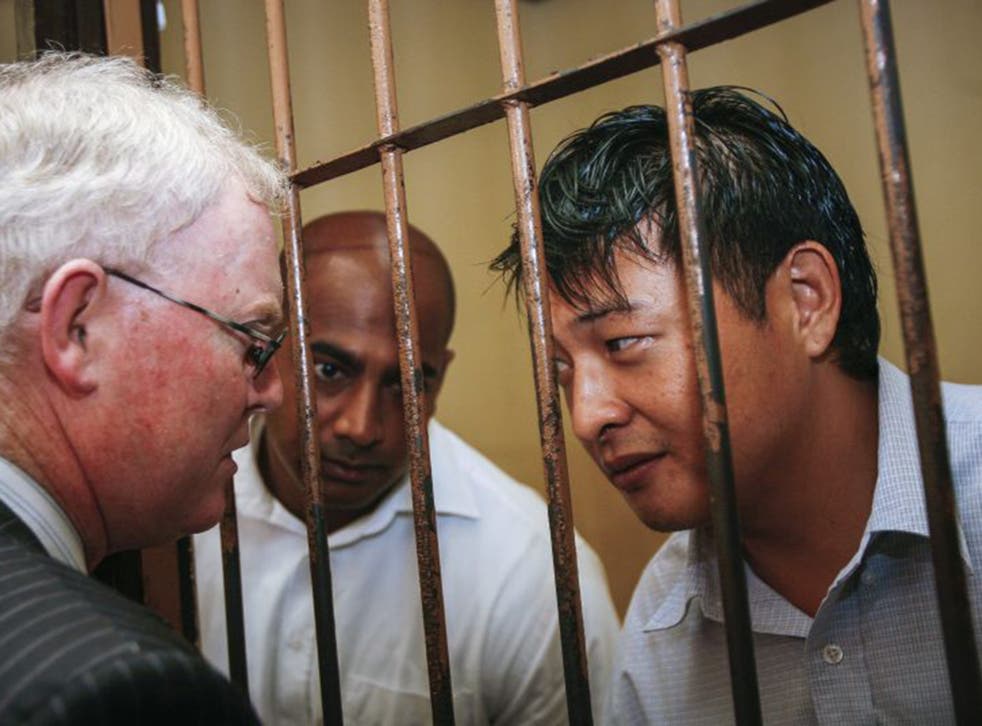 Two Australian men who were executed in Indonesia last night spent their last day in the company of their loved ones.
Parents, siblings, relatives and friends streamed into Nusakambangan prison on Tuesday to say their final goodbyes hours before the death sentences were carried out.
Myuran Sukumaran, 34, and Andrew Chan, 31, were shot dead by a firing squad alongside six other prisoners who were all convicted of drugs smuggling.
According to Indonesian law, they were all allowed to see their loved ones for one last time before families were expelled from the prison and they were left with officials and spiritual advisors.
Weeping relatives emerged to issue a final plea to spare the men and women but their appeals fell on deaf ears.
Chintu Sukumaran, Myuran's brother, said he was "dignified and courageous" in the face of death and that he and Chan were comforting the others as much as they could.
As well as the two Australians, there are four Nigerian men, a Filipino woman and one man each from Brazil and Indonesia.
Bali Nine pair executed

Show all 22
Prison guards have reportedly allowed the condemned inmates to mingle in recent days and on Monday, they all signed a final painting by Sukumaran showing a bleeding heart.
There are no provisions for a final meal for execution victims in Indonesia but yesterday night they were allowed to order a KFC takeaway.
The Australians organised the treat, the Sydney Morning Herald reported, which is a favourite for Indonesians.
Ben Quilty, the award-winning Australian artist who taught Sukumaran in prison, said he student and Chan would attempt to help their friends "until the last second".
"You may take their freedom and their lives, you may rob their fellow inmates of the support and love that both men have offered for so long...but you will never kill the memory of them," he wrote in a Facebook post addressed to President Joko Widodo.
Chan will "calm and console" the others while Sukumaran will translate the executioner's words into English, Mr Quilty said.
"I know that before the sound of your guns, the island will hear the comforting whisper of Myuran Sukumaran and Andrew Chan," he added.
Chan's brother Michael, who also visited Nusakambangan today,said the experience of saying goodbye was something that "no other family should ever have to go through".
"Nine families inside a prison saying goodbye to their loved ones. Kids, mothers, cousins, brothers, sisters. You name it, they were all there," he said.
"To walk out of there and say goodbye for the last time, it's torture, and no family should have to go through that."
Chan was granted his last wish to marry Indonesian girlfriend Febyanti Herewila on Monday and was said to be spending his final hours in prayer.
Sukumaran, who has released several harrowing self-portraits since being given notice of his imminent execution, asked to be allowed to paint up until the last possible moment.
Indonesian law requires that prisoners' final hours be spent with the spiritual advisor of their choice.
Reports suggested that Sukumaran and Chan had been refused the people they wanted to comfort them in their last hours but their pastors were later seen arriving at the prison.
Christine Buckingham and Pastor David Soper were among the last people to see the two Australians alive.
The prisoners were expected to be killed by a firing squad any time after midnight, when Sukumaran had vowed not to wear a blindfold so he could "face it with dignity".
Sukumaran and Chan were convicted in 2006 as part of the "Bali Nine" drug smuggling gang who were arrested on the island for trying to smuggle 8kg of heroin to Australia. Their Australian co-conspirators were jailed for between 18 years and life in Indonesia.
Additional reporting by agencies
Register for free to continue reading
Registration is a free and easy way to support our truly independent journalism
By registering, you will also enjoy limited access to Premium articles, exclusive newsletters, commenting, and virtual events with our leading journalists
Already have an account? sign in
Join our new commenting forum
Join thought-provoking conversations, follow other Independent readers and see their replies