'Creep' Tony Abbott caught winking to radio presenter about poverty-stricken grandmother who 'works on sex line to make ends meet'
Gloria, 67, from Warburton attacked the Australian prime minister over his fiscal policy – but Mr Abbott seemed to have other things on his mind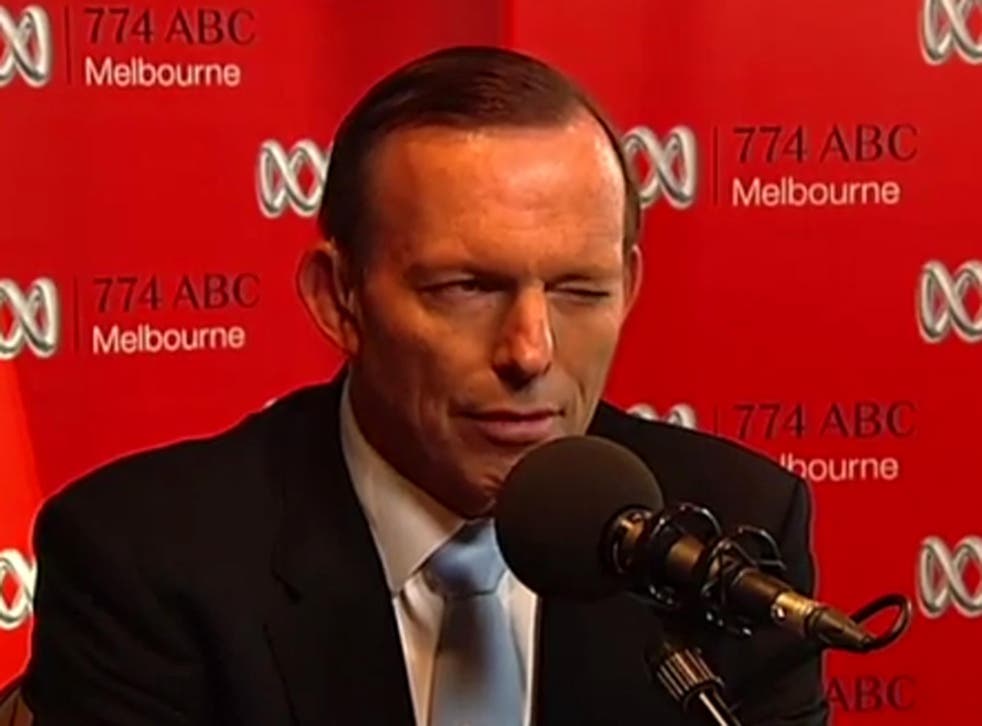 The Australian Prime Minister has been branded a "creep" after he was caught on camera responding with a wink to a grandmother who said she had to work on a phone sex line.
Barely a week after his government announced one of the harshest budgets in memory, Tony Abbott was confronted by the angry caller during a radio phone-in who said she was "a 67-year-old pensioner with three chronic, incurable medical conditions".
When the woman, who identified herself as Gloria from Warburton, said she had to "work on an adult sex line to make ends meet", Mr Abbott smirked and then winked at the ABC Melbourne presenter Jon Faine.
Video footage of the incident has emerged which shows the Liberal Party leader look directly at the camera and, seemingly remembering he is being filmed, try to look more serious.
Gloria went on to attack Mr Abbott for his strict austerity budget which, she said she had calculated, would cost her an additional $850 AUS (£460) a year because of a reduction in government subsidies for healthcare.
In pictures: Tony Abbott snubbed by Prince George

Show all 8
"What do you suggest I cut out Mr Abbott? Food, electricity, firewood, Christmas [and] birthday presents to my grandchildren?" she asked. "Or should we all just die and get out of your way?
The Prime Minister responded that he understood Gloria was "doing it tough" and, now taking the call more seriously, claimed that she would actually end up better off because his government was abolishing the carbon tax, a levy on fuel.
But it was not enough to convince the Green party senator Sarah Hanson-Young, who criticised Mr Abbott following the incident.
She said: "Rather than taking seriously her concerns of poverty and illness he gave a wink and a smirk, and all I have to say to the Prime Minister on this is what a creep. What a total creep."
The day had already started off badly for Mr Abbott – particularly from a politician already perceived to have a "women problem" – when it emerged that his daughter, Frances, was given a chairman's scholarship to study design at a prestigious institute where the chair of the board of governors is a donor to Mr Abbott's conservative Liberal Party.
Despite the scholarship being worth more than $A60,000 (£32,750), the Prime Minister did not declare it on his register of interests. Yesterday he insisted through a spokeswoman that he was not obliged to do so, because it was "not a gift… [but] an award based on merit".
Mr Abbott does have previous. This is the prime minister with just one woman in his cabinet, who once infuriated women by referring to "the housewives of Australia… as they do the ironing", who highlighted the "sex appeal" of a female Liberal candidate before last year's election, and was condemned as a misogynist by his predecessor, Julia Gillard, during a notorious speech in parliament.
He also, in reference to his three daughters, once described virginity as "the greatest gift you can give someone".
A $60,000 scholarship must come a close second. Frances Abbott, now 22, studied at the Whitehouse Institute of Design in Sydney from 2011 to 2013, graduating with distinction. She now works for the institute as a teacher's aide. Les Taylor, the chairman, has donated more than A$20,000 to the Liberal Party in recent years.
The budget, which included cuts to education and health and introduced a fee for seeing a GP, prompted protest marches around Australia last weekend. Mr Abbott's Liberal-National Party Coalition has also crashed in the opinion polls. He said yesterday: "My job is not to curry popularity. My job is to do what's right for the country."
Register for free to continue reading
Registration is a free and easy way to support our truly independent journalism
By registering, you will also enjoy limited access to Premium articles, exclusive newsletters, commenting, and virtual events with our leading journalists
Already have an account? sign in
Register for free to continue reading
Registration is a free and easy way to support our truly independent journalism
By registering, you will also enjoy limited access to Premium articles, exclusive newsletters, commenting, and virtual events with our leading journalists
Already have an account? sign in
Join our new commenting forum
Join thought-provoking conversations, follow other Independent readers and see their replies