North Queensland residents hit by flash floods warned about crocodiles sighted in rising waters
Warnings of reptiles taking advantage of swampy conditions to move around in search of food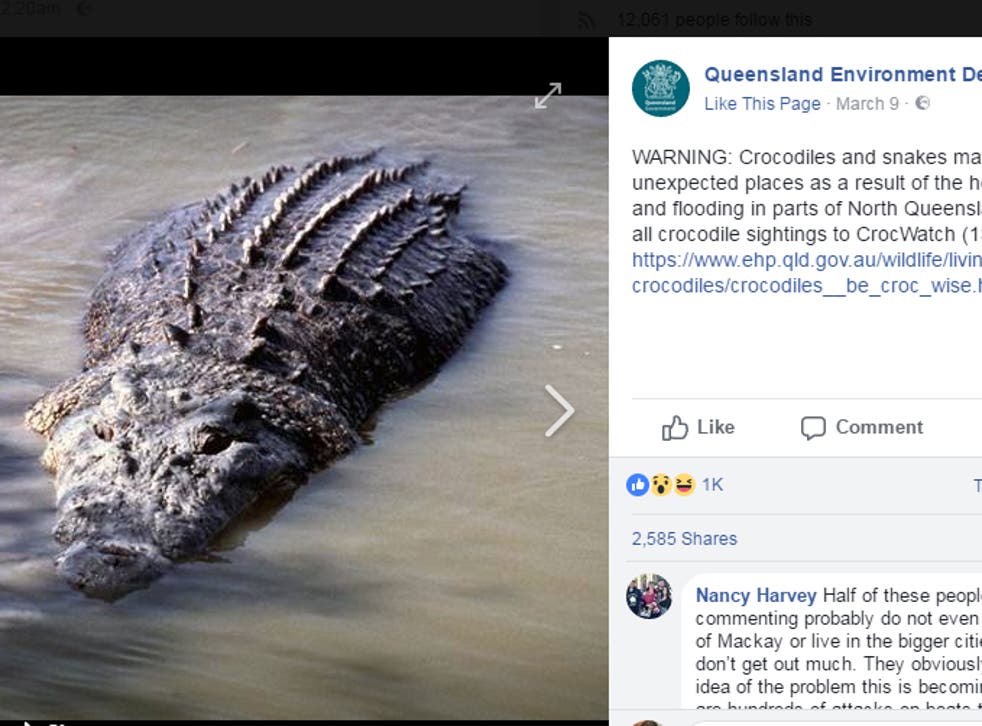 A crocodile alert has been issued in parts of Australia after the reptiles were spotted near people's homes following severe flooding.
Residents in North Queensland already struggling to cope with damage caused by torrential rain were warned to keep out of the water and be wary of areas where crocodiles could be lurking just under the surface.
Authorities appealed for people to report sightings to a CrocWatch emergency line.
One woman, Rhonda Brown, spotted one of the reptiles in the town of Ingham, north-east Queensland, which has been cut off by flood waters. Ms Brown said it was looking "a bit brain-damaged".
Queensland Environment Department warned: "Crocodiles and snakes may turn up in unexpected places as a result of the heavy rainfall and flooding in parts of North Queensland. Report all crocodile sightings to CrocWatch (1300 130 372)."
John Kremastos, Cassowary Coast Regional Council mayor, said: "Due to the amount of water small crocodiles have been spotted adjacent to some fast flowing water, and I encourage all to keep out of flood waters and drains and also to remind children of the dangers of flooded areas."
Another resident posted a photo of a crocodile that had been run over in the chaotic conditions.
Facebook users were also alarmed by footage of a huge spider clinging to a branch above a flooded river.
Crocodiles use higher water levels to move to new areas and search for food, according to experts.
Toby Millyard, a crocodile researcher at Australia Zoo in Queensland, said: "Some crocodiles love it when it rains and they use the water's currents to travel; they're very smart animals. But they're very easy to stay away from. As long as you're not in the water or standing by the edge, then you should be fine."
The reptiles are a protected species in Australia, but their numbers are threatened by habitat loss.
World news in pictures

Show all 50
Days of heavy rain in north-eastern Australia have led to river banks bursting, covering farmland and cutting off towns.
The Queensland state government has declared the area a disaster zone.
Join our new commenting forum
Join thought-provoking conversations, follow other Independent readers and see their replies