Cyclone Pam: Vanuatu in panic over 'once-in-a-lifetime' storm bearing down on South Pacific island
The island's capital, Port Vila, has gone into lockdown ahead of expected 280km/h winds
Victoria Richards
Friday 13 March 2015 13:32 Comments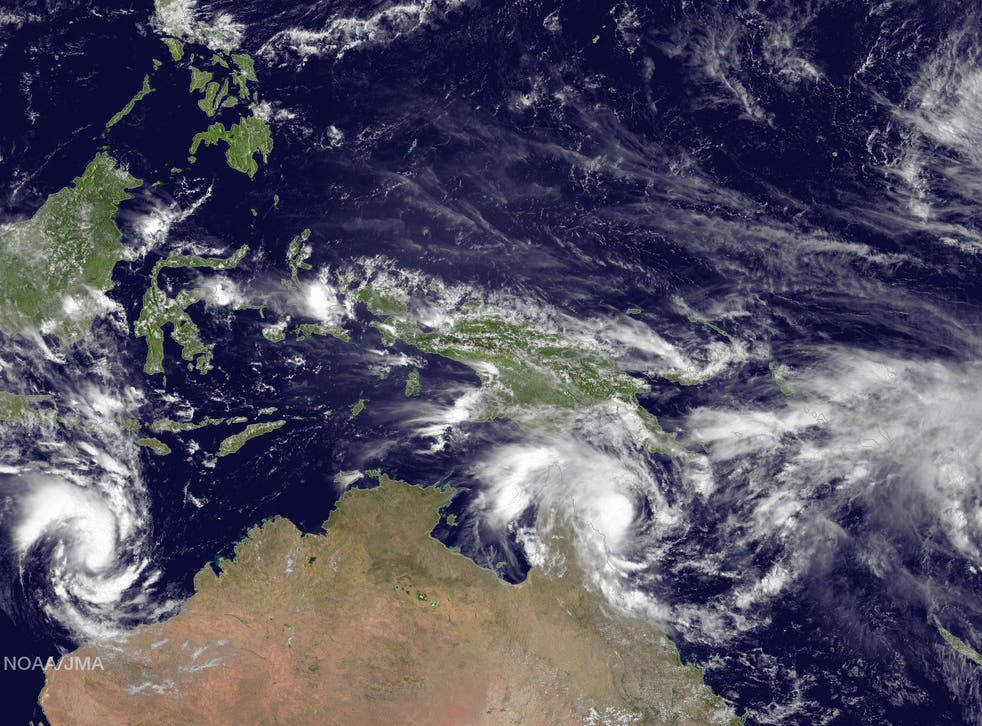 A 'once-in-a-lifetime' storm is expected to bear down on the tiny South Pacific island of Vanuatu, putting the population of 260,000 at risk.
Cyclone Pam was due to hit the island's capital, Port Vila, at around 11pm Friday (12 noon GMT).
The anticipated category five storm, with predicted wind gusts of more than 280km/h, prompted evacuations across the country as aid agencies warned of torrential rain, landslides and flash flooding.
Cyclone Pam has already hit Tuvalu, Kiribati and the Solomon Islands, causing significant damage.
According to The Guardian, local sources reported that "panic" was setting in ahead of the extreme weather, with hotels ordering guests into underground bunkers, and 12 evacuation centres swiftly filling up.
Unicef, which has aid workers and supplies on the ground in Vanuatu, warned that 260,000 people were in the middle of the potential disaster zone as the Vanuatu National Disaster Management Office announced a red alert in the major northern provinces. It urged residents to seek immediate shelter.
Care Vanuatu's program manager Charlie Damon told the newspaper that one of her colleagues had helped 195 people into evacuation centres alone, including three people with disabilities.
"He did say there was a bit of panic in the centre,"she said. "They're nervous, particularly with the noise because there's more rubbish flying around [in Port Vila]. On the other islands it's tree branches and coconuts."
She said that the teams had made sure of access to water, employed young people to cook and cut down surrounding trees and had designated single-sex toilets "for the protection of women and children".
Unicef's Pacific spokeswoman, Alice Clements, said that the cyclone could create large storm surges which "behave pretty much like a tsunami", TVNZ reported.
She said that conditions were getting "wilder by the minute" in Port Vila and warned that houses on the country's outer islands, which are traditionally made of light timber with thatched roofs, were unlikely to stand up to the storm.
Vanuatu Meteorological Service's acting director, David Gibson, told The Guardian that Pam would be the most powerful storm ever to bear down on Vanuatu.
"As far as I can remember, this is the first [category five] cyclone to come very close to Vanuatu," he said. "This is obviously a once-in-a-lifetime experience for most of us."
Register for free to continue reading
Registration is a free and easy way to support our truly independent journalism
By registering, you will also enjoy limited access to Premium articles, exclusive newsletters, commenting, and virtual events with our leading journalists
Already have an account? sign in
Join our new commenting forum
Join thought-provoking conversations, follow other Independent readers and see their replies