Cyclone Pam: Vanuatu will run out of food 'in a week' as officials slam aid agencies for wanting 'publicity'
National disaster committee deputy chair said the response could have been handled better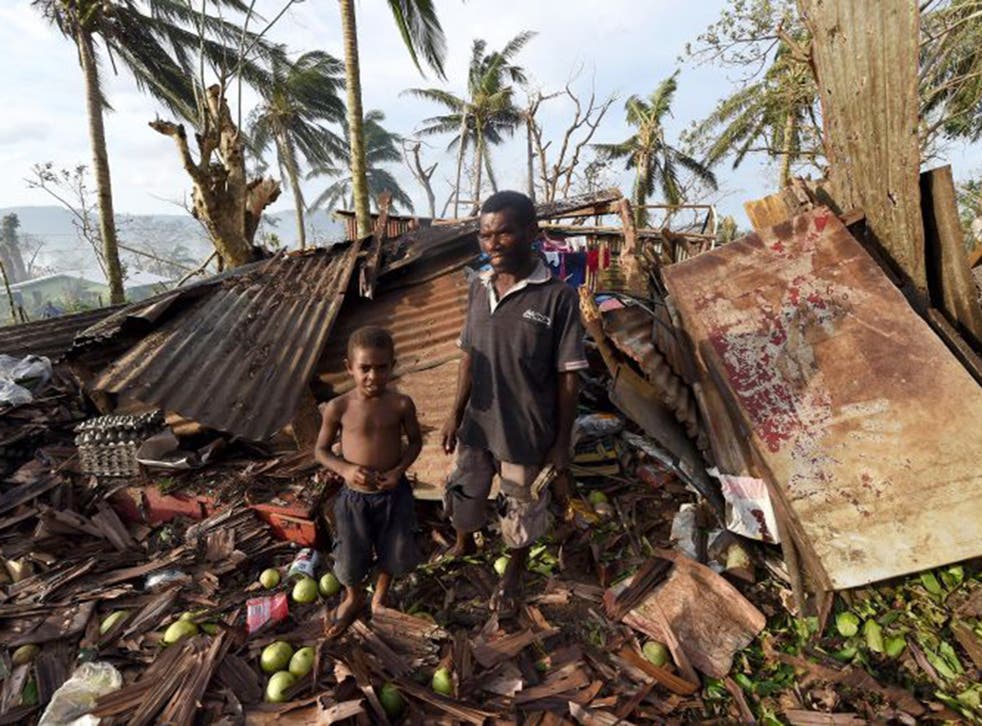 Stricken Vanuatu islanders have been told that the country's food supplies may run out in just a week, as relief efforts are hampered by "a lack of coordination" and a desire for "publicity".
The 260,000-strong population are in urgent need of clean water, medical supplies, tents and hygiene kits.
"In short, our agricultural experts estimate that Vanuatu's people will run out of food in less than one week," he told AFP.
The warnings came amid criticism of some of the 100 NGOs and faith-based organisations which have swarmed into the Pacific nation since the cyclone hit last weekend.
National disaster committee deputy chair Benjamin Shing blamed some agencies for wanting "their sign put on" the disaster, rather than thinking first about the victims.
"The problem is everyone wants visibility...everyone wants their sign put on it," Stuff.co.nz reported. "If they were really humanitarian organisations then putting signs up would not be necessary."
Mr Shing said that some groups had actually "slowed down" the process of getting help to people in need - because many were "working on their own", rather than in cooperation with the government.
"It would have been better for them to come in and use the same methodology and work with our teams...that would have been much more efficient and much more effective," he said.
At a press conference in the island's capital, Port Vila, on Wednesday, Mr Shing said: "I do apologise but I have to state the facts.
"We have seen this time and time again. In nearly every country in the world where they go in they have their own operational systems, they have their own networks and they refuse to conform to government directives.
"We had to spend the first three days trying to get some form of coordination in place. That was much precious time that could have been spent doing the assessments instead."
Cyclone Pam hits Vanuatu island

Show all 6
Unicef director of communications Patrick Rose said he thought the government was "quite reasonable" in its critique of relief efforts following the disaster, in which at least 11 people died.
"It's not a critique of Unicef by any means because Unicef is one of the primary partners," he said.
"Unicef's motivation is entirely driven in helping the most people possible. It has nothing to do with any publicity for us, it has everything to do with doing the right thing and helping people in need."
Mr Rose also said that the problem was with some NGOs who refused to work within the proper channels.
"You can take a desperate situation and turn it into a dangerous situation if you start delivering aid to half the people, you start to create haves and have-nots," he added.
Oxfam country director in Port Vila Colin Collett van Rooyen told AFP that the charity would continue to work with the government, "as we have been, and as we always do, to address the best interests of those in need".
The comments came as the UN Office for the Coordination of Humanitarian Affairs (OCHA) said that coordination with the ministry of health regarding flights to provinces was "critical", Zee News reported.
The force of the cyclone was said to be "much stronger" than Hurricane Katrina, which left a trail of destruction when it hit the US in 2005.
Register for free to continue reading
Registration is a free and easy way to support our truly independent journalism
By registering, you will also enjoy limited access to Premium articles, exclusive newsletters, commenting, and virtual events with our leading journalists
Already have an account? sign in
Register for free to continue reading
Registration is a free and easy way to support our truly independent journalism
By registering, you will also enjoy limited access to Premium articles, exclusive newsletters, commenting, and virtual events with our leading journalists
Already have an account? sign in
Join our new commenting forum
Join thought-provoking conversations, follow other Independent readers and see their replies