DEVAST8 tattoo man who struggled to find employment now starts new job
Teenage father's distinctive facial art made headlines around world after he complained it unfairly put off employers
Chris Baynes
Friday 12 January 2018 16:15 Comments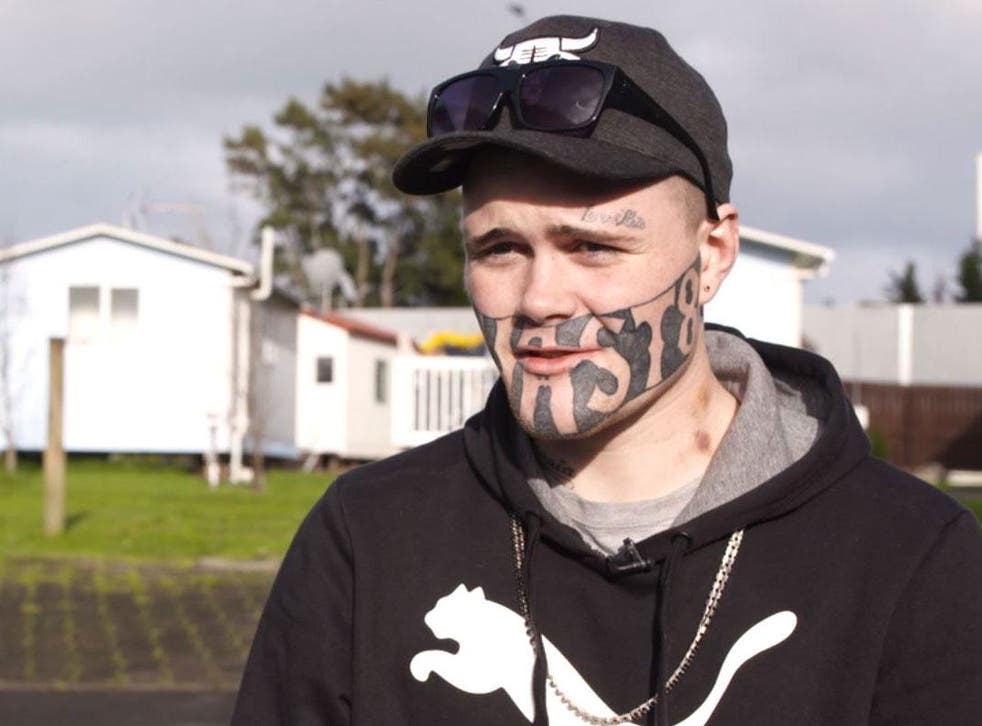 A man who complained he was unable to find work after getting "DEVAST8" tattooed across his face has started a new job.
Mark Cropp, 19, from New Zealand, got the word inked across his jaw as he served time in prison for aggravated robbery.
The teenage father's distinctive facial art made headlines around the world when he pleaded for help to find employment after becoming frustrated by repeated rejections.
He said: "I've gone into a couple of places [to find work]. One employment place turned around and said to me that 'I wouldn't even employ you with that on your face'. I've had other people who shrugged and laughed at me."
But has since begun a job as a traffic controller in the city of Hamilton, and was pictured on Facebook wearing a high-vis vest and hard hat.
Beneath the post, his mother Kelly Doyle commented: "So super proud of u my son for getting a job and proving all the haters wrong."
In response to posts making fun of Mr Cropp's tattoo, she added: "I'm proud to call him my son and I'm proud of him getting a job. All u haters can just take your nasty comments elsewhere!"
Mr Cropp last year accepted an offer from an Auckland surgery to remove his tattoo for free after his social media plea for work went viral.
The teenager accepted the offer but later decided to keep the tattoo after landing work at a construction firm.
The artwork was inked by his brother and cellmate using a straightened spring as makeshift needle and ink made from burnt plastic cutlery, toothpaste and water.
Mr Cropp explained: "Part of jail life, you get people with tattoos and you look at them, step back, 'Watch out for that guy' sort of thing."
But he later admitted he regretted the tattoo, which he had expected to be smaller.
Register for free to continue reading
Registration is a free and easy way to support our truly independent journalism
By registering, you will also enjoy limited access to Premium articles, exclusive newsletters, commenting, and virtual events with our leading journalists
Already have an account? sign in
Join our new commenting forum
Join thought-provoking conversations, follow other Independent readers and see their replies