Ehlers-Danlos Syndrome
Steph Aston sought help for a rare genetic disorder. She died after being accused of faking her illness
After being misdiagnosed and committed to a psychiatric ward, Steph became a tireless advocate for Ehlers-Danlos Syndrome patients before her death at the age of 33, Bevan Hurley writes
Thursday 14 September 2023 17:12 BST
Comments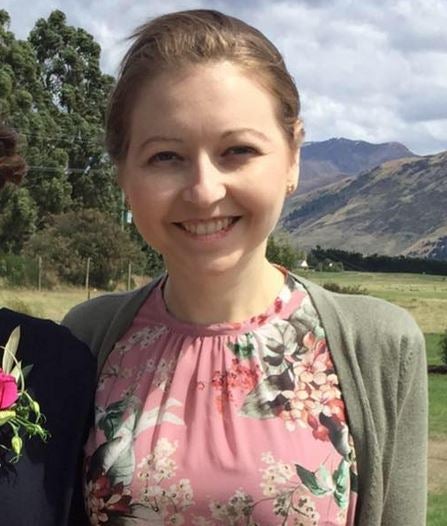 Steph Aston struggled for years with a debilitating, mystery illness that left her searching for answers.
The New Zealanders' joints would dislocate, her skin would bruise to the touch, and crippling migraines came on without warning.
In 2015, the then-25-year-old midwife's health deteriorated suddenly and she was referred to Auckland Hospital for evaluation.
A doctor accused her of faking her illness and wrongly diagnosed her with factitious disorder, a mental health condition similar to Munchausen syndrome.
After protesting the doctor's claims that it was all in her head, she was later involuntarily sectioned in a mental health ward.
Experts eventually diagnosed Aston with Ehlers-Danlos Syndrome (EDS), an incurable disorder caused by gene mutations that weaken connective tissues.
Aston spoke of the traumatising experience in an interview with The New Zealand Herald in 2018, saying: "I am so sick that I am fighting for my life."
She went on to co-found the Ehlers-Danlos Syndromes New Zealand support and advocacy group to help raise awareness for others suffering from EDS.
After a long battle, Aston died at her home on 1 September at the age of 33.
Her friends and fellow advocates have paid tribute to her bravery while lamenting the lack of care from the New Zealand public health system.
"Despite her unwavering positive attitude throughout, her lack of care ultimately led to her passing," her friend Kelly McQuinlan told The Independent in an email.
'TikTok diagnosis'
Ehlers-Danlos Syndrome is thought to impact around one in 5,000 people, but experts believe the perplexing range of symptoms that make misdiagnosis so common could mean the true figure is far higher.
Patients typically present with hypermobile joints, fragile blood vessels; abdominal tears and soft, stretchy, velvety skin that bruises easily. They are often passed around between different specialists before their condition is recognised and treated.
Advocates say the fight for recognition and proper medical care is one countless sufferers have had to deal with.
Dr Alissa Zingman, co-founder of the US-based Ehlers-Danlos Syndrome Research Foundation, suffered for years with agonising pain. She dislocated her rib, shoulder and jaw, and her thumbs would sprain while treating patients.
Even doctors at her medical school were at a loss. She was eventually diagnosed with EDS seven years after graduating medical school, despite long believing that she had the condition and seeking diagnosis for it.
Dr Zingman created her own home exercise programmes and a carefully curated diet, eliminating foods that triggered her symptoms.
She established the PRISM clinic in Silver Spring, Maryland, to treat other patients suffering from the condition, and said a huge part of her work is trying to educate medical professionals about EDS.
"Those of us who see EDS patients regularly often discuss our frustration at the lack of education about EDS amongst physicians and the difficulty our patients experience in trying to get a diagnosis," Dr Zingman told The Independent.
Delays in diagnosis are the norm, and can severely impact not only patients' quality of life but also their life expectancy.
"More than half of the EDS patients I have met were incorrectly told by physicians that their symptoms were psychiatric," she told The Independent.
One patient was committed involuntarily, like Aston, after seeking help for severe light and sound sensitivity, and debilitating itchiness.
"The psychiatric admission, before I met her, yielded no benefit at best," she said.
Dr Zingman regularly speaks to physicians on behalf of her patients and says that most doctors are usually open to considering an EDS diagnosis.
"I have also seen physicians decry EDS as a 'TikTok diagnosis' or 'fad', and it is difficult to reverse that thinking," she said.
'Dignity stripped'
Aston was an intelligent and thoughtful person who specialised in "random acts of kindness", her friend Jo Hill, of the gastroparesis advocacy group Ruby's Voice Trust, told The Independent.
She would shower friends with care parcels of gifts, cards and home baking, and was a godmother to many of their children.
"Steph was a special character. On first appearances, she was quiet and softly spoken, but for those close to her they were privileged to experience connection with a person with so much more depth and a fabulous sense of humour."
Despite suffering from EDS and gastroparesis, a disorder that slows or stops the movement of food from your stomach to your small intestine, Aston qualified as a midwife and gained a strong sense of independence. She was a practising midwife until her condition became too debilitating.
"​​She loved babies and one of her biggest sadnesses was that she wouldn't have her own," Ms Hill said.
After her own EDS diagnosis in 2015, Aston befriended others with the same condition and became a fierce advocate for them.
She watched as many of them, including her close friend Ruby Hill who died aged 23 in 2019 after similar misdiagnoses, suffered at the hands of a seemingly uncaring medical system.
That led her to found the non-profit Ehlers-Danlos Syndromes New Zealand in 2017 with Kelly McQuinlan.
"Most in our community either didn't have the energy to fight or were too scared to put themselves forward, so we both willingly put our voices out there to advocate and fight, despite any hardship that might come from that," Ms McQuinlan said. "Steph was selfless in this sense."
Aston's condition eventually forced her to give up her midwifery career, and she moved back to her parents' home as she suffered from severe anaemia, gastrointestinal and heart complaints.
Around this time, she was diagnosed with vascular EDS, one of 13 types of genetic connective tissue disorder, by one of the only specialist physicians in the country.
Her battle for recognition and treatment of her own diagnosis came to a head when she was referred to see specialists at Auckland Hospital in 2016.
In a 2018 interview with The New Zealand Herald, Aston told how an unnamed doctor accused her of faking her illnesses and issued a diagnosis of factitious disorder.
The misdiagnosis left a "red flag" on her medical file that led to a flurry of testing and analysis unrelated to her condition, and influenced other doctors she came into contact with, which all exacerbated her distress.
Aston told how she was accused of self-harm and faking coughing fits, subjected to rectal examinations and had blood transfusions denied.
After suffering numerous indignities, Ms Aston developed a deep distrust of doctors who she believed harboured discriminatory beliefs towards the EDS community, friends say.
In September 2016, she was ordered to be taken to hospital under police escort after her primary care physician believed her life was at risk.
There, a second doctor ruled out EDS as a possible explanation for her illnesses, and she was involuntarily committed to a psychiatric ward months later in January 2017.
"I feel like I have had my dignity stripped and my rights seriously breached," she told the NZ Herald.
Aston filed a formal complaint with the Auckland District Health Board and New Zealand's Health and Disability Commissioner, who found no fault with the doctors' actions.
The treatment stunned her friends and fellow EDS sufferers, which Ms Hill described as "nothing short of physical and emotional abuse".
Ms McQuinlan told The Independent that the inadequate care she received seemed to be more than just down to a lack of awareness of EDS, and showed evidence of deep-seated discrimination.
"Despite her right to ask for second opinions, and her right to say who could be involved in her care and to receive unbiased knowledgeable care, this was overridden by a 'red flag' on her file initially placed there by a single unknowledgeable doctor."
Aston was forced to hire a criminal psychologist to try to have factitious disorder diagnosis reversed, Ms McQuinlan said.
"Steph continued to hold hope every single time she had a medical appointment, that it would be the appointment to change the trajectory of her care."
'Nothing bends the right way'
There are 13 types of EDS and each has a different set of clinical criteria for diagnosis.
Vascular EDS, while rare, is considered to be the most serious and can lead to internal bleeding, and facial characteristics such as sunken cheeks, according to the National Institutes of Health.
EDS patients often experience hypermobility in joints, constant pain, gastrointestinal bleeding, and damaged vocal cords. They often otherwise appear healthy, which can lead to misdiagnosis and suspicion.
Dangers of the condition range from mild to life-threatening, and early diagnosis is crucial.
The overall prevalence of EDS has been estimated to be 1 in 5000, however scientific evidence is lacking. Since misdiagnosis is common the actual prevalence is believed to be much higher.
A 2019 study estimated the combined prevalence of hypermobile EDS (hEDS) and Hypermobility Spectrum Disorders (HSD) in Wales to be 1 in 500.
Several large-scale clinical research projects are underway to assess the prevalence, economic impact and possible treatments for the condition.
Studies have also shown that women suffering acute pain are commonly misdiagnosed as experiencing mental health problems.
A 2022 study by the National Institutes of Health looking at inequalities in health care found that women remained "broadly under-represented in the medical literature, sex and gender are poorly reported and inadequately analysed in research, and misogynistic perceptions continue to permeate the narrative".
In 2019, British actor and activist Jameela Jamil spoke out about her own diagnosis of hypermobile EDS.
In a TikTok, she demonstrated how she was able to hyperextend her arm, explaining that "nothing bends the right way".
Jamil said she was fortunate to have been diagnosed at the age of nine "so that I was able to avoid a lot of the things that would've made me much sicker when I got older".
Join our commenting forum
Join thought-provoking conversations, follow other Independent readers and see their replies