Giant cricket named after New Zealand PM Jacinda Ardern discovered
Scientist says both insect and leader 'matter to country a great deal'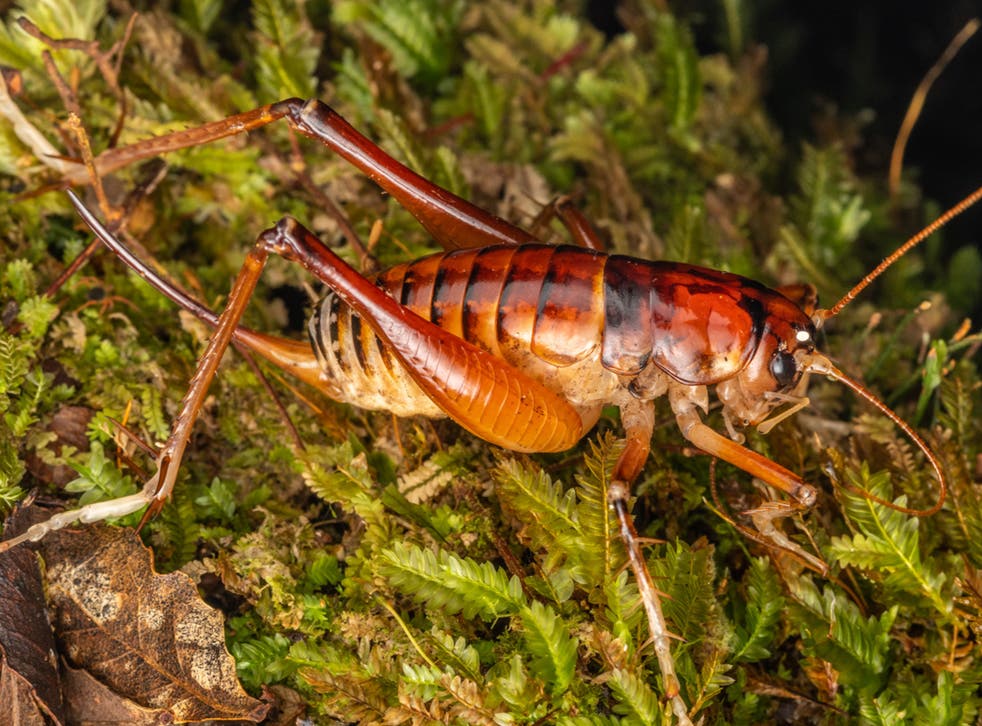 A newly discovered cricket has been named after New Zealand's prime minister, Jacinda Ardern, making it the fourth insect to be named in her honour.
The species of wētā – a giant and flightless cricket, native to the Oceanic country – has been called Hemiandrus jacinda apparently because of its red colouring, similar to the Labour Party Ms Ardern is leader of, and its long legs.
Steven Trewick, a professor in evolutionary ecology at Massey University in New Zealand who came up with the title, said he believed the insect "reflected traits of the prime minister".
He told The Guardian the big cricket and PM were similar because they each "matter to New Zealand a great deal".
A spokesperson for Ms Ardern said the PM was "aware of this and very honoured", adding that she previously had "a beetle and a lichen, along with an ant in Saudi Arabia" named after her as well.
Read more: Tree mulcher machines used to restore 'nationally important' peat habitat
There are thought to be more than 100 different species of wētā living in trees, caves, bushes and suburban gardens – but "jacinda" is bigger and more brightly coloured than the 17 ground wētā crickets that scientists currently know about.
Typical of species within the Hemiandrus group, jacinda emerges from self-made burrows in the night to hunt.
Mr Trewick said it was remarkable the "hefty insect with flamboyant colouring" had remained hidden for so long, blaming the world's "accelerating environmental change".
"In a time of accelerating environmental change, loss of natural habitat and global precipitous decline of the planet's biological diversity, the work of species discovery continues," he said.
The scientist also warned the species is likely in decline due to the introduction of predators such as rats and cats, and habitat loss and modification.
"The wētā of New Zealand are a rich and diverse radiation of species living in all sorts of habitats – yet many remain to be recognised."
He added the latest discovery was "beautiful" and "striking".
Join our new commenting forum
Join thought-provoking conversations, follow other Independent readers and see their replies