Giant eagle sculpture crashes from New Zealand airport ceiling in severe earthquake
The 45-feet wingspan model hit a teenager on the way down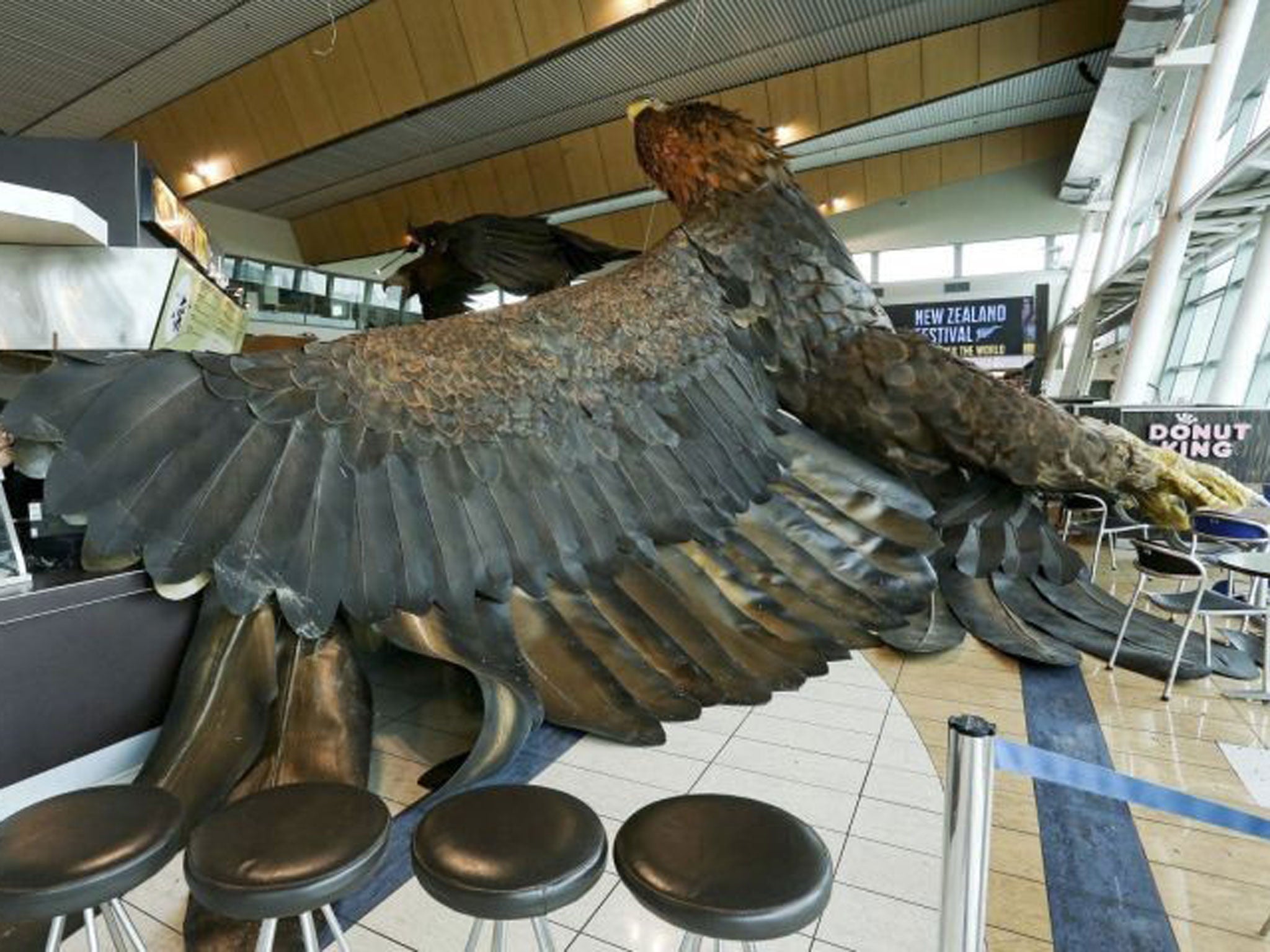 A severe magnitude earthquake that hit New Zealand on Monday damaged homes, closed roads, and caused an enormous eagle to crash from the ceiling of Wellington Airport.
The statue, with a 45 feet wingspan, used to advertise the latest instalment in Peter Jackson's The Hobbit film trilogy, fell from the airport ceiling in central New Zealand.
It hit 19-year-old Lauren Stone in the head as it fell, according the Dominion Post.
She told the newspaper: "[The eagle] started shaking heaps and rattling, we jumped under the table."
"The eagle fell on top of us. We ran away. I definitely know I was hit on the head but it didn't hurt or anything like that. All the mums were screaming, it was quite panicked."
A second sculpture being ridden by a statue of the character Gandalf remained in place on the ceiling during the quake, according to the Telegraph.
An airport spokesman, Greg Thomas, told the newspaper: "The Gandalf one is fine. We will be conducting an engineering inspection on it to check it is OK."
"We are in the process of investigating what failed on the second eagle," he said.
The New Zealand Herald reported that the 17 mile (27 km) deep, 6.2 magnitude earthquake struck the rural Wairarapa region at 3:52pm, 80 miles (128 km) north of the capital Wellington.
The tremors lasted for around a minute.
An eyewitness who experienced the quake told reporters: "It was kind of of scary, it was just shaking everywhere."
There were no reports of serious injuries after the tremors, but three 1920s style buildings in the town of Masterton were evacuated as a precaution.
Wellington last experienced tremors in August last year after a 6.6 magnitude earthquake shook the capital.
Join our commenting forum
Join thought-provoking conversations, follow other Independent readers and see their replies