Harriet Wran goes from penthouse to jail house: The downfall of the Australian heiress who had everything
The daughter of a leading politician has been charged with murdering an alleged drug dealer while reportedly high on drugs and living rough. Kathy Marks reports on a fall from grace that has left a nation reeling in shock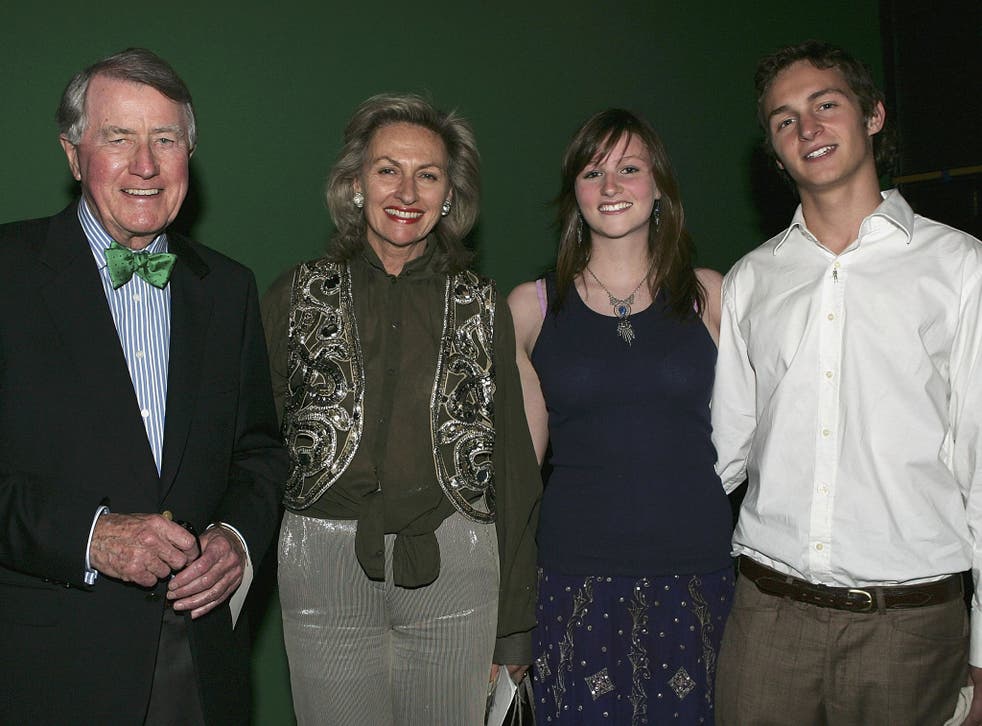 Harriet Wran, the youngest daughter of one of Australia's most revered politicians, seemed to have it all: wealth, privilege, a private education and well-connected friends.
Today that world came crashing down as the glamorous 26-year-old was charged with murdering an alleged drug dealer in a run-down Sydney council flat. At the time she was reportedly high on a drug known as "ice" and living rough.
Australians reacted with shock and disbelief to the news. In April, Ms Wran – elegant in a black trenchcoat and silver jewellery – had read a Shakespeare sonnet at a state funeral for her father, Neville, a Labor Party stalwart who had been premier of New South Wales for a decade from 1976.
Today, she wore a grey jumpsuit for the trip in a police van to Liverpool local court, in Sydney's south-western suburbs. The previous evening, after being arrested at Liverpool train station, she had been charged, with her boyfriend, Michael Lee, 35, with murder and attempted murder.
Police allege that the couple, together with a third person, Lloyd Haines, 29, broke into the flat of Daniel McNulty in inner-city Redfern on Sunday night, armed with two knives. After a fight broke out, they allegedly stabbed him and another man, Brett Fitzgerald.
Mr McNulty, 48, who was said to have been a musician, heroin addict and small-time dealer, died at the scene. Mr Fitzgerald, 42, who suffered multiple stab wounds, is in a serious but stable condition in hospital.
According to Australian newspapers, Ms Wran – who stands to inherit a sizeable chunk of her father's estimated A$40m (£22m) fortune – has long-standing drug problems. Although the family owns a string of properties including a mansion in an exclusive Sydney neighbourhood, she had apparently been living on the streets for weeks.
Fairfax Media reported that she told police she was addicted to ice (methylamphetamine), and that she was "numb on ice", "terrified" and "desperate" to buy the drug when she accompanied Mr Lee and Mr Haines to Mr McNulty's flat.
According to a police source quoted by Sydney's Daily Telegraph, a tabloid, "the next thing she knows, they [the two men] were laying into him".
Neighbours described Mr McNulty as an "affable, friendly" man and a loving father to his nine-year-old daughter. He moved to Sydney from Byron Bay, on the New South Wales north coast, two years ago. One friend said he was struggling to overcome his addiction, and was on a methadone programme.
Winston Terracini, a Sydney barrister engaged by Ms Wran, said outside court that she would be pleading not guilty. She will remain in custody until her next court appearance in October.
Ms Wran, the daughter of Neville Wran and his second wife, Jill Hickson, a publicist and literary agent, was born into an Australian political aristocracy. Her father had shrugged off a working-class upbringing to become a barrister and the longest-serving premier of New South Wales. After quitting politics, he became a successful investment banker.
Brought up in a A$10m house in leafy Woollahra, Ms Wran – a god-daughter of the late media baron Kerry Packer – attended elite private girls' schools. According to her Facebook page, she has been studying modern and ancient history and philosophy at Sydney University.
An unnamed friend described the murder charge as "beyond comprehension". That was the sense in the wider community, too. Shock earlier in the week at news of a murder in a down-at-heel but gentrifying neighbourhood turned to disbelief when it emerged that Ms Wran was allegedly implicated.
Another friend, quoted by The Sydney Morning Herald, said that, after dating an architect in her early twenties, Ms Wran had become involved with a member of a motorcycle gang. When arrested, she was reportedly dishevelled and destitute, with no money or credit cards and no belongings.
Mr Wran – who died aged 87, after suffering for a long time with dementia – had two children with his first wife, Marcia Oliver, a former showgirl. He also adopted her young son. He married Ms Hickson in 1976, and the couple had a stormy relationship, separating several times before reconciling in 2011.
After he died in a nursing home, Ms Hickson became embroiled in a battle over his will with Ms Oliver's daughter, Kim Sheftell. Flying into Sydney airport from Brisbane to support Ms Wran, she asked for privacy, telling reporters: "I can hardly walk, let alone talk."
As well as the house in Woollahra, the family owns an apartment on Sydney harbour, said to be worth A$10m, and a A$2m farm. Mr Wran's estate also included his substantial parliamentary pension and the fortune he made as a banker.
Although he was dogged by corruption allegations while in politics, a royal commission cleared him of any wrongdoing in 1983. His funeral was attended by Labor Party luminaries including the former prime minister Paul Keating and Bob Carr, a successor as New South Wales premier. Both delivered eulogies.
Register for free to continue reading
Registration is a free and easy way to support our truly independent journalism
By registering, you will also enjoy limited access to Premium articles, exclusive newsletters, commenting, and virtual events with our leading journalists
Already have an account? sign in
Register for free to continue reading
Registration is a free and easy way to support our truly independent journalism
By registering, you will also enjoy limited access to Premium articles, exclusive newsletters, commenting, and virtual events with our leading journalists
Already have an account? sign in
Join our new commenting forum
Join thought-provoking conversations, follow other Independent readers and see their replies