Huge 20ft basking shark caught accidentally by fishing trawler in Australia to go in museum
Museum Victoria said the fish had caused 'a great deal of excitement'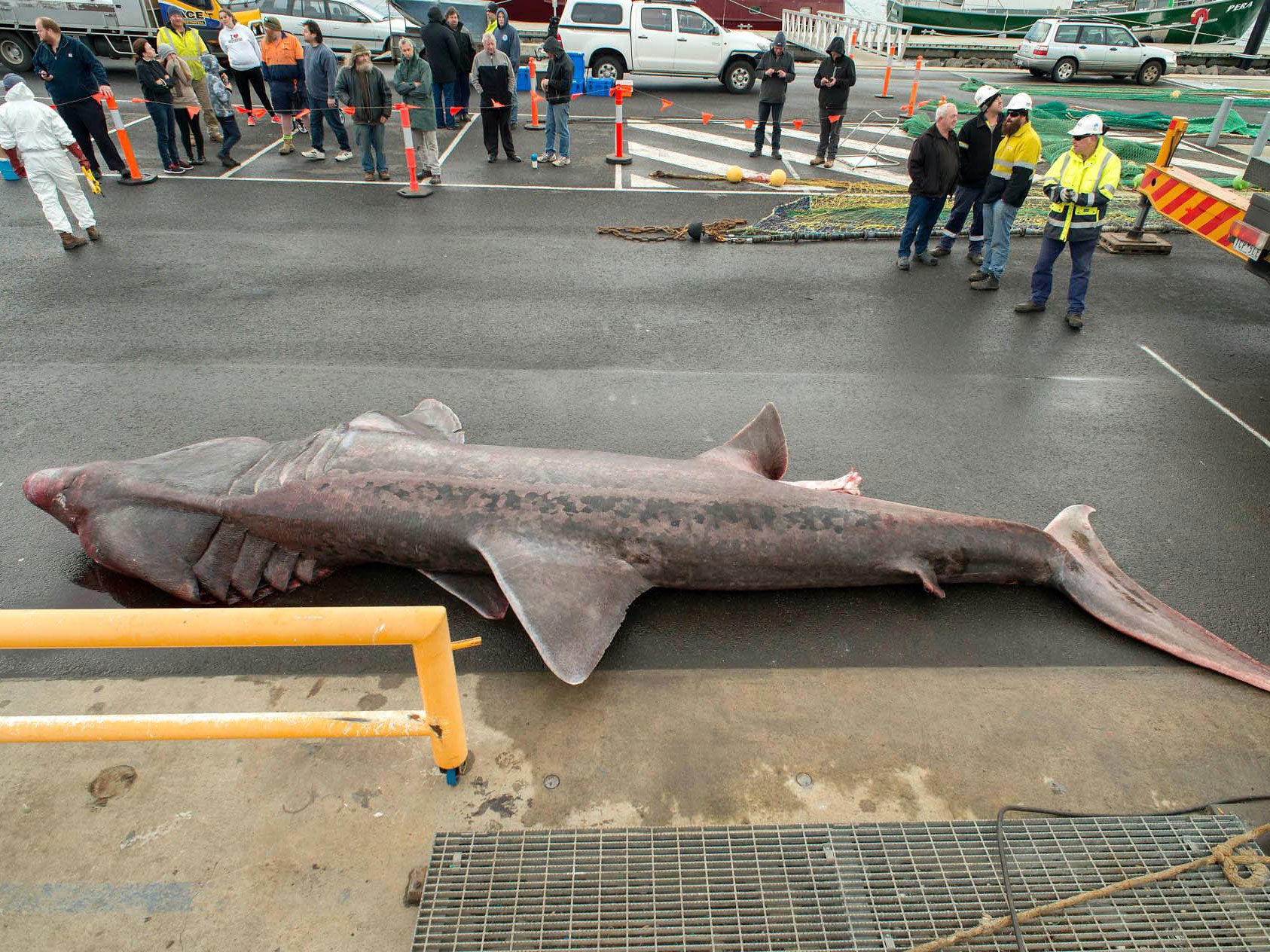 A 20ft-long basking shark has been caught accidentally by fishermen off the coast of Australia, causing excitement among scientists but enraging conservationists.
Ranked as the second-largest fish in the world, the species is classed as "vulnerable" after years of being targeted for food, leather, oil, fins and traditional medicine.
Basking sharks are rarely seen in Australian waters and the fish caught in Portland is being studied by scientists at Museum Victoria before parts are used for a model to go on display.
It was measured at 20ft (6.3m) after a crane took the 2.6 tonne fish off the boat.
A spokesperson for the museum wrote on Facebook that the "unfortunate" catch had "caused a great deal of excitement" and a small team travelled to Portland to measure and take samples from the carcass to gain learn about the species.
A statement said the male shark was dead by the time it was pulled aboard the fishing trawler, whose crew contacted the museum instead of selling the fish in the lucrative meat or fin trade.
"It provides a rare opportunity to conduct scientific research into this species," the spokesperson added. "This will help Museum Victoria with conservation efforts and biological research."
Tissue, stomach contents and skin samples were taken from the basking shark on Monday for DNA and isotope analysis that could reveal where it lived and what it ate.
Its head, fins, tail, vertebrae, jaw and teeth have been transported to Melbourne to make a moulded full-scale model.
Museum Victoria said it has only encountered three basking sharks in more than 160 years of documenting the state's wildlife and that most were represented by tiny teeth and skin samples.
The senior curator of ichthyology, Dr Martin Gomon, said: "These rare encounters can provide many of the missing pieces of knowledge that help broader conservation and biological research."
Di Bray, the museum's vertebrate zoology collection manager, said that as basking sharks are rarely seen in the area, researchers have no idea of their numbers.
Save Our Sharks, an Australian conservation group, claims that millions of sharks die every year after being accidentally caught in nets meant for other fish.
"While by-catch of other species such as dolphins has declined after highly publicised campaigns to protect them, the undeserved bad reputation of sharks is slowing down efforts to protect them from this wasteful and destructive practice," a spokesperson said.
One conservationist on Twitter called the basking shark's death "sickening", while people commenting on Museum Victoria's Facebook page said it was "indiscriminately killed" and called for tighter regulations for sustainable fishing.
UK-based group The Shark Trust calls the species "gentle giants", saying they feed on plankton and are harmless to humans.
Join our commenting forum
Join thought-provoking conversations, follow other Independent readers and see their replies