iPhone 8: Apple fan queues up 10 days before release determined to 'do whatever it takes'
Mazen Kourouche wants to be the first to share the new model with his YouTube followers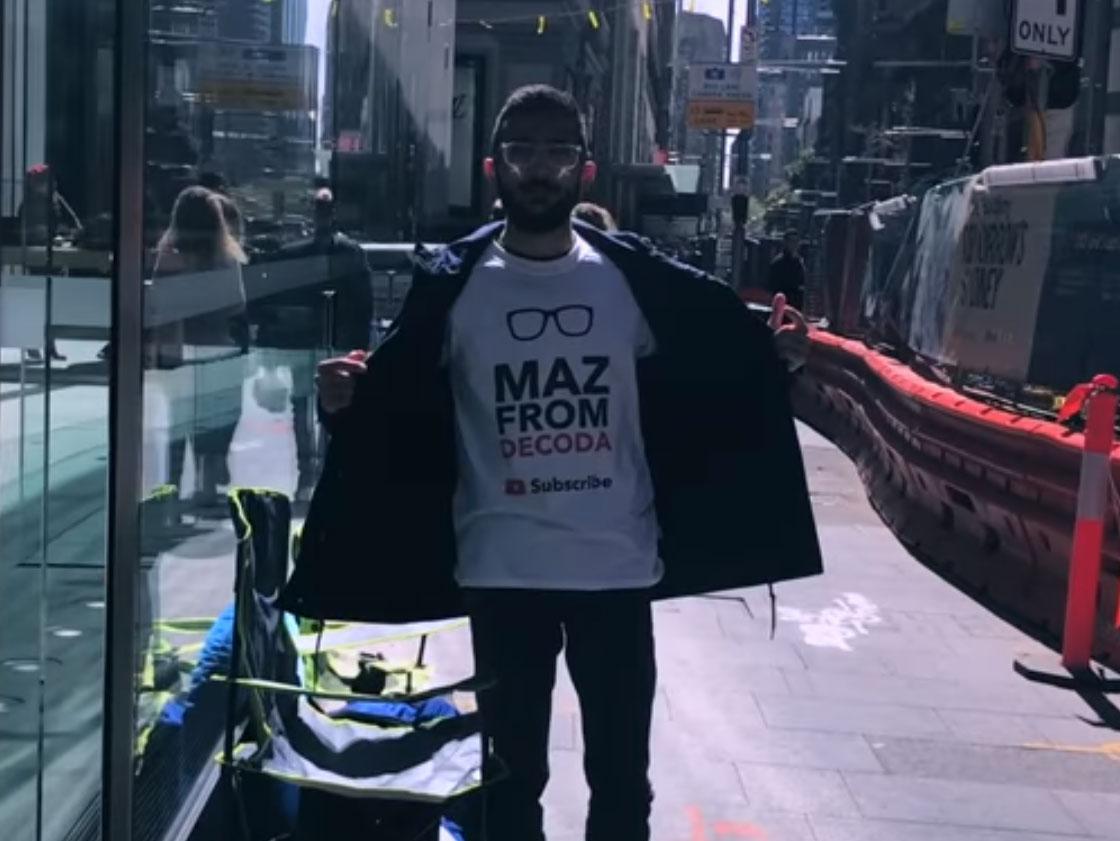 The highly-anticipated new iPhone models are not expected to be released for at least another 10 days, but one Apple fan in Sydney has already started queuing up for his new smartphone.
Mazen Kourouche, a 20-year-old software development student and YouTuber, has ensured he is first in line for the new iPhone 8 when it is released by camping out outside the city's flagship Apple store, equipped with a tent, camping chair, food and other supplies to help him through to next week.
Speaking to The Independent, Mr Kourouche, who is studying at the University of New South Wales, said he had ended up being third in line for the iPhone 7 last year and decided to "do whatever it takes" to be first this time around.
The student said he thought getting in line early would be an "awesome opportunity" for his YouTube channel. "I weighed up the publicity measures and knew that to get as much reach as I wanted I'd have to be first," he said.
He will also pre-order the phone once it is announced, allowing him to walk into the store on the day it is released and share the new features with his audience straight away.
Apple's announcement from the Steve Jobs Theatre at the company's Cupertino base in California is due to take place on Tuesday, with three smartphones expected to be unveiled, including the iPhone 8 and a rumoured 10th anniversary iPhone, labelled widely as iPhone X and thought to cost around $1,000 (£754) or more.
"I'll be putting snippets from the keynote on my Snapchat and Instagram, and at the end of the video I'll be documenting everything that was announced, giving people a heads up about what they can expect and my insight about what the best phone to buy is," he said, which he plans to do from his place in the queue.
The expected iPhone 8 model is predicted to offer an upgrade to the current iPhone7, while the iPhone X is predicted to have an edge-to-edge screen, built-in augmented reality and facial recognition technology, but Mr Kourouche is less concerned with the flashier side of the design.
"I'm hoping for some battery improvements, because there's a lot of new features like facial recognition but I'm all for the user experience. Better battery life, better screen, things like that." If the handset costs more than the current rumours however, he may not be able to afford to test the new features at all.
Mr Kourouche already has a number of apps in the Apps store and has been flown out by Apple to attend the brand's World Wide Developer Conference due to the success of his work for the past two years.
Queuing for long periods of time in street requires a different skill set however, and the student says he has two friends helping him in his mission, "otherwise the 10 days would be really unbearable".
The friends are sharing the position in shifts and can take it in turns to head home for a shower, while Mr Kourouche's experience of queuing for three days last year means he knew what to bring and where the closest facilities are.
"If it rains at night I can go to McDonalds or under some shelter. The good thing is my spot is visible from most places I go if I need to use the restroom, and then again everyone knows that I'm first in the queue anyway."
This time around he has a university assignment due in at the same time as the new iPhone's expected release date, but luckily he can write this while he waits.
The Apple store staff are also lending a helping hand: "They charge my devices for me, the wifi is there. They always like to have a chat and keep me company when they're free," he added.
Marcus Barsoum, who was first in line to buy the iPhone 7 last year, has already been in touch with Mr Kourouche to say he'll be joining the queue by Friday.
Mr Kourouche said he is happy to wait in line longer than 10 days for the new iPhone model if there is a delay to its expected release, but as the iPhone X may not be available until next month, he will simply pre-order it. "I wouldn't be out here until October, for sure."
Join our commenting forum
Join thought-provoking conversations, follow other Independent readers and see their replies