It's raining bats: 100,000 rotting carcasses fall from the sky during Australian heatwave
Record temperatures have taken devastating toll on wildlife population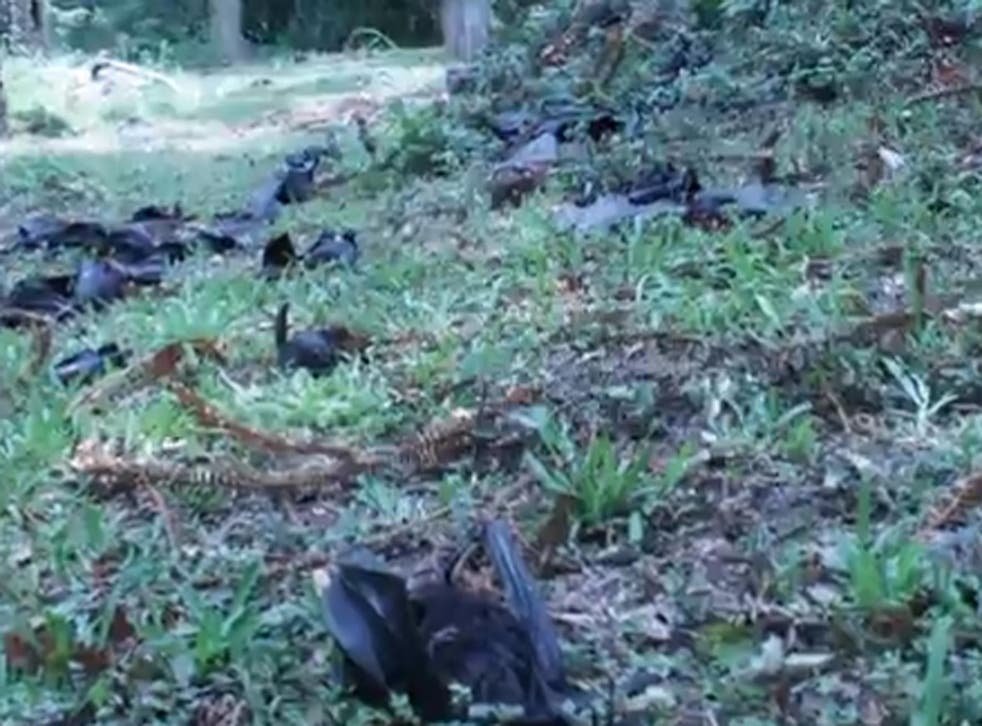 Tens of thousands of dead bats have fallen from the sky as a "catastrophic" heatwave hits parts of eastern Australia.
The RSPCA estimated that 100,000 could have died from heat exhaustion in record temperatures in southern Queensland.
Spokesman Michael Beatty says the heatwave was a significant blow to the population of bats across the state.
"The heatwave was basically a catastrophe for all the bat colonies in south-east Queensland," he said.
"That's obviously going to have a pretty disturbing impact on those colonies and those colonies are vital to our ecosystem."
The animals' corpses rot quickly in the heat and councils have organised collections to stop the stench.
Since Christmas, record temperatures of up to 48C have been seen across Australia, hot on the heels of the country's hottest year on record.
Louise Saunders, president of Queensland's Bat Conservation and Rescue group, said the bats cling to trees and urinate themselves before dying in a desperate bid to reduce their body temperatures.
She added: "As they succumb, they just fall in heaps at the base of trees.
"You can have 250 or more — it's like dripping chocolate — all dying at the base of trees.
"It's an enormous animal welfare concern."
The extreme heat has also killed birds and animals.
In Winton, where the song "Waltzing Matilda" was written, a large number of parrots, kangaroos and emus have been found dead in the parched landscape.
Additional reporting by Associated Press
Register for free to continue reading
Registration is a free and easy way to support our truly independent journalism
By registering, you will also enjoy limited access to Premium articles, exclusive newsletters, commenting, and virtual events with our leading journalists
Already have an account? sign in
Register for free to continue reading
Registration is a free and easy way to support our truly independent journalism
By registering, you will also enjoy limited access to Premium articles, exclusive newsletters, commenting, and virtual events with our leading journalists
Already have an account? sign in
Join our new commenting forum
Join thought-provoking conversations, follow other Independent readers and see their replies