New Zealand's prime minister Jacinda Ardern launches hunt for child's bunny left behind at airport
'I think everyone who has a little person in their lives will know how important these precious things can be'
Chiara Giordano
Friday 19 February 2021 21:03 Comments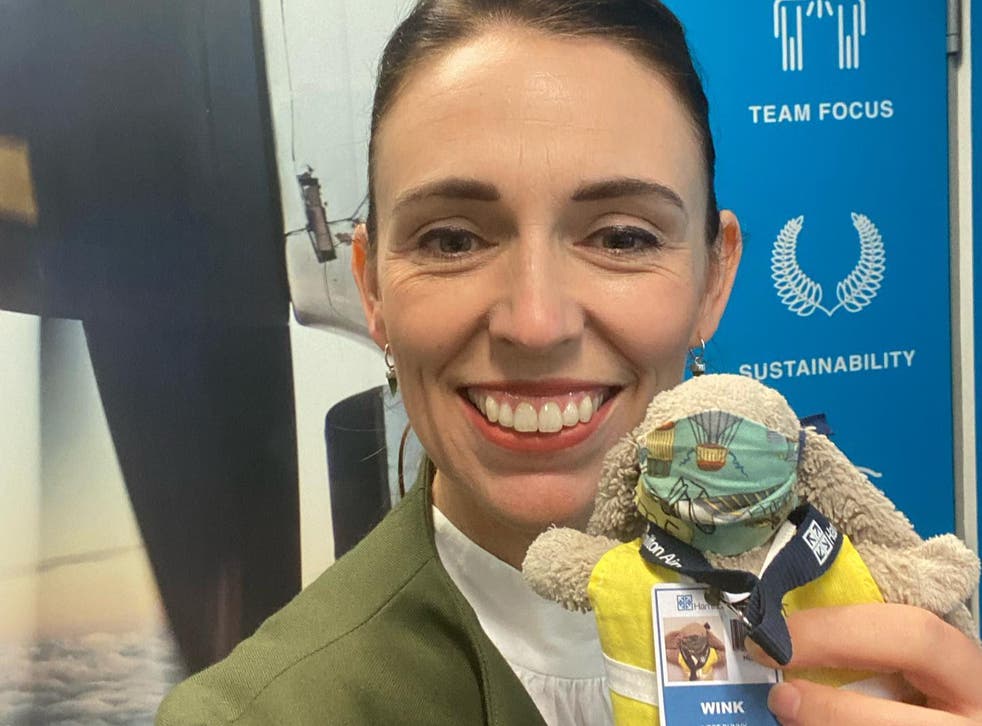 Leer en Español
New Zealand's prime minister launched a public appeal for help tracing the owners of a toy bunny after it was left behind at an airport.
Jacinda Ardern urged her thousands of social media followers to help reunite "Wink" the bunny with his family after the toy was handed to her by staff at Hamilton Airport.
Posting a selfie of herself holding the rabbit on Facebook on Thursday, Ms Ardern wrote: "Landed in Hamilton this morning and the airport team kindly let me use their board room for a couple of meetings.
"As I was leaving they introduced me to this wee bunny. It was found at the airport on the 28th of January and they've been looking for its owner ever since!
"I think everyone who has a little person in their lives will know how important these precious things can be, so maybe you can help us find whoever "wink" belongs to? (NB I think "wink" has only acquired a name, safety jacket, mask and ID since living at the airport...hopefully that won't stop it being recognised!)"
Hamilton Airport gave a "blimmin' exciting" update the following day, revealing it had managed to track down the toy's owner.
A spokesperson for the airport wrote on Facebook: "We found Wink's family!!! He belongs to little Beauen, who has had him since birth, and his name is Nu Nu!!
"We'll be back with more news tomorrow - Beauen's Mum can't wait to tell him in the morning!!!
"Thanks everyone - what an awesome ending to Wink's adventures!!!"
Ms Ardern was praised at the beginning of the coronavirus pandemic when she reassured children the Easter Bunny and Tooth Fairy were still considered "essential workers".
Register for free to continue reading
Registration is a free and easy way to support our truly independent journalism
By registering, you will also enjoy limited access to Premium articles, exclusive newsletters, commenting, and virtual events with our leading journalists
Already have an account? sign in
Join our new commenting forum
Join thought-provoking conversations, follow other Independent readers and see their replies