Hardline Muslims call for arrest of Christian governor of Jakarta for alleged blasphemy
'We are here because we want to defend the verses of God that have been abused'
Niniek Karmini
Jakarta, Indonesia
Friday 04 November 2016 08:39 Comments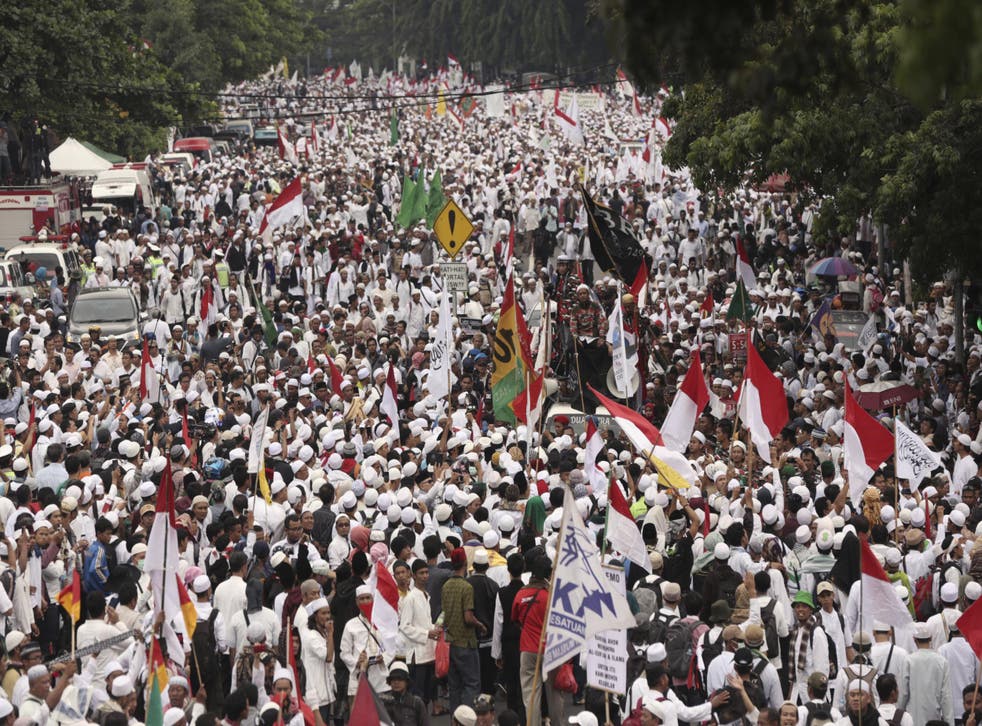 Thousands of hard-line Muslims have converged on the center of the Indonesian capital to demand the arrest of its governor for alleged blasphemy.
Fearing violence, police deployed 16,000 officers along with 2,000 soldiers and the same number of city public order officers to Jakarta's streets, where embassies and some shops closed, and normally traffic-clogged streets were nearly empty of cars.
The predominantly male demonstrators, most wearing white shirts and skull caps, massed at the Istiqlal Mosque for the protest following weekly Friday prayers and marched on the nearby presidential palace. Protests were also taking place in other cities including Medan on Sumatra, Makassar in Sulawesi and Malang in East Java.
The accusation of blasphemy against Jakarta Govenor Basuki "Ahok" Tjahaja Purnama, an ethnic Chinese and minority Christian who is an ally of the country's president, has galvanized his political opponents in the Muslim-majority nation of 250 million, and given a notorious group of hard-liners a national stage.
"We are here because we want to defend the verses of God that have been abused by Ahok," said Nasrullah Achmad, who came from Bekasi, a Jakarta satellite city, with dozens of others from his Islamic study group who raised clenched fists and shouted "God is Great."
"Only one thing can stop us: Ahok's arrest," said Achmad.
Blasphemy is a criminal offense in Indonesia and prosecutions have increased in the past decade though most people practice a moderate form of Islam. Amnesty International documented 106 convictions between 2004 and 2014 with some individuals imprisoned for up to five years.
Television showed the governor visiting a Jakarta neighborhood and talking to residents. President Joko "Jokowi" Widodo and other national figures have called for a peaceful demonstration amid fears Islamic State group supporters might try to cause chaos.
The simmering political climate has provided an opening for the Islamic Defenders Front, a vigilante group that wants to impose Shariah law, to burnish its credentials as protector of Indonesia's majority faith at the expense of mainstream Muslim groups.
The Front, the main organizer of the protest, is demanding Ahok's arrest for blasphemy after a video circulated online in which he joked to an audience about a passage in the Quran that could be interpreted as prohibiting Muslims from accepting non-Muslims as leaders. The governor has apologized for the comment and met with police.
World news in pictures

Show all 50
Ahok, who is seeking a second term as Jakarta governor, is popular with the city's middle class. He is adored as a blunt speaker who doesn't tolerate corruption and articulates a vision to make the chaotic, dysfunctional city more like clean, orderly and efficient Singapore.
But the anti-corruption stance has made him enemies, and the evictions of thousands of the city's poorest people to make way for urban improvement has stoked anger and resentment and played to a stereotype of Chinese as exploiters of Indonesia's poor Muslim masses.
On the national stage, Ahok is ranged against former President Susilo Bambang Yudhoyono, whose son is a candidate for Jakarta governor, a position that is a stepping stone to national leadership.
Register for free to continue reading
Registration is a free and easy way to support our truly independent journalism
By registering, you will also enjoy limited access to Premium articles, exclusive newsletters, commenting, and virtual events with our leading journalists
Already have an account? sign in
Join our new commenting forum
Join thought-provoking conversations, follow other Independent readers and see their replies