Julia Gillard: Australia's first female Prime Minister reveals the 'sexism and misogyny' she faced on her rise to the top
In her new book, the Welsh-born politician addresses the gender debate and tells Kathy Marks about her hopes for a change in attitude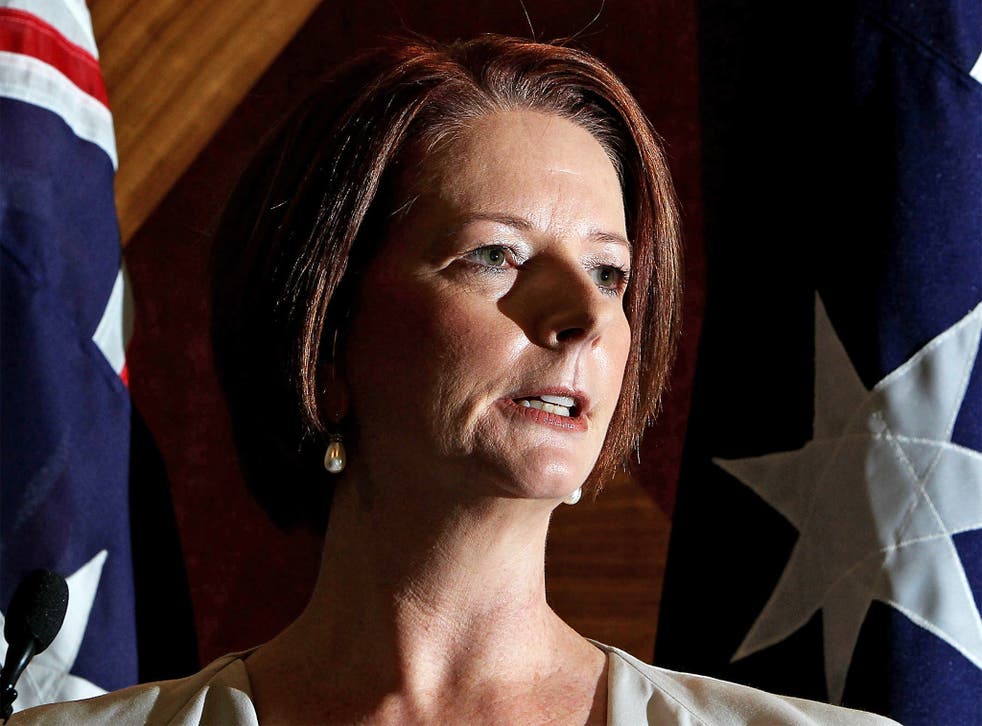 The pornographic cartoons, the calls to "ditch the witch", the obsession with the size of her behind – after becoming Australia's first female Prime Minister, Julia Gillard swallowed all this and much more, determined to "tough it out".
But when the then opposition leader, Tony Abbott, lambasted her for not sacking the parliamentary Speaker, Peter Slipper, over some grossly offensive text messages, the dam burst – and the result was her notorious "misogyny speech".
As Ms Gillard records in a recently published memoir, she was already fired up as she entered the parliamentary chamber for Question Time. "I do not normally think in swear words, but my mind was shouting, 'For f***'s sake, after all the s*** I have put up with, now I have to listen to Abbott lecturing me on sexism. For f***'s sake!'"
Yet she never expected her speech, a devastating attack on Mr Abbott's own failings, to have such a powerful effect, she writes of the speech in 2012. The electrifying address brought congratulations from world leaders, including Barack Obama, transforming her into a feminist icon and receiving (to date) more than 2.6 million YouTube hits.
In her book, My Story, Ms Gillard – who was deposed by her arch-rival Kevin Rudd in June last year and retired from politics at the September election – addresses the sexism and misogyny she faced, not only from political opponents, but in the media and out on the streets.
She also documents her poisonous political feud with Mr Rudd, whom she deposed as Labor Party prime minister in June 2010, only to have him return the favour three years and three days later.
In an interview with The Independent, Ms Gillard said she initially tried to ignore the "gendered" criticism, which included viciously pornographic cartoons circulated on social media and a menu at a conservative fundraising dinner featuring a "Julia Gillard Kentucky Fried Quail" with "small breasts, huge thighs and a big red box". "My essential view was that it was because I'm the first woman, I'm unusual, and it will wash itself out of the system," she said. "It didn't."
She said it was clear that Australian society was still struggling with the notion of women in power. "I think as a nation, and this is also true of countries like the UK… we've not yet culturally embraced women and leadership. Somehow we're finding it difficult to correlate female leaders and likeability.
"I hope this book will start a real conversation, because it's a discussion we need to have – about the way gender continues to play out in Australian life and around the world."
In My Story, Ms Gillard accuses Mr Rudd of "blackmail", "sabotage" and "bastardry", claiming he was responsible for leaks which wrecked her 2010 election campaign and that he waged a "campaign of internal stabilisation" to undermine her ensuing minority government.
Mr Rudd has dismissed the book, which is selling well, as "Ms Gillard's latest contribution to Australian fiction".
He has also retaliated by leaking, or having someone leak, his secret submission to a Labor Party inquest on the 2010 election. In the document, details of which were published in The Australian, he was scathing about her performance as Prime Minister and wrote that voters considered her a "backstabber".
Ms Gillard insists she had "no choice" but to depose Mr Rudd, as his behaviour had become so dysfunctional.
And she writes that, just before challenging him as Labor leader, in the ballot which led to her replacing him, she wept after learning that he no longer trusted her.
So swiftly did those events unfold that she had to borrow a necklace for the ceremony at which she was sworn in as Prime Minister, she reveals. Her partner, Tim Mathieson, meanwhile, turned up in one black and one brown boot.
Ms Gillard recalls the "loneliness" of often being the sole woman at boardroom meetings, the rudeness of some male journalists who refused to address her as "Prime Minister" and the way she was unfavourably compared – including in her choice of outfit – with the then state Premier, Anna Bligh, following the 2011 Queensland floods.
After that last experience, she writes, "a good friend of mine remarked to me that it was… like when one chicken in the coop gets pecked so hard she bleeds and then all the others turn to peck her to death".
Ms Gillard told The Independent she wondered whether she ought to have confronted the sexism and misogyny early in her prime ministership – "or would there have been allegations of 'hysterical', 'brittle', 'not coping' and all these things that too easily trip off the tongue about women?
"When I did raise this issue more squarely later on [in her misogyny speech], I faced calls of playing the gender card, which I think is language we need to recalibrate. The people playing the gender card are the people who treat women as different or lesser. Women who stand up for themselves are not playing the gender card."
Despite her experience – or perhaps, because of it – she is "optimistic" that things will be easier for the next female leader. "And I would say to… [any woman] thinking of going into politics 'if you know why you want to do it, if you have a sense of purpose, then go for it'."
Register for free to continue reading
Registration is a free and easy way to support our truly independent journalism
By registering, you will also enjoy limited access to Premium articles, exclusive newsletters, commenting, and virtual events with our leading journalists
Already have an account? sign in
Register for free to continue reading
Registration is a free and easy way to support our truly independent journalism
By registering, you will also enjoy limited access to Premium articles, exclusive newsletters, commenting, and virtual events with our leading journalists
Already have an account? sign in
Join our new commenting forum
Join thought-provoking conversations, follow other Independent readers and see their replies