Julia Gillard revives plans to deport Australia's boat refugees
The Prime Minister wants to make the 'Pacific Solution' even tougher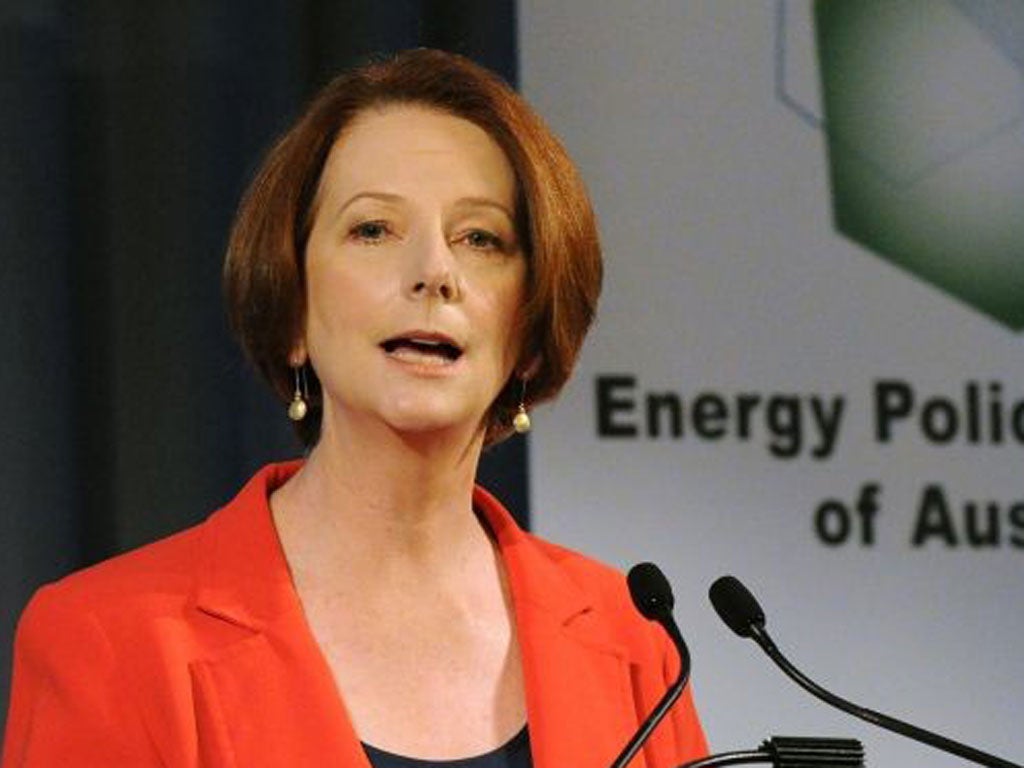 One of the Australian Labor Party's first acts on coming to power in 2007 was to scrap the reviled "Pacific Solution" which saw asylum-seekers sent to remote island nations for processing. Julia Gillard described the policy as "costly, unsustainable and wrong as a matter of principle".
Five years on, Prime Minister Gillard is planning to resurrect the Pacific Solution – and make it even tougher. Asylum-seekers assessed as genuine refugees will have to spend years in detention camps – on the impoverished Pacific island of Nauru, or in Papua New Guinea – waiting to be resettled. And their families will no longer be allowed to be join them.
Labor's dramatic backflip has been prompted by a record number of people arriving in leaky boats – more than 7,500 so far this year – and the prospect of an election before the end of 2013. Hardline refugee policies play well with Middle Australia, as the former conservative prime minister John Howard, architect of the Pacific Solution, discovered.
Ms Gillard has managed to save face, to some degree, by offloading responsibility on to an "expert panel" which delivered its report yesterday. The panel, led by the former head of the defence force, Angus Houston, called for mothballed detention centres on Nauru and the Papua New Guinean island of Manus to be reopened immediately.
The panel was appointed six weeks ago in an effort to break a political deadlock, and following the deaths of more than 90 asylum-seekers at sea. Mr Houston said that in the light of the drownings – more than 600 people have died attempting the perilous voyage across the Indian Ocean since late 2009 – "urgent and decisive action" was needed. But human rights and refugee groups were horrified by the prospect of a return to the "bad old days" of detaining people on Nauru and Manus, where asylum-seekers – many already traumatised by torture and persecution at home – languished for years under the Howard government. Some of those detainees went on hunger strikes or attempted suicide; many suffered lasting mental health problems.
Amnesty International's refugee spokesman, Dr Graham Thom, said it was "shocking to see the panel favour punitive measures that deliberately hold vulnerable people hostage, separate families and leave them in limbo".
A leading refugee lawyer, David Manne, told Sky News that the measures amounted to "sweeping the dangers from our doorstep to doorsteps elsewhere", and he questioned whether they would be an effective deterrent.
Mr Houston said the panel was guided by the belief that asylum-seekers who sailed to Australia, rather than waiting in overseas refugee camps, should not gain an advantage. Hence its recommendation that the former should have to wait years to be resettled, even if their refugee claims were genuine.
The government – which accepted all 22 recommendations, including an increase in Australia's annual refugee intake from 13,750 to 20,000 – plans to introduce legislation today enabling the Pacific detention centres to be reopened. Ms Gillard said she was prepared to compromise "in order to get things done".
Her proposal to send boat people to Malaysia, in exchange for Australia accepting refugees waiting there to be resettled, may be revived later on.
Join our commenting forum
Join thought-provoking conversations, follow other Independent readers and see their replies