Man dies after swooping magpie causes him to crash bicycle
Cyclist hit fence after bird flew at woman on path ahead, say police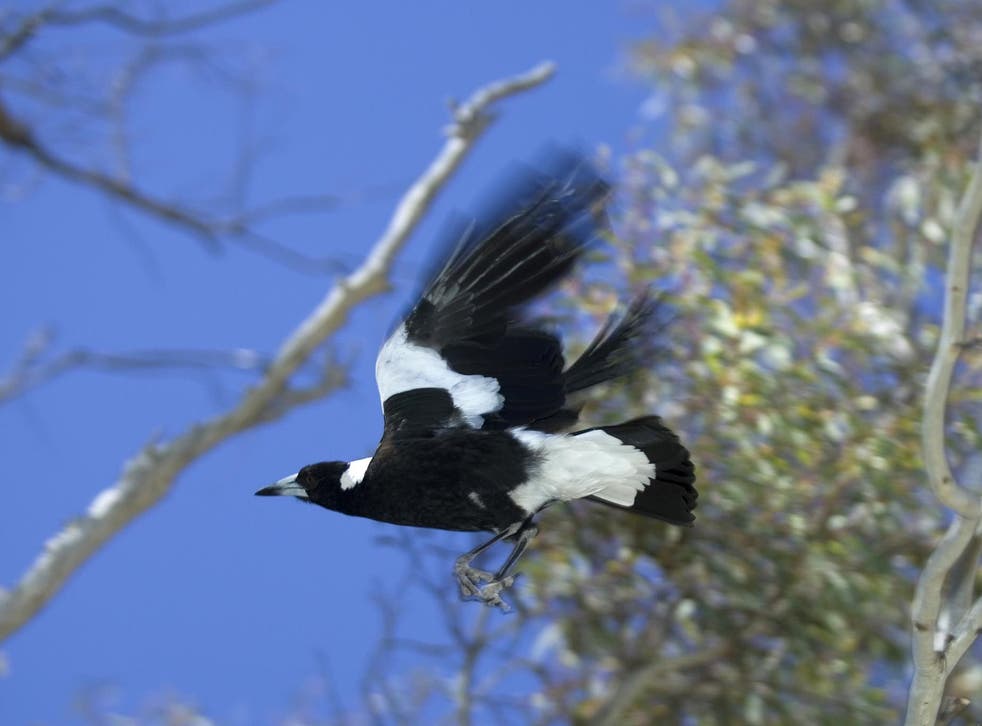 A man has died in Australia after a swooping magpie reportedly caused him to crash his bicycle.
The 76-year old man was distracted by the bird when he crashed into a fence, suffering a head injury, police said.
The incident happened on an off-road cycle path near Woonona Beach south of Sydney at about 8am on Sunday. The victim was wearing a helmet, which is a mandatory requirement for cyclists in Australia.
Paramedics called to the scene treated him before he was flown to St George Hospital in Sydney.
He was admitted in a critical condition and died of his injuries on Sunday evening.
World news in pictures

Show all 50
According to witnesses, the man was cycling with three other people when he became aware of the magpie which was swooping over a female cyclist coming towards him in the opposite direction.
While he was distracted, his bicycle left the path and hit a low wooden fence and he fell to the ground.
"His eyes were off the path because he was concerned about the magpie swooping him I think," said Nathan Foster, whose wife was the cyclist being swooped by the magpie.
"He went over the fence and sustained some pretty bad injuries," he told Australia's 9 News.
The area is reportedly known as a spot where magpies regularly swoop at humans.
Mark Lawrie, chief executive of the Sydney University Veterinary Teaching Hospital, told The Sydney Morning Herald it was "pretty much impossible" to stop magpies from aggressive swooping once they had learnt the behaviour.
"It's a repeat behaviour from individual birds, not the whole magpie clan," he said.
"Certain birds learn to attack and swoop, and [it's] probably like the barking dog with someone walking past the property – because the people go away, they think they've been successful, so it reinforces the behaviour."
Though they are of roughly similar size, Australian magpies differ to their European counterparts, and are not closely related.
During the mating season, Australian magpies can become aggressive, with the period of time known colloquially as the "swooping season".
Last month a Sydney council was forced to defend the shooting of a "particularly aggressive" magpie, which had apparently swooped and attacked people. The council had received 40 complaints about the "monster" bird over three years, which reportedly divebombed people, going for their faces, even outside swooping season.
Though protected, councils may apply for a licence to target birds if they are deemed a pest.
Register for free to continue reading
Registration is a free and easy way to support our truly independent journalism
By registering, you will also enjoy limited access to Premium articles, exclusive newsletters, commenting, and virtual events with our leading journalists
Already have an account? sign in
Register for free to continue reading
Registration is a free and easy way to support our truly independent journalism
By registering, you will also enjoy limited access to Premium articles, exclusive newsletters, commenting, and virtual events with our leading journalists
Already have an account? sign in
Join our new commenting forum
Join thought-provoking conversations, follow other Independent readers and see their replies