World's oldest message in a bottle found on Australian beach
Photographer picked up glass vessel 'thinking it might look nice on display in my home'
Harriet Agerholm
Tuesday 06 March 2018 15:32 Comments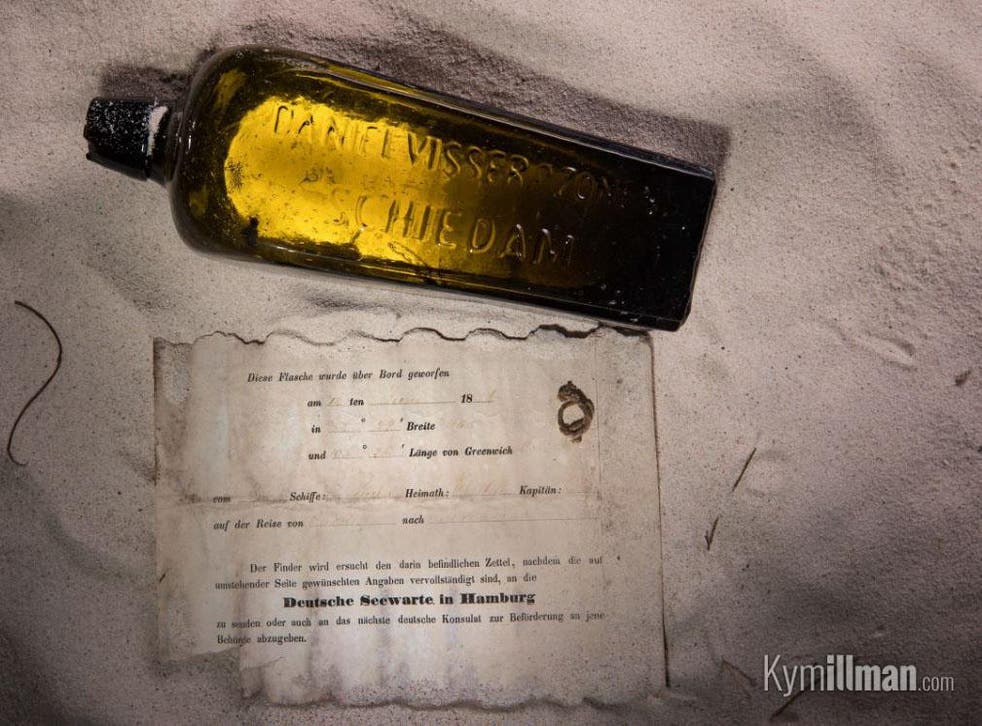 The world's oldest known message in a bottle has been discovered by a couple on a beach in Western Australia.
Photographer Tonya Illman saw the 132-year-old bottle by chance while walking on a sand dune next to a beach near Wedge Island in January.
She said she picked up the bottle because she thought "it might look nice on display in my home".
Inside the gin bottle was a note written in German and dated 12 June 1886. Ms Illman's husband, Tim Illman, later helped translate the note.
The Western Australian Museum (WAM) confirmed the authenticity of the find, saying it believed the bottle was thrown from a German sailing ship attempting to find efficient shipping routes.
Between 1864 until 1933, German boats threw thousands bottles into the sea in attempts to track the currents of the ocean.
The messages in the bottles included the ship's coordinates, the date and the name of the ship.
The notes also asked the finder to write when and where the bottle had been found and return it to the German Naval Observatory in Hamburg or to the nearest German consulate.
Ross Anderson, from WAM, used the name written on the note, Paula, to confirm the age of the message.
He matched the name to maritime records of a German ship and found the handwriting was similar to a captain's entries in Paula's meteorological journal.
The previous world record for the oldest message in a bottle was 108 years, four months and 18 days, according to WAM.
World news in pictures

Show all 50
Ms Illman said of the bottle's discovery: "I picked it up thinking it might look nice on display in my home.
"When I got back to the car, I handed it to my son's girlfriend, Bree Del Borrello, to mind while I helped my husband get my son's car out of the soft sand."
Ms Del Borrow looked inside the bottle and saw what she thought was a cigarette, but discovered it was a damp, tightly-rolled note tied with string.
Ms Illman took the note home with her, where she dried it out.
The bottle and message will be on display at the Western Australian Maritime Museum in Fremantle for the next two years.
Register for free to continue reading
Registration is a free and easy way to support our truly independent journalism
By registering, you will also enjoy limited access to Premium articles, exclusive newsletters, commenting, and virtual events with our leading journalists
Already have an account? sign in
Join our new commenting forum
Join thought-provoking conversations, follow other Independent readers and see their replies