Mining mogul's granddaughter sues for $25m upkeep (and gold-studded guitar)
The court heard that Olivia Mead was 'not a spoilt child'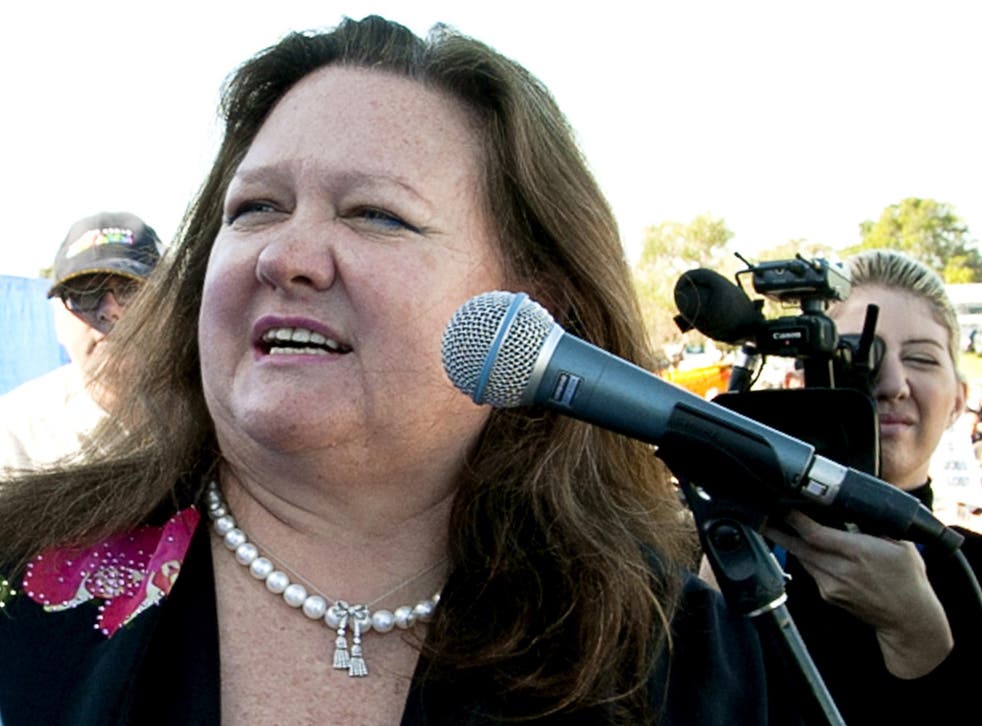 Five pairs of A$5,000 (£2,518) shoes every year for the rest of her life. Annual holidays totalling $40,000.
A $2.5m house, handbags costing $10,000 a year and $2,000 for the annual upkeep of an axolotl, or Mexican walking fish. Oh, and a $250,000 gold and diamond-studded bass guitar. All together, about $25m. Not excessive, surely?
So argue lawyers for Olivia Mead, who wants a bigger share of the wealth bequeathed by her grandfather, Peter Wright, a legendary figure in the Australian mining industry. Mr Wright was the business partner of Lang Hancock, whose daughter, Gina Rinehart, is Australia's richest person, with an estimated fortune of US$11.7bn (£7.6bn).
When she launched a lawsuit earlier this month, Ms Mead gave the Supreme Court of Western Australia a shopping list of things she needs for her "proper maintenance, support, education and advancement" until her prospective death, aged 96. Her late father, Michael Wright, left her "only" $3m – a sum which was plainly inadequate, she told the court.
Almost as extraordinary as the lifestyle to which the 19-year-old student aspires is the fact that few outside the family even knew of her existence until the case began. She and her two half-sisters, Leonie Baldock and Alexandra Burt, whom she is suing, glared at each other across the crowded Perth courtroom.
The seeds were sown in the 1960s, when Mr Hancock and Peter Wright discovered vast deposits of iron ore in Western Australia's remote Pilbara region. The find made the two prospectors fabulously rich, earning them tens of millions of dollars a year in royalties – but it left their families, decades on, locked in almost continuous litigation.
Ms Rinehart is embroiled in two separate lawsuits brought by her estranged children. Michael Wright and his sister, Angela Bennett, successfully sued her for a 25 per cent stake in a massive iron ore tenement. And Michael and Angela were sued by the children of their brother, Julian, settling out of court for A$50m.
Ms Mead is the product of an affair which four-times-married Mr Wright had with her mother, Elizabeth. When he died in 2012, he left most of his estimated $750m fortune to Ms Baldock and Ms Burt – who run the family business, including mining interests and a winery – and their brother, Myles, a musician.
The court heard that Ms Mead was not a "spoilt child" and "had very little money spent on her". Her father, who visited her every few months, paid basic child support as well as her school fees, and bought her the occasional present.
Michael Wright had frugal tastes. He didn't care for flash cars, and thought yachts "a waste of money". His daughter is cut from different cloth. As well as the Jimmy Choos and the Tiffany prescription sunglasses, she wants an Audi A4, a Toyota Tarago, $400 a week for meals out and $150 a week for fine wines.
Looking ahead, she wants a $100,000 wedding and enough cash to bring up four children, as well as various pets.
Ms Mead – who lives with her mother in suburban Perth and drives a 1993 Toyota Corolla – has already made concessions, striking off her wish list not only the Ritter Royal Flora Aurum guitar, which has a nut made of Siberian mammoth ivory, but also a $1.6m crystal-encrusted grand piano.
That has whittled down the total price tag to a $12m. Even so, if the claim is upheld, it will be the biggest court-ordered payout from an estate in Australian history.
Register for free to continue reading
Registration is a free and easy way to support our truly independent journalism
By registering, you will also enjoy limited access to Premium articles, exclusive newsletters, commenting, and virtual events with our leading journalists
Already have an account? sign in
Register for free to continue reading
Registration is a free and easy way to support our truly independent journalism
By registering, you will also enjoy limited access to Premium articles, exclusive newsletters, commenting, and virtual events with our leading journalists
Already have an account? sign in
Join our new commenting forum
Join thought-provoking conversations, follow other Independent readers and see their replies