New Zealand Prime Minister John Key wins third term as scandals fail to stick
National Party takes historic majority in New Zealand's parliament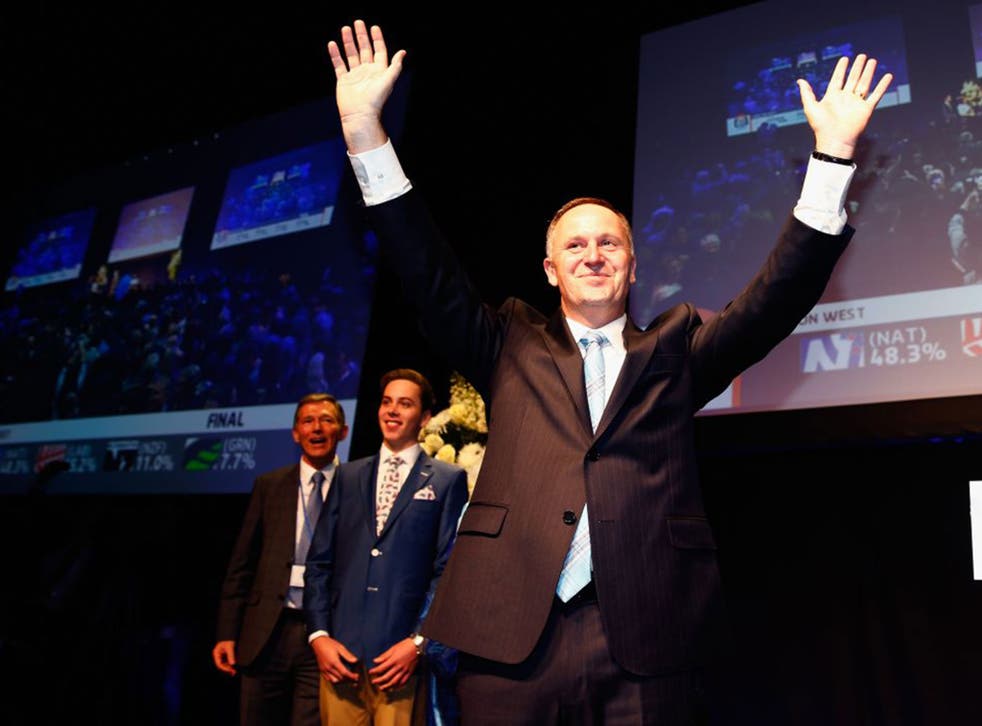 Shrugging off revelations of dirty tricks, claims of mass surveillance and even a lawsuit by Eminem, John Key was yesterday celebrating his third straight election victory – and an outright majority for his conservative National Party, the first since New Zealand embraced proportional representation nearly 20 years ago.
What analysts called the country's "dirtiest" and "craziest" election campaign did not, apparently, tarnish Mr Key, a self-made millionaire and a former investment banker. He "could be photographed shooting little kittens in his garden with a shotgun and still be popular," the German internet tycoon Kim Dotcom tweeted recently.
Mr Dotcom, who is fighting extradition to the US on charges of internet piracy and money laundering, was one of the wild cards. He founded his own party, the Internet Party, and – since he was unable to stand himself, as a non-citizen – made an alliance with the small, left-wing, Maori-focused Mana Party.
But despite his sinking NZ$4m (£2m) into the fight, and enlisting the support of Julian Assange and Edward Snowden, Internet-Mana won only 1.26 per cent of the vote and no seats.
The Nationals, by contrast, secured a historic victory, with voters rewarding Mr Key for his steady stewardship of the economy. With 48.1 per cent of the vote, the party has 62 of the 121 parliamentary seats, and is likely to bolster its position by renewing deals with minor parties.
Since New Zealand adopted proportional representation in 1996, no party has won an outright majority until now. In his victory speech, Mr Key attributed the result to "those who kept the faith … who refused to be distracted".
There was a lot to be distracted by. In mid-August, a book by New Zealand's top investigative journalist, Nicky Hager, revealed that Mr Key and senior colleagues had colluded with a right-wing blogger to smear political opponents and civil servants. The Prime Minister was saved by the resignation of his Justice Minister, Judith "Crusher" Collins.
Then there were the allegations – by Mr Assange and Mr Snowden, the US National Security Agency whistleblower – that the government had planned to implement a programme of mass cyber-surveillance of the population.
As for Eminem, the rapper is suing the Nationals for breach of copyright after they used music similar to his Lose Yourself track in a campaign advertisement. That didn't hurt the seemingly Teflon-coated Prime Minister either.
Register for free to continue reading
Registration is a free and easy way to support our truly independent journalism
By registering, you will also enjoy limited access to Premium articles, exclusive newsletters, commenting, and virtual events with our leading journalists
Already have an account? sign in
Register for free to continue reading
Registration is a free and easy way to support our truly independent journalism
By registering, you will also enjoy limited access to Premium articles, exclusive newsletters, commenting, and virtual events with our leading journalists
Already have an account? sign in
Join our new commenting forum
Join thought-provoking conversations, follow other Independent readers and see their replies