About 1,500 people forced to evacuate from Papua New Guinea island after volcano explodes
A dome of lava on Kadover was visible in the sea at the base of thick white steam clouds, say volcanologists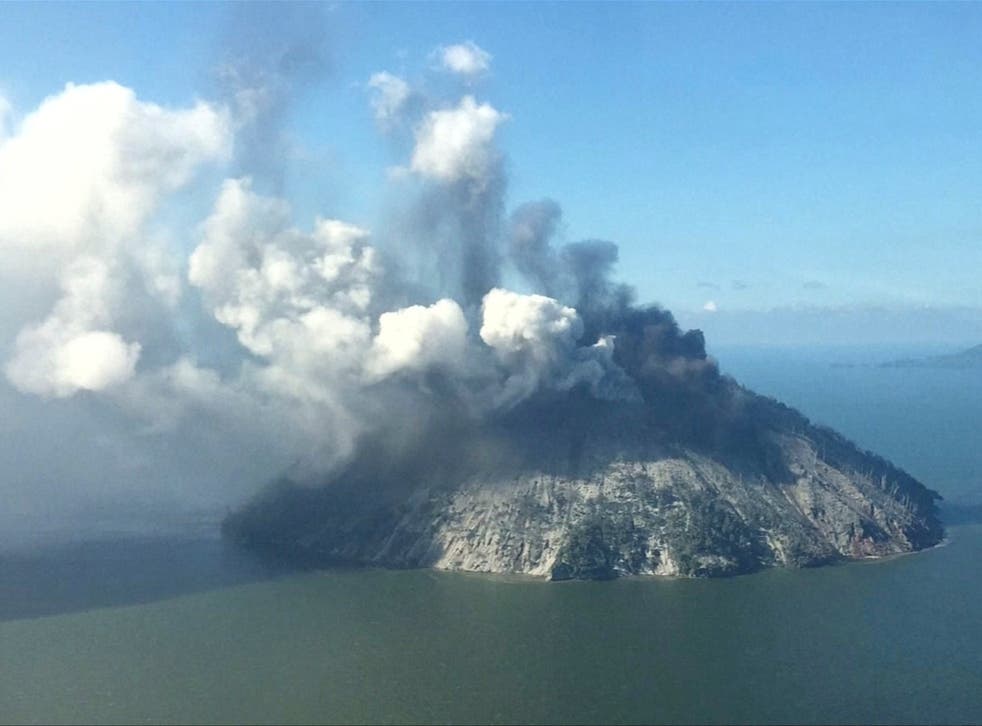 About 1,500 people are being evacuated from an island off the northern coast of Papua New Guinea (PNG) after a nearby volcano erupted for the first time, the local Red Cross said on Sunday.
A volcano on the island of Kadovar, located about 24 km (15 miles) north of the Papuan mainland, began erupting on 5 January which prompted the evacuation of 590 people to the nearby island of Blup Blup.
After venting ash for several days, the volcano exploded on Friday, blasting out burning rocks and sulphur dioxide, the Rabaul Volcanological Observatory said in a bulletin. It is the first time the volcano has erupted in known history.
The PNG government subsequently decided to evacuate Blup Blup as well because of difficulties with supplying people on the island along with the danger from the eruption.
The evacuees are being moved to the mainland and the International Red Cross is providing about 87,000 kina (£19,720) in funding to help them, said PNG Red Cross Secretary General Uvenama Rova speaking from the capital of Port Moresby.
"As the volcano erupted, the people rushed immediately to escape. So they are in immediate need of food, water, shelter and clothing as well," he said.
Plane footage shows surprise eruption of volcano causing evacuations in Papua New Guinea
On Sunday, the Observatory said a dome of lava on Kadover was visible in the sea at the base of thick white steam clouds that rose to 600 metres (1,969 feet) above sea level.
Australia's Foreign Minister Julie Bishop announced on Twitter that the Australian Government was contributing A$25,000 (£14,400) worth of humanitarian supplies for those affected.
World news in pictures

Show all 50
There are no confirmed records of a previous eruption of Kadovar, said Chris Firth, a vulcanologist at Macquarie University, but scientists speculate it could have been one of two "burning islands" mentioned in the journals of a 17th-century English pirate and maritime adventurer, William Dampier.
Dampier may have recorded the last eruption of Kadovar during a voyage in search of "Terra Australis", the southern continent once though to be mythical, Mr Firth added.
When the 365m tall volcano began erupting on Sunday, experts feared it could lead to landslides and tsunamis in the area. Now scientists are interested to observe the volcano's behaviour since they have nothing to compare it to.
Additional reporting by Reuters.
Join our new commenting forum
Join thought-provoking conversations, follow other Independent readers and see their replies