Man grows ear on his arm and will connect to the internet so the world can listen in
'I've always got something up my sleeve,' said Cyrpus-born artist Stelarc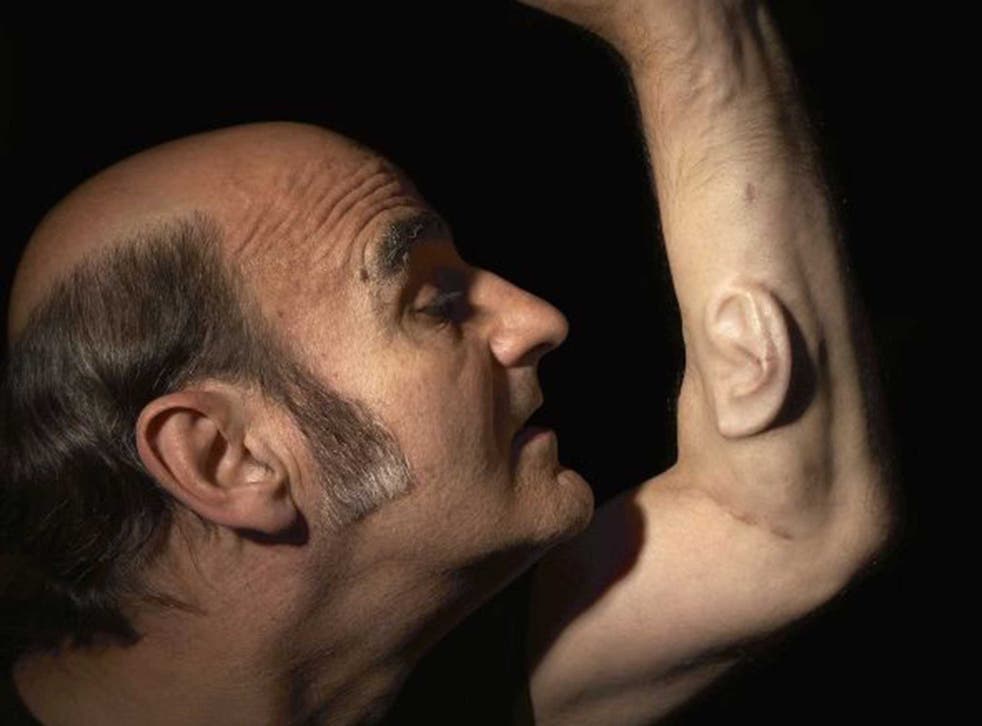 A performance artist has had an ear attached to his arm and plans to connect it to the internet in his latest experiment based around the human body.
The Cypriot artist Stelarc first had the idea for the ear, constructed from scaffolding inserted under the skin on his arm, in 1996 but was unable to find a medical team willing to perform the operation until 2007.
Mr Stelarc, born Stelios Arcadiou in Cyprus but now based in Melbourne, intends to insert a miniature microphone into his third ear and broadcast 24 hours a day.
The head of the Alternate Anatomies Laboratory at Curtin University believes the project – aborted once before after an infection developed in his arm – is a comment on an increasingly connected world.
The 69-year-old claims the microphone will never be turned off – unless he leaves a wi-fi hotspot – and that people from around the world will be able to listen in.
"This ear is not for me, I've got two good ears to hear with," he told Australian network ABC.
"This ear is a remote listening device for people in other places.
"Increasingly now, people are becoming internet portals of experience ... imagine if I could hear with the ears of someone in New York, imagine if I at the same time could see with the eyes of someone in London."
Tissue and blood vessels grew around Stelarc's new ear within six months of the operation, developing its own blood supply, but the next step is to lift the ear from his arm and grow an ear lobe.
"People's reactions range from bemusement to bewilderment to curiosity, but you don't really expect people to understand the art component of all of this," Mr Stelarc told ABC.
"I guess I've always got something up my sleeve, but often my sleeve is rolled down."
Join our new commenting forum
Join thought-provoking conversations, follow other Independent readers and see their replies