Island of Tanna tribe that treated Prince Philip as a god now expected to worship Charles
Prince of Wales already has a shrine in one of the villages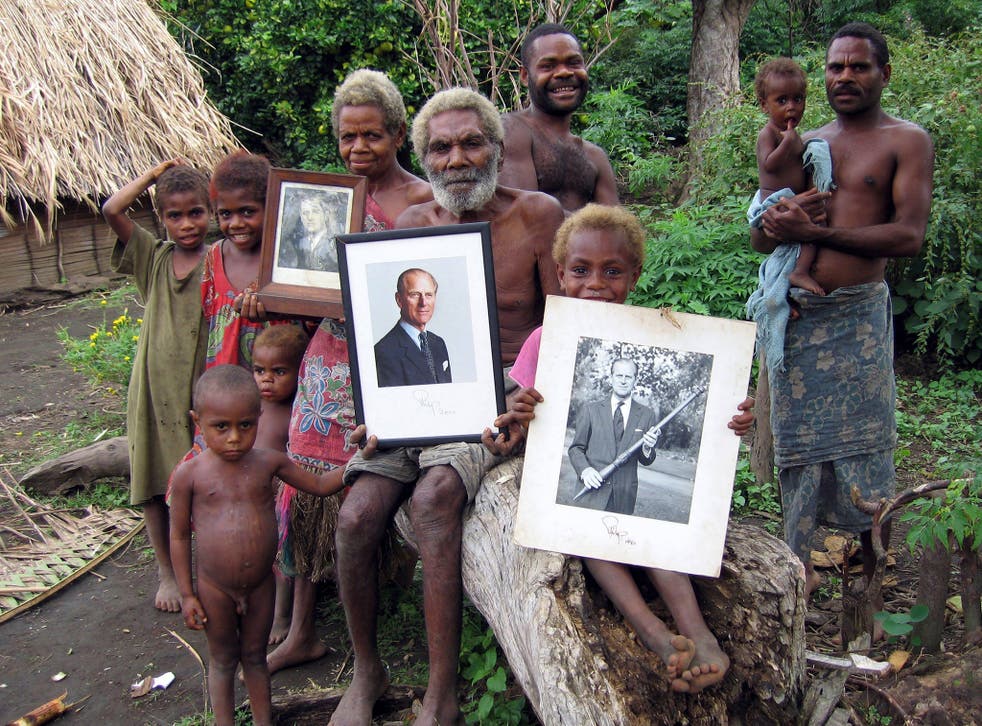 Leer en Español
The South Pacific tribe that saw Prince Philip as a living god will likely turn to worship Prince Charles, a leading anthropologist has said.
A group of villagers on the tiny island of Tanna in the Vanuatu archipelago believe the Duke of Edinburgh had descended from their spiritual ancestors and worshipped him, praying that he would one day return to bring prosperity to the village.
As news of his passing reaches the island, they will respond with dances and ritual wailing, along with a ceremonial drink, said Kirk Huffman, an anthropologist who is familiar with what is known as the Prince Philip Movement.
"I imagine there will be some ritual wailing, some special dances. There will be a focus on the men drinking kava – it is the key to opening the door to the intangible world," Mr Huffman told the Telegraph.
"On Tanna it is not drunk as a means of getting drunk. It connects the material world with the non-material world."
When Prince Charles visited the island in 2018, he was appointed honorary chief and drank kava, a mixture of water and the crushed roots of the kava plant, from a coconut.
Mr Huffman, who is honorary curator of Vanuatu's national museum, said one villager kept the coconut from which Charles drank and said he would build a shrine to it.
"So a connection was made between Tanna and Charles," he said, "I suspect the beliefs of the islanders will continue with Prince Charles."
The worship of Prince Philip is thought to have begun in 1950s or 1960s, but was bolstered after he visited Vanuatu in 1974 alongside the Queen. The movement is based in the villages of Yakel and Yaohnanen.
"One of the oarsmen taking them ashore was a chap from Tanna called Chief Jack," former Buckingham Palace spokesperson Dickie Arbiter told the New York Post. "He thought Philip was a warrior from a long time ago who had come down from the mountains and gone off to England in search of a bride."
"From the believers' point of view, he is not English but from their island," Mr Huffman said. "The original spirit of which he is in the process of recycling is one of their own people."
"They explain his light skin with a story that says he rolled on a coral reef and it shredded off his black skin and left him white," he said.
Hopes that Prince Philip would one day return had already been dampened in 2017, when he stepped down from royal duties.
Jack Malia, the village chief, said the Duke had promised he would one day return.
"Prince Philip has said one day he will come and visit us," Mr Malia told Reuters in 2017. "We still believe that he will come but if he doesn't come, the pictures that I am holding... it means nothing."
"If he comes one day the people will not be poor, there will be no sickness, no debt and the garden will be growing very well," he said.
Register for free to continue reading
Registration is a free and easy way to support our truly independent journalism
By registering, you will also enjoy limited access to Premium articles, exclusive newsletters, commenting, and virtual events with our leading journalists
Already have an account? sign in
Register for free to continue reading
Registration is a free and easy way to support our truly independent journalism
By registering, you will also enjoy limited access to Premium articles, exclusive newsletters, commenting, and virtual events with our leading journalists
Already have an account? sign in
Join our new commenting forum
Join thought-provoking conversations, follow other Independent readers and see their replies