Rape survivor posts images of injuries after attack by man she met on Plenty of Fish
31-year-old shares photos of extensive bruising following rape by a man she met through the online dating site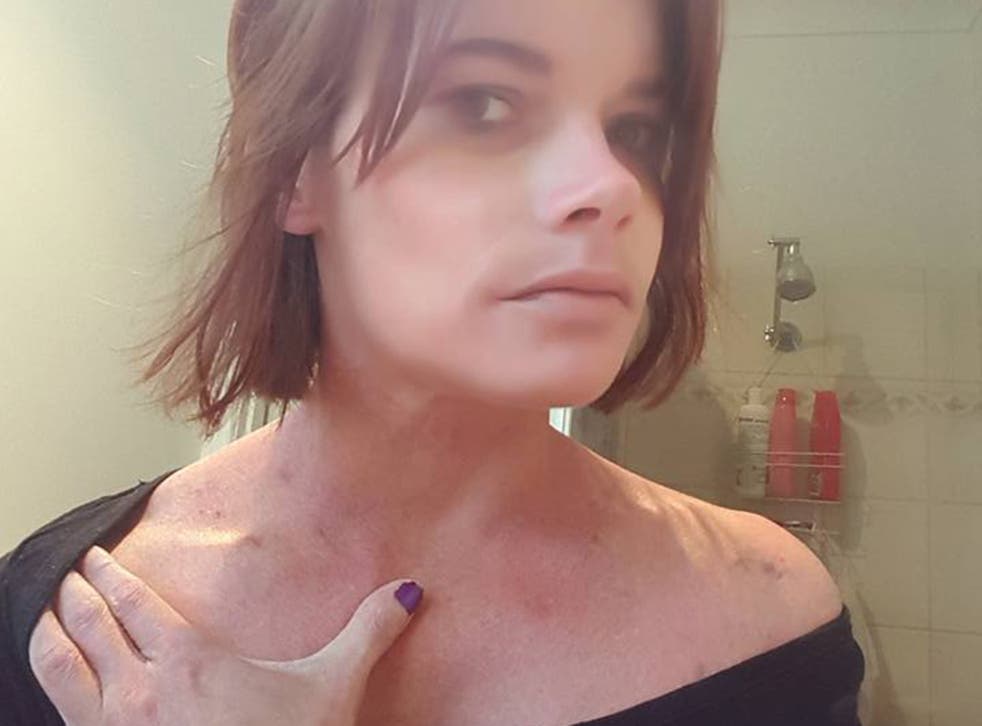 A woman has posted graphic images of injuries she allegedly received while being raped by a man she met on the dating site Plenty of Fish.
Kat Berry, from Victoria in Australia, said she met with the man on 17 October last year after talking to him on the dating site.
"It started well," she wrote in a Facebook post. "We decided to get more drinks and go back to my place."
Ms Berry said they talked for several hours and there was "nothing sexual there" until she decided she had had too much to drink and wanted to go to bed.
"That's when he got violent," Ms Berry said "He attacked me and raped me."
Photos uploaded by Ms Berry show considerable bruising on her breast, thighs, arms and collar bone.
She says this is not the extent of her injuries: "What no one knows is of what scars I have under my boobs, around my vagina, my clitoris, or the internal damage done."
Ms Berry says she went to the police, but discovered that the man had given her a fake name, changed his phone number and deleted his online dating profile.
"Police had nothing to go on, but documented everything anyway."
The photos were posted after Ms Berry was allegedly told that the man who she says raped her and two other women was found not guilty.
She said "I still don't get to know his name… He gets to stay in [Queensland], safe and free".
"I don't want sympathy," Ms Berry wrote. "I just want to show how f**ked up our justice system is. And now this is all done, I can finally share my story."
Ms Berry urged other single people to be careful, as well as urging "don't do this sh*t to other people".
Rapes connected to online dating in the UK have increased by 450 per cent between 2009-2014, data from the National Crime Agency has shown.
More than nine million people in Britain are signed up to online dating sites, and 184 people alleged to having been raped by someone they met online in 2014. 85 per cent of stranger rape victims are women.
Sean Sutton, head of the National Crime Agency's Serious Crimes Analysis Section has encouraged survivors to come forward: "Our message is the police will take them seriously and deal with them sympathetically.
"You can't see a stranger rapist coming; they are going to be charming, potentially they are going to be persuasive. If you think you can see one from a distance or even up front, you can't – that's the issue."
Plenty of Fish has been contacted for comment.
Register for free to continue reading
Registration is a free and easy way to support our truly independent journalism
By registering, you will also enjoy limited access to Premium articles, exclusive newsletters, commenting, and virtual events with our leading journalists
Already have an account? sign in
Register for free to continue reading
Registration is a free and easy way to support our truly independent journalism
By registering, you will also enjoy limited access to Premium articles, exclusive newsletters, commenting, and virtual events with our leading journalists
Already have an account? sign in