Refugee crisis: Second Nauru asylum seeker sets themselves on fire amid immigration crackdown
Woman is being treated for severe burns on the island
Caroline Mortimer Comments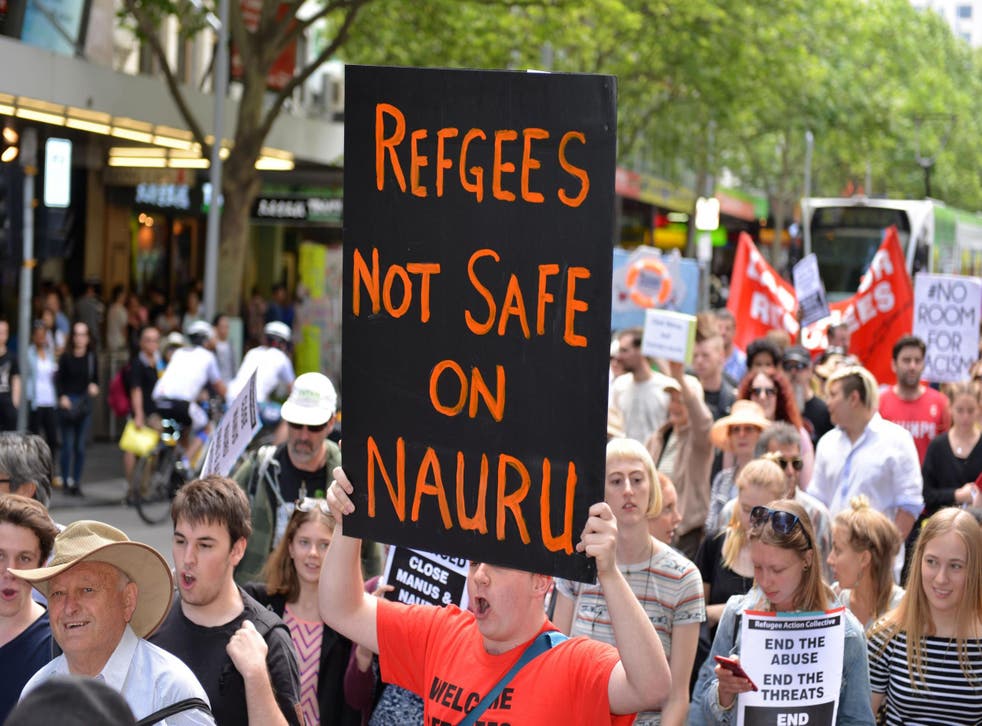 A second refugee has set herself on fire on the island of Nauru just days after the first died in hospital of his injuries from a similar incident.
The 21-year-old Somali woman, known as Hadon, is being treated for severe burns in a hospital on the island.
Last week, a 23-year-old Iranian refugee named Omid died in a Brisbane hospital after setting himself on fire crying: "This is how tired we are, this action will prove how exhausted we are. I cannot take it anymore," during a visit by UN officials to the Nibok settlement where he was being held.
It comes amid an attempt by the Australian immigration to shift detainees out of mainland facilities. Australian Immigration Minister Peter Dutton has said that no one who attempts to travel to Australia illegally by boat would be allowed to settle in the country.
Several sources on Nauru - which is an independent country but hosts several Australian immigration removal centres in exchange for aid - told Guardian Australia that she is currently being treated on the island by Australian trauma specialists.
The source said: "The situation is much worse than Omid." Other refugees have asked for her to be transferred to the mainland for treatment.
Hadon is one of three detainees who were forcibly returned to Nauru last week after receiving medical care in Australia for injuries sustained in a motorcycle accident late last year.
In a statement the government of Nauru said it was "distressed that refugees are attempting such dreadful acts in order to attempt to influence the Australian Government's immigration policies".
It told ABC Australia: "These actions are purely and simply being taken because they believe that political protests will influence the Australian Government and possibly help them gain entry to Australia.
"The Government of Nauru calls on all who care about these people to work with us in sending the message to refugees on Nauru that such drastic actions will not work, and to refrain from such protests."
It comes as Australia's immigration policy was struck by a major blow last week after Papua New Guinea's supreme court ruled that the detention of more than 900 current and former refugees on Manus Island is illegal.
Refugee crisis - in pictures

Show all 27
The Papua New Guinean government has now said it will remove the refugees from the centres and could be liable to pay compensation to each detainee.
The spokeswoman for UNHCR's Regional Representation in Australia,Catherine Stubberfield, said there was "no doubt that the current policy of offshore processing and prolonged detention is immensely harmful".
"There are approximately 2,000 very vulnerable refugees and asylum-seekers on Manus Island and Nauru. These people have already been through a great deal, many have fled war and persecution, some have already suffered trauma. Despite commendable efforts by the Governments of Papua New Guinea and Nauru, arrangements in both countries have proved completely untenable."
She said the "principal concern" was to get refugees moved into more "humane conditions with adequate support and services to prevent further unnecessary suffering".
Register for free to continue reading
Registration is a free and easy way to support our truly independent journalism
By registering, you will also enjoy limited access to Premium articles, exclusive newsletters, commenting, and virtual events with our leading journalists
Already have an account? sign in
Join our new commenting forum
Join thought-provoking conversations, follow other Independent readers and see their replies