Refugee dies after being airlifted from Australia's Manus camp
Death throws 'stark light on medical failures' happening in detention centre, says migrant charity
Harriet Agerholm
Saturday 24 December 2016 14:04 Comments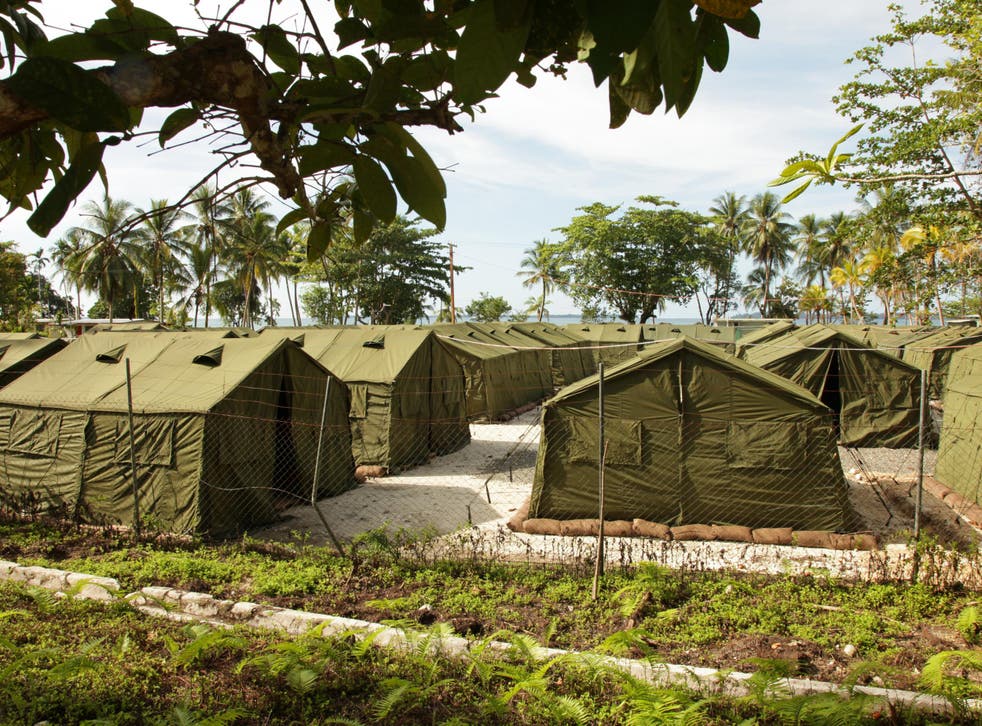 A Sudanese refugee detained in an offshore Australian immigration centre has died after suffering a fall and being airlifted to a Brisbane hospital.
The 27-year-old, Faysal Ishak Ahmed, was taken to the International Health and Medical Services (IHMS) clinic on Manus Island in Papua New Guinea after suffering a "fall and seizure", the Department for Immigration and Border Protection said.
Mr Ahmed, who is understood to have been detained on the Island since October 2013, was then flown to Australia for further care.
He later died at at the Royal Brisbane and Women's Hospital. The immigration department has said it is not aware of any suspicious circumstances surrounding his death.
Ian Rintoul, a spokesperson for Refugee Action Coalition (RAC), told The Sydney Morning Herald the case threw "a stark light on medical failures of IHMS [...] and the lack of proper medical treatment on Manus".
Mr Ahmad had been suffering black-outs and collapses for months prior to his death and had made numerous complaints of receiving inadequate care both to IHMS and to the border agency, Mr Rintoul said.
Prior to his death, dozens of refugees on Manus had signed a letter complaining of IHMS failure to treat Mr Ahmed properly, Mr Rintoul said.
"We do not yet know the precise case of Faysal's death whether it is the head injuries he suffered or his underlying medical condition," he added.
The RAC has drawn parallels between the treatment of Mr Ahmed and that of Hamid Khazaei, an Iranian refugee who died in 2014 in a Brisbane Hospital 13 days after attending the Manus Island clinic.
The 24-year-old died of septicaemia after suffering a cut to his foot.
Several cases of severe medical neglect on the island have recently been discovered by the Australian Medical Association, which has also accused immigration officials of failing to follow up with patients.
The medical association president said there was an "inappropriate degree of secrecy in the department's attitude to these patients," while also pointing out there had been a degree of hyperbole from refugee advocates around medical conditions suffered by refugees on Manus Island.
World news in pictures

Show all 50
More than 800 asylum seekers are currently being held on the Pacific island of Manus as part of the controversial policy to "stop the boats" by intercepting and imprisoning anyone attempting to reach Australia.
Other refugees have died while in Australia's off-shore detention centres, which have been criticised for stranding vulnerable people in a state of permanent limbo.
Iranian asylum seeker Reza Barati was murdered by guards at the Manus detention centre in 2014. In 2016, Omid Masoumali died after setting himself alight on Nauru, Australia's other major off-shore detention centre, in protest against being held indefinitely.
In August, the Australian government said the Manus Island camp was to be closed, but none of the hundreds of refugees in the detention centre will ever be settled in Australia.
Register for free to continue reading
Registration is a free and easy way to support our truly independent journalism
By registering, you will also enjoy limited access to Premium articles, exclusive newsletters, commenting, and virtual events with our leading journalists
Already have an account? sign in
Join our new commenting forum
Join thought-provoking conversations, follow other Independent readers and see their replies