Royal prank-call DJs 'gutted and heartbroken' over death of nurse Jacintha Saldanha
Mel Greig and her colleague Michael Christian talk about the moment they were informed of the death of nurse Jacintha Saldanha
Rob Williams
Monday 10 December 2012 15:00 Comments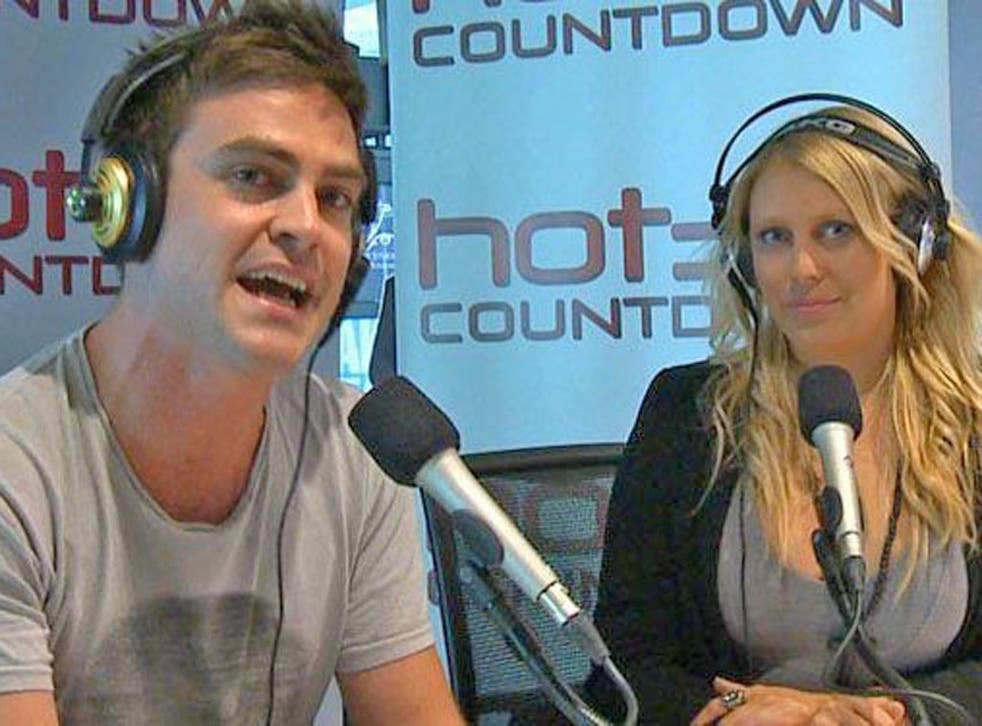 The radio DJs behind the royal hospital hoax have told an Australian television programme they are "gutted and heartbroken" over the death of nurse Jacintha Saldanha.
The pair were speaking in two emotional interviews conducted with Australian networks.
During the recordings DJ Mel Greig and her colleague, Michael Christian, spoke of the moment they heard that Jacintha Saldanha had died.
Greig said: "Unfortunately I remember that moment very well because I haven't stopped thinking about it since it happened.
"I remember my first question was: 'Was she a mother?'.
"I have thought about this a million times in my head, that I just wanted to reach out to them and just give them a big hug and say sorry.
"I hope they are OK, I really do."
Her colleague, Michael Christian, added: "I just hope that they get the love, the support, the care that they need."
In an interview on the Nine Network, the DJs said they had never expected their call would get through to the Duchess's ward.
Greig said: "Not for a second did we expect to speak to anyone. We expected to be hung up on."
The pair said their concern now was for the family of Ms Saldanha.
Greig said: "I wanted to just reach out to them and to give them a big hug and say sorry.
"Not a minute goes by that we don't think about the family and what they are going through, and the thought we may have played a part is gut-wrenching."
Christian said: "It was something that was just fun and light-hearted and a tragic turn of events no-one could have predicted or expected.
"We are shattered, heartbroken and our deepest sympathy goes to the family, friends and all those people affected.
"Mel and myself are incredibly sorry for the situation and what's happened."
In an interview with Channel Nine's A Current Affair programme Ms Greig said: "We thought a hundred people before us would've tried it. We thought it was such a silly idea and the accents were terrible and not for a second did we expect to speak to Kate let alone have a conversation with anyone at the hospital. We wanted to be hung up on.''
The two DJs managed to trick two nurses at London's King Edward VII's Hospital into believing they were receiving a call from the Queen.
Mother of two Ms Saldanha, 46, who took the initial phone-call before putting the pair through to a colleague, was found dead on Friday in what appears to be a suspected suicide.
Greig and Christian, DJs on the station 2Day FM, were quizzed about the incident today on the Australian TV programmes A Current Affair and Today Tonight.
They pulled out of a third interview they were meant to do because they were unwell, according to a spokesman for the TV channel.
In a statement, the radio station's owner, Southern Cross Austero Media, said it had suspended advertising on 2Day FM until further notice, ended Greig and Christian's Hot 30 show and suspended prank calls across the company.
The statement also said that attempts had been made to contact the hospital before the hoax was broadcast, adding that it believed no laws had been broken.
The statement said: "Several attempts were made by the production team to discuss the segment with the hospital, but with no success. The segment was referred to an internal review process which included internal legal review and authorisation was granted to broadcast.
"The company does not consider that the broadcast of the segment has breached any relevant law, regulation or code. The company will fully co-operate with any investigations."
A spokeswoman for the King Edward VII's Hospital said today: "Following the hoax call, the radio station did not speak to anyone in the hospital's senior management or anyone at the company that handles our media inquiries."
Jacintha Saldanha's brother Naveen today told the Daily Mail newspaper that his devoutly Catholic sister was a 'proper and righteous person', and that would have been 'devastated' at unwittingly helping a colleague breach medical confidentiality.
"She would have felt much shame about the incident," he told the Mail.
Ms Saldanha's husband, Ben Barboza, has written a tribute to his wife on his Facebook page.
"I am devastated with the tragic loss of my beloved wife Jacintha in tragic circumstances."
"She will be laid to rest in Shirva, India."
Commenting earlier on Sky News, the Health Secretary Jeremy Hunt said: "It just show shows how passionately nurses care about doing their duty.
"I think it's really important to remember that the vast majority of nurses do a brilliant job and really care passionately about doing the right thing, and I think the real tragedy here was partly because that individual nurse did feel so awful about what happened."
Asked what lessons needed to be learned, he said: "I think we need to make sure that the right safeguards are in place, that the right training is in place, but I think it's too early for me to say whether this is something which is just an individual prank that went horribly wrong and it was an isolated breach or whether there are more widespread issues.
"My instinct is that this was an isolated incident with very exceptional circumstances."
Register for free to continue reading
Registration is a free and easy way to support our truly independent journalism
By registering, you will also enjoy limited access to Premium articles, exclusive newsletters, commenting, and virtual events with our leading journalists
Already have an account? sign in
Join our new commenting forum
Join thought-provoking conversations, follow other Independent readers and see their replies