Russia sends warships towards Australia as Putin prepares to attend Brisbane G20 summit
The ships are being tracked by the Australian Defence Force as they approach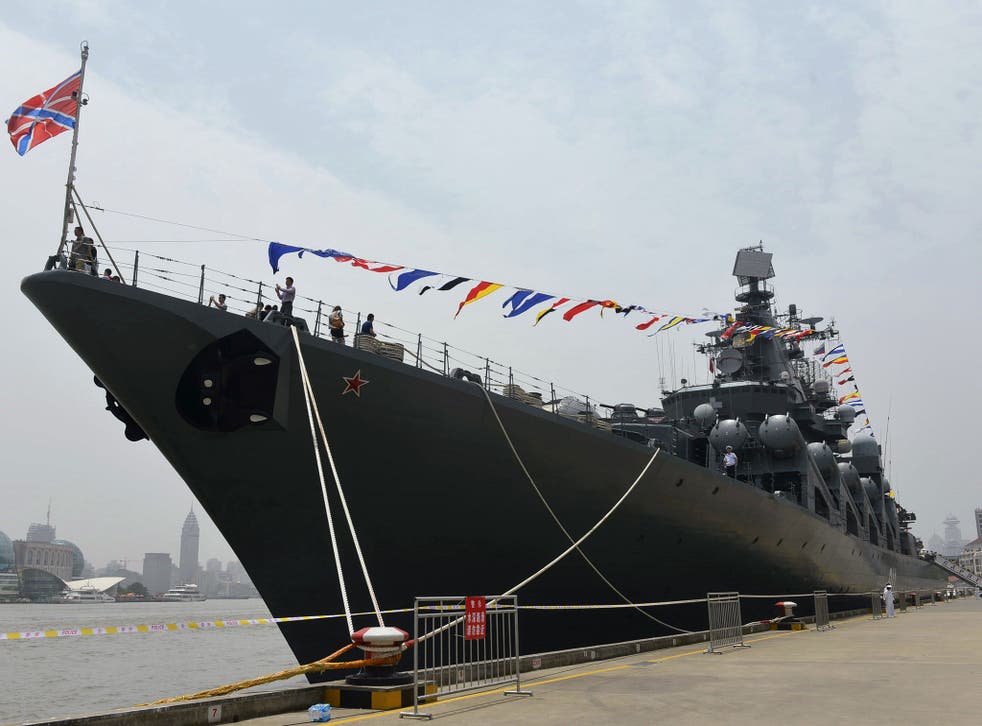 The Australian defence ministry is tracking a fleet of Russia warships sailing in international waters near its coast.
It is believed the vessels, currently in the Coral Sea near Papua New Guinea, could be heading to Brisbane for next week's G20 summit, which Vladimir Putin will attend.
Australian P3 Orion surveillance planes have been deployed to monitor the ships, along with a naval frigate, the HMAS Stuart.
Russia's Pacific flagship, the Varyag, is leading the contingent south, accompanied by destroyer Marshal Shaposhnikov and one of the world's most powerful tugs, the Fotiy Krylov.
A supply tanker called Boris Butoma is accompanying them towards Australia's east coast.
A spokesperson for the Australian Defence Force told Sky News that Russian ships have been sent to international events before, including the 2009 Asia-Pacific Economic Co-operation (Apec) summit in Singapore and the former President Dmitry Medvedev's visit to San Francisco in 2010.
He added: "The movement of these vessels is entirely consistent with provisions under international law for military vessels to exercise freedom of navigation in international waters.
"Defence regularly undertakes maritime surveillance patrols in the approaches to Australia."
Defence sources told The Australian that the move was aimed at showing an "aura of power" around Putin at the G20 summit and distracted from agenda items at the conference of world leaders.
The ships are expected to stay in international waters as part of what is known as a "high seas transit" for the leader, which is permitted under international law.
A report by a London based think-tank earlier this week chronicled a "highly disturbing" catalogue of Russian military encounters with Nato and allies over the last eight months.
The European Leadership Network (ELN) said Russia is risking military escalation across Europe with Cold War-style military "brinkmanship", following 39 "near-misses" involving its planes and ships where military confrontation or the loss of life was narrowly avoided.
Researchers said the upsurge in activity suggested the Russian armed forces were under orders to be more aggressive towards Nato and its allies, possibly to test the military response and serve "propaganda-related and political aims" to intimidate other nations.
The approach of the Russian ships comes after the Australian Prime Minister, Tony Abbott, met with Putin at the Apec summit in Beijing.
He had vowed to "shirtfront" the Russian president over allegations that Russia had armed separatist rebels who allegedly shot down Malaysia Airlines flight MH17 over Ukraine.
Children were among the 38 Australian citizens killed in the disaster, along with the rest of the 298 passengers and crew on board.
But Putin's press secretary said the meeting with Abbott on Tuesday went "without harsh phrasing" and the leaders agreed to support a "genuine investigation into the causes of the catastrophe".
Register for free to continue reading
Registration is a free and easy way to support our truly independent journalism
By registering, you will also enjoy limited access to Premium articles, exclusive newsletters, commenting, and virtual events with our leading journalists
Already have an account? sign in
Register for free to continue reading
Registration is a free and easy way to support our truly independent journalism
By registering, you will also enjoy limited access to Premium articles, exclusive newsletters, commenting, and virtual events with our leading journalists
Already have an account? sign in
Join our new commenting forum
Join thought-provoking conversations, follow other Independent readers and see their replies