Surfer attacked by great white shark paddles back to shore and walks 300 metres to get help
'I was sitting on my board when I felt a hit on my left side - it was like being hit by a truck'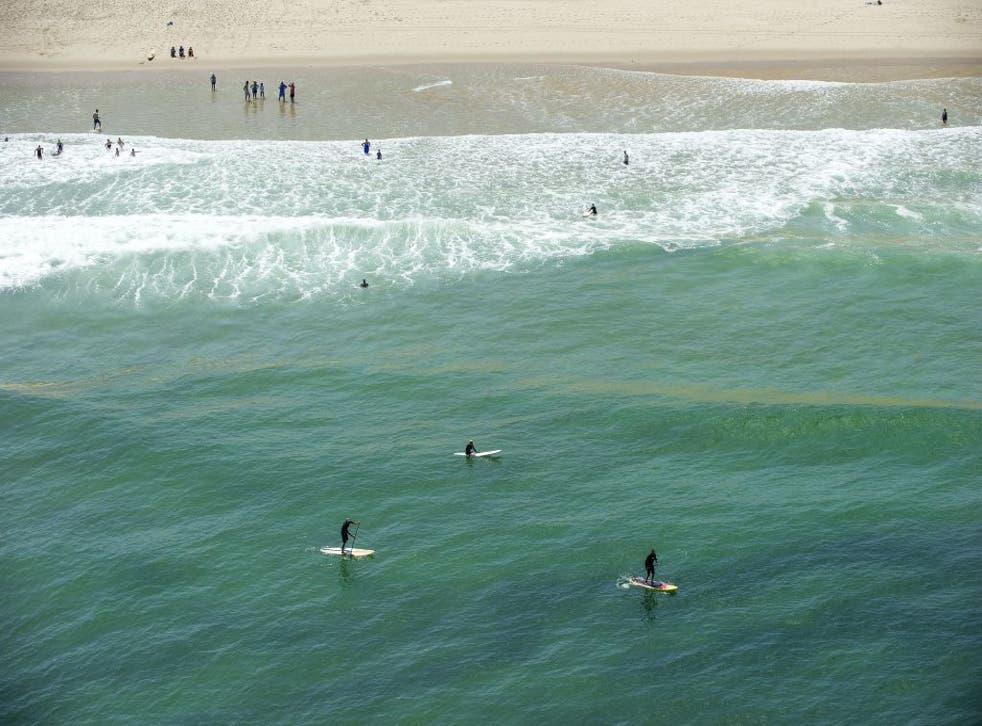 Leer en Español
A surfer paddled back to shore and walked hundreds of metres to find help after being attacked by a great white shark off Australia's southern coast.
The 29-year-old builder described the incident in waters off Kangaroo Island's D'Estrees Bay – southwest of Adelaide – on Sunday as "like being hit by a truck".
He suffered injuries to his back, buttock and elbow but was able to get back to shore and warn another surfer who was about to go into the water before being taken to hospital.
"I was sitting on my board when I felt a hit on my left side – it was like being hit by a truck," he said in a letter thanking the emergency services.
"It bit me around my back, buttock and elbow and took a chunk out of my board. I got a glimpse of the shark as it let go and disappeared.
"I still had hold of my board and paddled into the beach. I walked up to the car park and yelled out to another surfer who was about to go in."
The surfer sought help from a member of the public who drove him towards the Kangaroo Island hospital at Kingscote. Emergency services received the call at 1.25pm on Sunday, 6 December and paramedics met the car before taking the man the rest of the way.
He was later airlifted from Kingscote to Adelaide with non life-threatening injuries.
Michael Rushby, of the South Australia Ambulance Service, said paramedics "stabilised him on the side of the road, treated his injuries and managed his pain". He said the surfer had "sustained some serious lacerations" to his back and thigh which "seemed consistent with a large shark bite".
The surfer added: "I'm feeling incredibly lucky and grateful and I'm optimistic I'll make a full recovery."
There have been at least eight fatal shark attacks in Australian waters so far this year. 
Sharks in Great Barrier Reef threatened by government program

Show all 15
Two weeks ago, a man died after being attacked by a shark in Western Australia.
Police were called to Cable Beach, a popular tourist spot on Australia's Indian Ocean coast, after a 55-year-old man was pulled from the water with serious injuries. He died at the scene.
Police said later that they shot at the shark, which lingered close to the shore, for almost half an hour after the attack.
The species of the shark was not immediately confirmed, but locals told reporters it may have been a tiger shark, which are sometimes drawn close to the shore by shoals of small fish.
The last shark attack to occur on Kangaroo Island is believed to have taken place in 2005, when 26-year-old Josh Berris suffered lacerations to both legs but managed to put a hand in the shark's mouth to push it away.
Join our new commenting forum
Join thought-provoking conversations, follow other Independent readers and see their replies