Shark attacks in Australia: Great whites have been killing and injuring surfers in New South Wales – but calls for a cull divide opinion
A string of idyllic surf beaches on the northern New South Wales coast has become what one local calls 'the world shark hotspot'
Kathy Marks
Tuesday 25 August 2015 21:19 Comments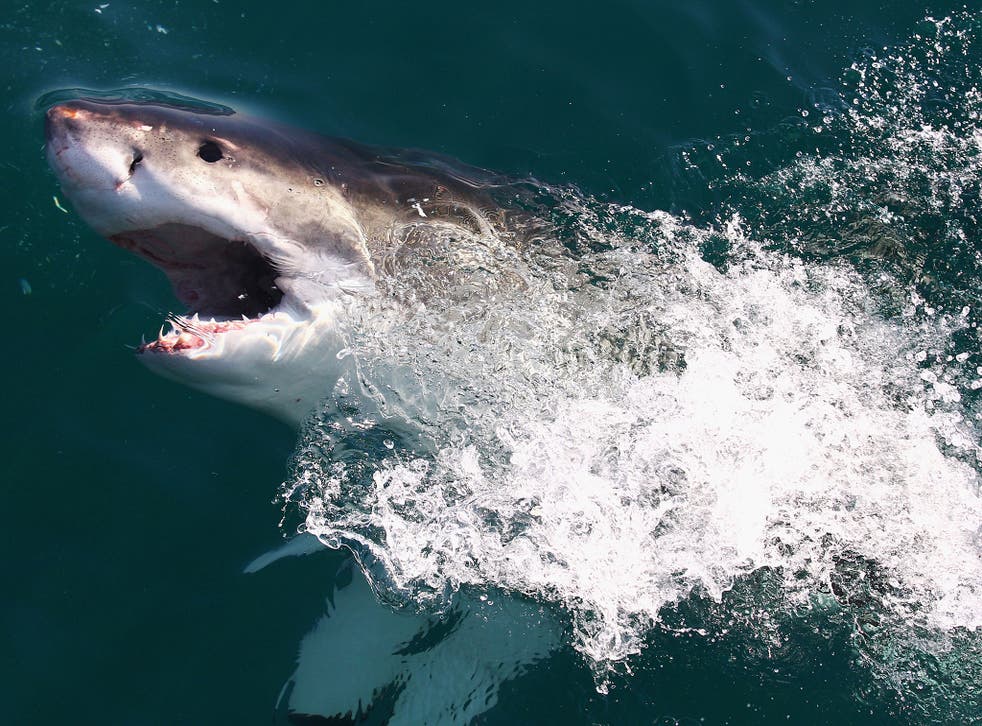 Chris Brock lives and breathes surfing. His beachfront flat overlooks one of Australia's most iconic breaks, and at 66 he still plunges into the ocean most days. "But right at the moment I'm a little bit spooked," he says. "Everyone I know is a bit spooked."
In recent months, a string of idyllic surf beaches on the northern New South Wales coast has become what one local calls "the world shark hotspot". Two people have been killed, two others have been seriously injured, and over the past six weeks more than a dozen surfers have been knocked off their boards.
In every case, it is believed, the culprits were great whites – and, with the spring surfing season about to begin, helicopters have been regularly spotting seven of the feared predators, up to 6m (20ft 6in) long, lingering off the beaches loved not only by locals but holidaymakers from around Australia and beyond.
The community has had enough. At a stormy public meeting last week, 200 surfers and business people voted almost unanimously in favour of a cull. Great whites might be endangered, but "what price do you put on a human life and on our tourism industry?" asks veteran surfer Don Munro, who organised the meeting.
For the moment, authorities have ruled out slaughter by sharpshooters on low-flying aircraft, as one person at the meeting demanded. However, the calls for a cull jolted the state government, prompting it to pledge A$250,000 (£117,000) for a programme of surveillance, public education and tagging and tracking of "problem" sharks.
Those measures, though, will not help in the short term – and the short term includes school holidays next month and, from December, the peak summer season. Bookings have already been cancelled at the caravan park in Lennox Head, the sleepy resort where Mr Brock lives, and surf shops are reporting steep falls in business.
A surfing mecca, the New South Wales north coast has for decades been synonymous with the laid-back Aussie lifestyle. Many city people move there for a sea or tree change.
Lennox Head, Ballina and other coastal settlements – including Byron Bay, a popular back-packer destination – have all been affected by the spate of recent shark attacks, which began with the death of a 50-year-old British man, Paul Wilcox, who was bitten while swimming in shallow water at Byron Bay last September.
In February, the community was shocked by a second death: that of a Japanese surfer, Tadashi Nakahara, off Ballina's Shelly Beach. In July, a bodyboarder, Matthew Lee, was badly mauled at neighbouring Lighthouse Beach, and a surfer, Craig Ison, was attacked at Evans Head, further south, receiving serious injuries.
Since then, there have been near daily sightings of great whites – and numerous close shaves. A surfer was knocked off his board at Byron Bay last weekend, prompting yet another beach closure.
Mr Brock saw a surfer attacked at Lennox Point three weeks ago. "It was like a big explosion of white water. The guy was on a lifting swell and I think that must have taken him just out of the shark's reach. He got on the next wave and came straight into the rocks."
David Wright, the Mayor of Ballina Shire, looks frazzled. Earlier this year, he compared himself to the mayor in the film Jaws. "The last few weeks have been absolutely unbelievable," he says, running his hands through his halo of white hair.
Thumbing through a list of shark-related incident reports, which runs to several pages, Mr Wright counts 20 calls to emergency services in the past fortnight. The jet boat used by Ballina's surf lifesavers has burnt through more fuel in the past three weeks than in the previous six months.
Picking out days at random, the Mayor notes three shark sightings on 25 July, including of a 5m great white seen close to 20 boardriders and people learning to surf. On 31 July there were three sightings, including of a 4m shark seen heading towards 30 surfers at Lennox Point.
The government's chief shark expert, Vic Peddemors, is calling the situation on the New South Wales north coast "unprecedented". Sharks have been spotted just 10m from the beach, and the seven currently loitering offshore have grown so familiar to aerial surveillance teams that they have given them names.
"I've had people with drones and gyrocopters offering their services," says Mr Wright. "A guy with a hot air balloon rang me up today." He has made so many television appearances that nearly everyone knows his face. "I went for morning tea at pre-school last week. The teachers introduced me as Mr Mayor and the kids said 'No, it's Mr Shark'."
Although some brave souls still venture into the surf, many locals are travelling north to the Queensland Gold Coast – a round trip of nearly three hours. Lighthouse Beach, a broad expanse of golden sand pounded by breakers, was deserted on Friday. "I don't think anyone's been surfing there since Matthew was taken," says Mr Wright.
In his "man-cave" at Lennox Head – a home office with a trophy cabinet stuffed with silverware and 18 surfboards hanging on or propped up against walls – Mr Munro explains that the cull demands were driven by "sheer frustration and a need for something to be done immediately".
The world's best shark diving locations

Show all 10
A surfer for 60 years, he has not been in the waves for more than a month. "It's just too dangerous," says Mr Munro, who is president of the Le-Ba (Lennox-Ballina) Boardriders Club. "My wife and daughter don't even like me going for a swim at the moment.
"The mood here is one of fear. We're waiting for the next attack. Can you imagine what that's like? It's horrible, and it's exacerbated by the thought that the next one could be a kid."
More than 200 "Nippers" – junior lifesavers aged as young as five – resume training at the start of September. There are plans to move them to a freshwater lagoon at Lennox Head. "They're the next generation of lifeguards," says Munro. "For them not to be able to go in the ocean is devastating, for them and for the community."
The call for sharks to be killed has created deep controversy in an area where green politics and values thrive. Daniel Bucher, a marine ecologist at the local Southern Cross University, dismisses it as unrealistic.
"These are great whites, they move over very large distances progressively feeding. If you take a few out, they'll just be replaced by another couple the next day," he says.
"Ethically, I think there's a selfish attitude, which is 'I know the sharks will have moved on in a few weeks, but I really want to go surfing now, so can you go out and kill a few endangered species'."
Great white numbers are still relatively low, says Mr Bucher, "but when conditions are just right, you get a cluster of sharks into one area, and that sometimes creates a bit of hysteria".
The more regular sightings and attacks could be the result of a combination of factors, he believes, including unusually warm and nutrient-rich water – perfect conditions for plankton to thrive, along with fish all the way up the food chain.
While surfers are calling for beaches to be protected by mesh netting and drum lines (traps with baited hooks) – measures long in place at the Gold Coast, among other spots – these are just outdated "culling devices", according to Mr Bucher.
But Mr Munro says: "We need to find a way for surfers and sharks to co-exist without culling each other, and at the moment the strike rate is all in favour of the sharks. They've taken more humans right here than we've taken of them."
Register for free to continue reading
Registration is a free and easy way to support our truly independent journalism
By registering, you will also enjoy limited access to Premium articles, exclusive newsletters, commenting, and virtual events with our leading journalists
Already have an account? sign in
Join our new commenting forum
Join thought-provoking conversations, follow other Independent readers and see their replies