Snake spotted eating bird while hanging from telegraph pole
'That is one way to get rid of those noisy currawongs,' viewer says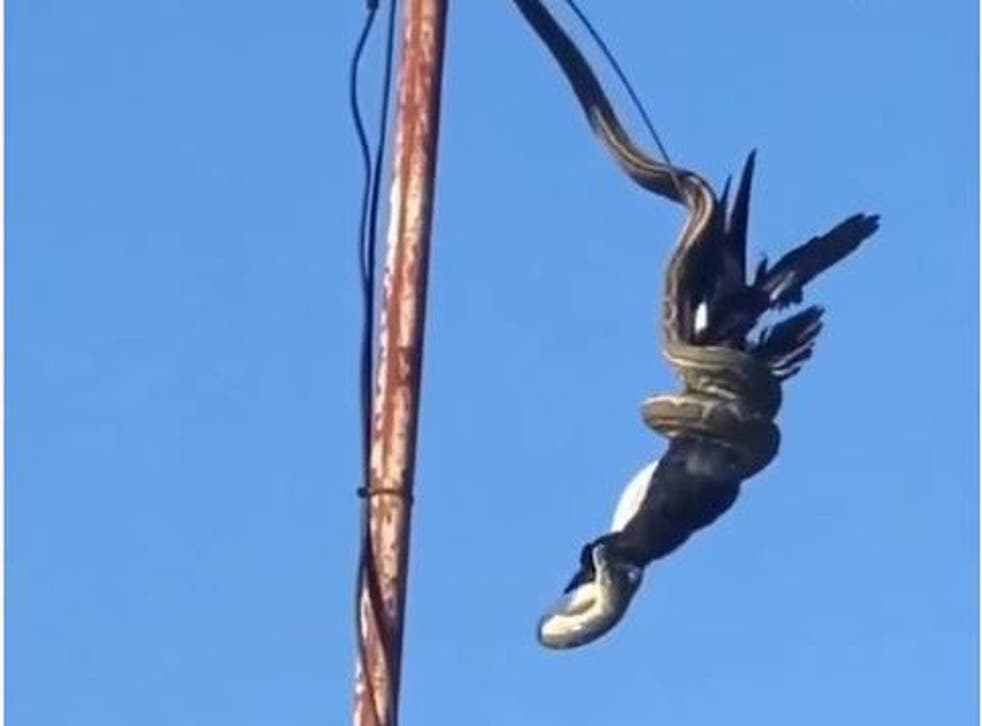 Video of a snake methodically capturing and killing a large bird while dangling from a telegraph pole has delighted and appalled viewers in equal measure.
Footage of the reptile devouring the creature was shared widely online aafter it was posted to an Australian town's community Facebook page.
"Never seen this before...python trying to eat a currawong on our antenna," Cathy Gill wrote, when she published the clip on Kingscliff Happenings.
A longer video shared by 9 News shows the snake completely wrapping its body around the bird.
Some viewers said the clip was "awful" and that they "couldn't look", but others were left wondering whether the currawong had managed to escape.
Where not to visit if you love animals

Show all 9
"Did it eat the bird or did it get away?" Aaron Smith asked in the comments underneath the clip.
"It ate it," Ms Gill replied.
Other commenters were less sympathetic to the bird's plight.
"That is one way to get rid of those noisy currawongs," Malcom Cameron wrote, while Terri Booth said the clip was "awesome.... Hate those birds more than snakes!!!"
Support free-thinking journalism and attend Independent events
Pied Currawongs are found throughout eastern Australia according to The Australian Museum.
Register for free to continue reading
Registration is a free and easy way to support our truly independent journalism
By registering, you will also enjoy limited access to Premium articles, exclusive newsletters, commenting, and virtual events with our leading journalists
Already have an account? sign in
Register for free to continue reading
Registration is a free and easy way to support our truly independent journalism
By registering, you will also enjoy limited access to Premium articles, exclusive newsletters, commenting, and virtual events with our leading journalists
Already have an account? sign in
Join our new commenting forum
Join thought-provoking conversations, follow other Independent readers and see their replies