Snake catcher shares amazing pictures showing python eating parrot whole
The series of images show how the carpet python constricts and eats the king parrot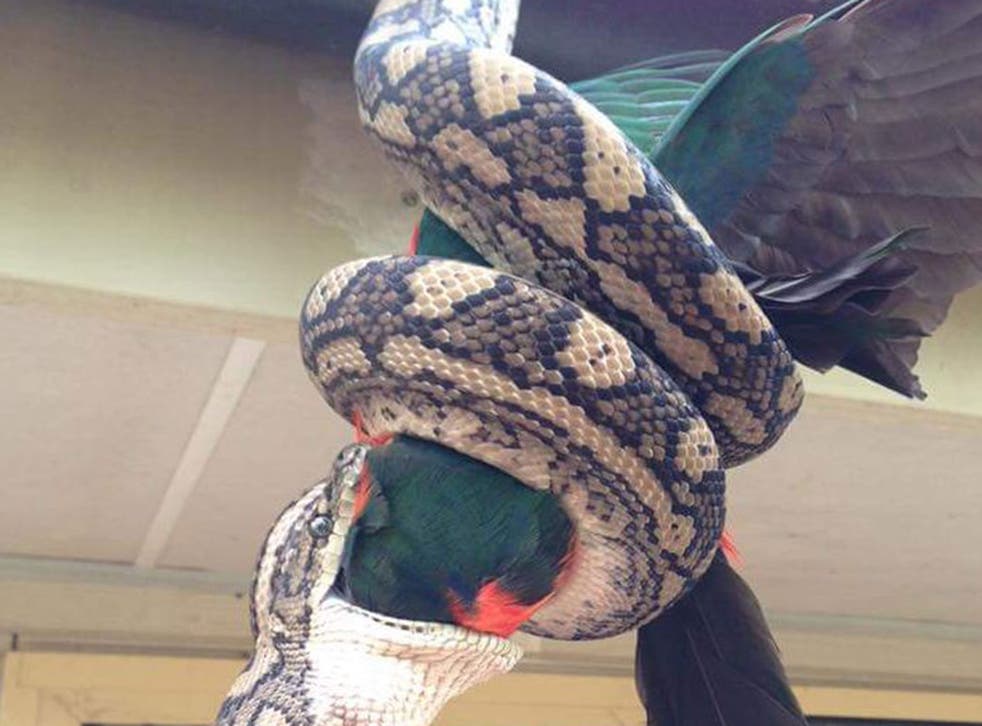 A fascinating series of pictures have captured a python snake eating a king parrot in one bite.
The images, taken in Agnes Waters, Queensland, show how the snake constricts and eats its prey.
The pictures were shared by Stuart McKenzie, also known as "The Snake Catcher", a man from Queensland who offers to remove and relocate snakes or reptiles.
He shares pictures and advice about snakes and other reptiles on his Facebook page and also answers people's questions.
On the picture of the carpet python eating the king parrot, one person asks: "How does the bird die? Is it being eaten alive? Or does the snake bite and kill them first?"
In pictures: venomous snakes

Show all 5
Mr McKenzie explained: "The snake will bite it then constrict it until it dies."
Although the picture garnered some negative comments, Mr McKenzie writes that it is evidence of "nature at work" and the "circle of life".
Mr McKenzie told The Independent why he's so enthusiastic about snakes and reptiles: "I have been around reptiles since I was a kid. I think snakes are facinating creatures and a lot of fun to work with.
"They certainly keep you on your toes. I love relocating snakes from homes here on the Sunshine Coast.
"Its a great feeling knowing that the customer is happy that the snake has been relocated as well as I know the snake will be safe in a new habitat away from homes and main roads."
Join our new commenting forum
Join thought-provoking conversations, follow other Independent readers and see their replies