Sydney Siege: Tributes to heroic hostages who paid with their lives
Reports emerge that café manager was shot trying to seize gun and of barrister who died shielding a colleague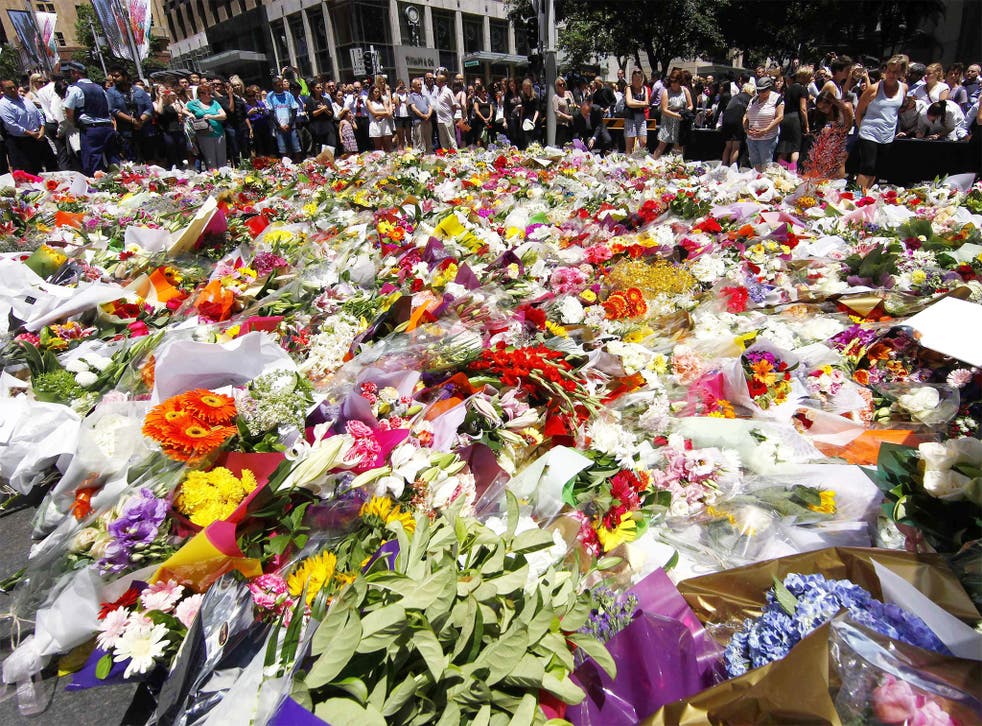 All day they came and queued to pay their respects and to add to the ocean of flowers spilling across Martin Place, less than a block from the site of Monday's bloody café siege. After depositing their bouquets, many of them stood in silent contemplation.
As news emerged of the heroic behaviour of two hostages who died inside the Lindt Chocolat Café in central Sydney early yesterday, residents mourned their passing – and mourned for their usually carefree city.
"You see this stuff on TV all the time, but I never thought it would happen in our own back yard," said Eddy Habkouk. Tori Johnson, the 34-year-old café manager, reportedly died after trying to grab the weapon of Man Haron Monis, who had walked into Lindt 16 hours earlier, produced a sawn-off shotgun and taken 17 staff and customers hostage.
An Iranian-Australian self-styled cleric, Monis reportedly fell asleep at about 2am, prompting seven of his captives to flee to safety. He then woke up, and – according to unconfirmed reports – began shooting. As Mr Johnson tried to wrestle the gun from him, he was shot dead.
As police Swat teams then stormed the building, Katrina Dawson, a barrister, shielded her pregnant colleague, Julia Taylor – and died in the crossfire. Monis, 50, also died at the scene, felled by police, while three female hostages were treated for gunshot wounds in hospital yesterday. All were in a stable condition.
Mr Johnson was a well-regarded and popular manager who had worked at a string of Sydney restaurants. Steve Loane, the chief executive of Lindt Australia, described him as "a great ambassador for our company". Mr Johnson's parents released a statement saying they were "so proud of our beautiful boy Tori", who would live "forever in our memories".
An investigation will determine whether a bullet from Monis's gun or a police firearm killed Ms Dawson, a mother of three children under 10. The 38-year-old, who liked to pop into Lindt for a hot chocolate, was described by the New South Wales Bar Association yesterday as "one of our best and brightest".
Friends remembered her as a warm, caring person, while her school and university said she had been an outstanding scholar. Her family and that of her husband, Paul Smith, also a lawyer, said they were "shocked and devastated by the tragic and senseless death of our darling Katrina".
Sydney siege: Australia mourns with sea of flowers at site of Martin Place terror attack

Show all 20
As flags flew at half-mast over government buildings yesterday, it emerged that Monis had forced some of the hostages to upload his smartphone videos to YouTube and telephone news organisations to relay his demands.
A 19-year-old Lindt worker, Jarrod Hoffman, told a commercial radio station: "I have had a shotgun put to my head." Another hostage, Marcia Mikhael, posted on her Facebook page that the gunman "is now threatening to start killing us".
The posts and videos were taken down, and the content of the phone calls was suppressed by media organisations at the request of police, who were negotiating with Monis at the time. Australia's Prime Minister, Tony Abbott, one of a series of high-profile visitors to Martin Place yesterday, said people were entitled to question why Monis, a man with "a long history of violent crime, infatuation with extremism and mental instability", had not been on a terrorism watch list.
While the former refugee acted alone, he had been an outspoken critic of the Australian government's "war crimes" in Iraq and Afghanistan. Recently, he had been charged with involvement in his ex-wife's murder and of sexually assaulting multiple women. Mr Abbott questioned why he was on bail and "at large in the community".
Monis's former lawyer, Manny Conditsis, described him as "a damaged goods individual that has done something quite outrageous". His ideology was "so powerful that it clouds his common sense and objectiveness".
At a memorial service yesterday, the Catholic Archbishop of Sydney, Anthony Fisher, told the congregation that Sydney's heart had been "broken by the deaths of two innocent hostages". He added: "Hell has touched us. Only history will tell how much December 16 2014 will affect our attitudes, behaviour, lifestyle in this city."
As darkness fell, the queue of people waiting to lay flowers and write in condolence books snaked down Martin Place. Mr Habkouk had travelled for 45 minutes by train to reach the city. "I just felt like I needed to do this," he said.
Nicola Collier, a graphic designer from Leicester who moved to Sydney seven years ago, was one of thousands of people evacuated from office buildings on Monday. "It could have happened to any of us."
Register for free to continue reading
Registration is a free and easy way to support our truly independent journalism
By registering, you will also enjoy limited access to Premium articles, exclusive newsletters, commenting, and virtual events with our leading journalists
Already have an account? sign in
Register for free to continue reading
Registration is a free and easy way to support our truly independent journalism
By registering, you will also enjoy limited access to Premium articles, exclusive newsletters, commenting, and virtual events with our leading journalists
Already have an account? sign in
Join our new commenting forum
Join thought-provoking conversations, follow other Independent readers and see their replies