Teen gets sex change, parents retract newspaper birth announcement in heart-warming fashion
Photo of the announcement was shared widely this morning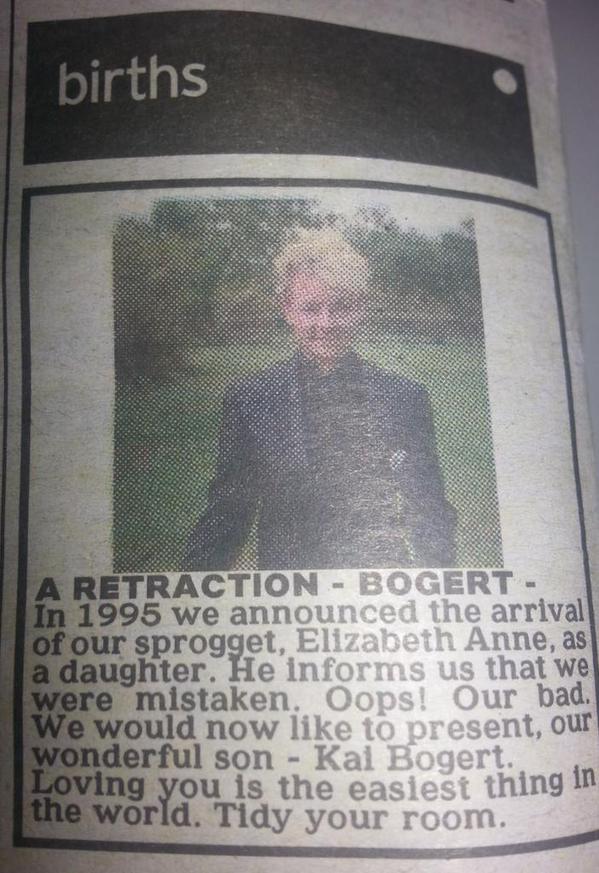 When 19-year-old Elizabeth Anne Bogert decided to start identifying as a man, his parents reacted in an innovative, witty and touching way.
The proud parents took out a second box in the Brisbane Courier Mail, "retracting" their previous birth announcement after their son informed them they previously got the sex wrong.
The note reads:
"A retraction – Bogert –
In 1995 we announced the arrival of our sprogget, Elizabeth Anne, as a daughter. He informs us that we were mistaken. Oops! Our bad. We would now like to present, our wonderful son – Kai Bogert.
Loving you is the easiest thing in the world. Tidy your room."
The parents' transparency about their child's sex change was applauded on Twitter and Facebook, where a photo of it was shared many thousands of times.
(H/T Lisa Dart)
Join our commenting forum
Join thought-provoking conversations, follow other Independent readers and see their replies