Terror threat puts Australia on alert, but 'darkening' situation is raising the government's popularity
Fears and tensions rise after police officers are stabbed while attempting to question a potential suspect, who was then shot dead. Now residents are uncertain how to go about their everyday lives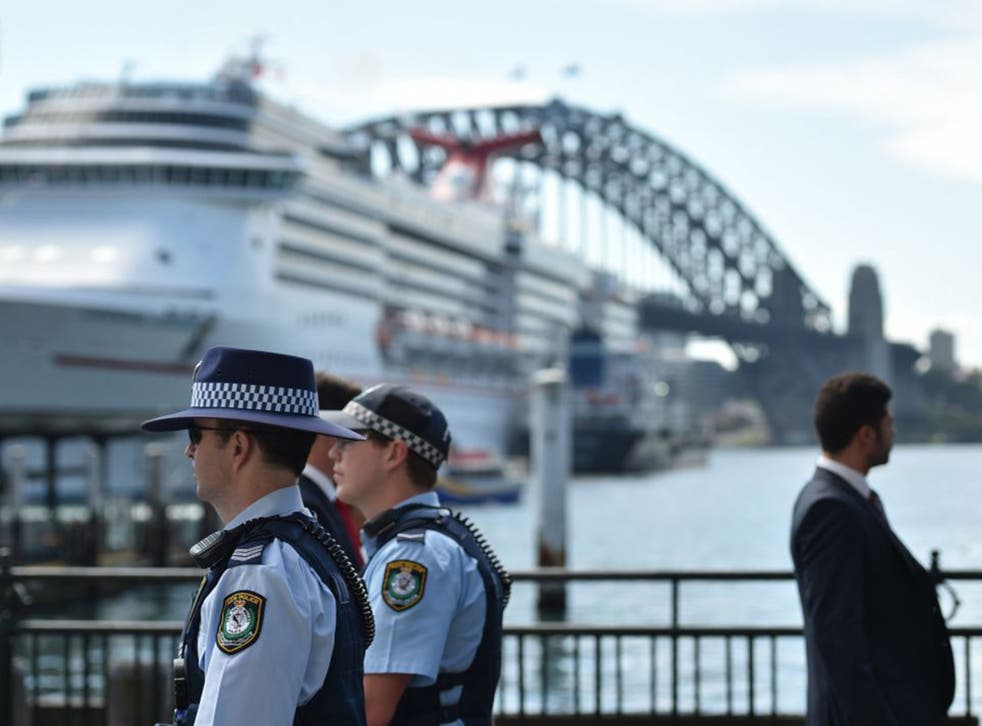 An alienated teenager angry about global events, or the face of Isis-inspired terror in Australia? What drove Abdul Numan Haider to stab two police officers in suburban Melbourne on Tuesday night before being shot dead is not clear, but the dramatic incident has raised tensions within Muslim communities and stoked fears of a domestic terrorist attack.
Senior police and federal ministers described Mr Haider, 18, as a "known terrorist suspect". There were reports that he had made threats against the Australian Prime Minister, Tony Abbott, and had planned to behead the two officers and drape them in the black Isis flag. Yet the two officers – one from the Australian Federal Police (AFP), the other from Victoria's state force – had no qualms about meeting him in a car park outside Endeavour Hills police station, after Mr Haider agreed to come in for a talk. And the AFP acting commissioner, Andrew Colvin, flatly denied knowledge of "any specific threats" against Mr Abbott, or anyone else.
What had raised the concerns of police, said the Victoria Police Chief Commissioner, Ken Lay, were reports of the teenager brandishing what appeared to be an Isis flag in a shopping centre. "It's not an offence, but clearly it drew our attention to this person," he said. "We made the decision we needed to talk to him a little more about what his thoughts and motivations might be."
In the car park the two officers approached Mr Haider at about 7.45pm. One went to shake his hand. The young man pulled a knife and stabbed him in the arm, then turned on the other officer, stabbing him in the head, neck and stomach. The first officer then shot him dead. Both officers are in hospital, one in a serious but stable condition.
Lurid newspaper headlines underlined the febrile atmosphere in Australia, where authorities say that mass raids in Sydney last week foiled a plot to abduct and behead a random resident, and where fears were fuelled by Isis urging its followers, in a video address released on Monday, to kill Westerners, including Australians.
Mr Abbott, en route to New York for a UN Security Council meeting about Iraq and Syria, said the incident in Melbourne "indicates that there are people in our community who are capable of very extreme acts".
But as new security and counter-terrorism laws substantially widening police and security service powers were debated in parliament, some voices called for calm, and questioned whether Isis poses a threat to Australia.
Last week's raids by 800 police and intelligence officers, the biggest in the country's history, led to just two people being charged. One was freed on a good behaviour bond today. Police found a stun gun and ammunition at his home.
Some commentators have pointed out that, while the terror alert level has been raised to high for the first time in 11 years amid fears of attacks by radicalised Australians returning from the Middle East, only 60 people out of a population of 23 million are believed to be fighting with Isis.
Mr Haider's passport had recently been cancelled to prevent him joining them, Mr Lay confirmed. Whether there was concrete evidence that he planned to do so is not clear. Last week, he posted photographs of himself wearing camouflage gear and holding an Islamic flag on Facebook, along with an abusive message addressed to "the dogs AFP and ASIO [the domestic security service] who are declaring war on Islam and Muslims".
According to local media, Mr Haider – whose family is from Afghanistan – had been associated with a radical Islamic group, Al-Furqan, in Melbourne's south-east, but had recently drifted away from it. Friends said he had got in with the wrong crowd, and had no genuine links to Isis.
Ghaith Krayem, secretary of the Islamic Council of Victoria, cautioned against jumping to conclusions. He told The Age: "While I don't know the young man, I do know many young men at that age, and they can be brash, they can be angry, they can be immature. None of those things make him a terrorist."
Meanwhile, 600 Australian Special Forces and Royal Air Force personnel are in the United Arab Emirates, poised to join US-led air strikes against Isis in Iraq and advise Iraqi troops. Mr Abbott has ruled out combat troops on the ground.
Heavily armed police are guarding Parliament House in Canberra, where security is usually light. In Melbourne, fans are thinking twice about attending the Australian Football League grand final on Saturday. Members of the armed forces have been advised not to wear uniforms in public.
Reprisals against the Muslim community have included attacks on homes, graffiti daubed on mosques, threatening letters sent to businesses and religious leaders, women abused in the street and a car sprayed with offensive slogans. Three rugby league fans "of Middle Eastern appearance" were detained at a match after a spectator reported that they were using their phones in a suspicious manner.
The Prime Minister warned Australians last week that "the delicate balance between freedom and security may have to shift". The "darkening" situation, as he called it, is doing him no harm politically. The government's popularity rating is at a five-month high.
Register for free to continue reading
Registration is a free and easy way to support our truly independent journalism
By registering, you will also enjoy limited access to Premium articles, exclusive newsletters, commenting, and virtual events with our leading journalists
Already have an account? sign in
Register for free to continue reading
Registration is a free and easy way to support our truly independent journalism
By registering, you will also enjoy limited access to Premium articles, exclusive newsletters, commenting, and virtual events with our leading journalists
Already have an account? sign in
Join our new commenting forum
Join thought-provoking conversations, follow other Independent readers and see their replies