Tony Abbott out: How progressive republican Malcolm Turnbull seized his moment to unseat long-time rival
In a tumultuous day for Australian politics, Tony Abbott has been ousted as the country's Prime Minister. Kathy Marks reports from Sydney on his replacement, Malcolm Turnbull, and the ramifications of an insecure leadership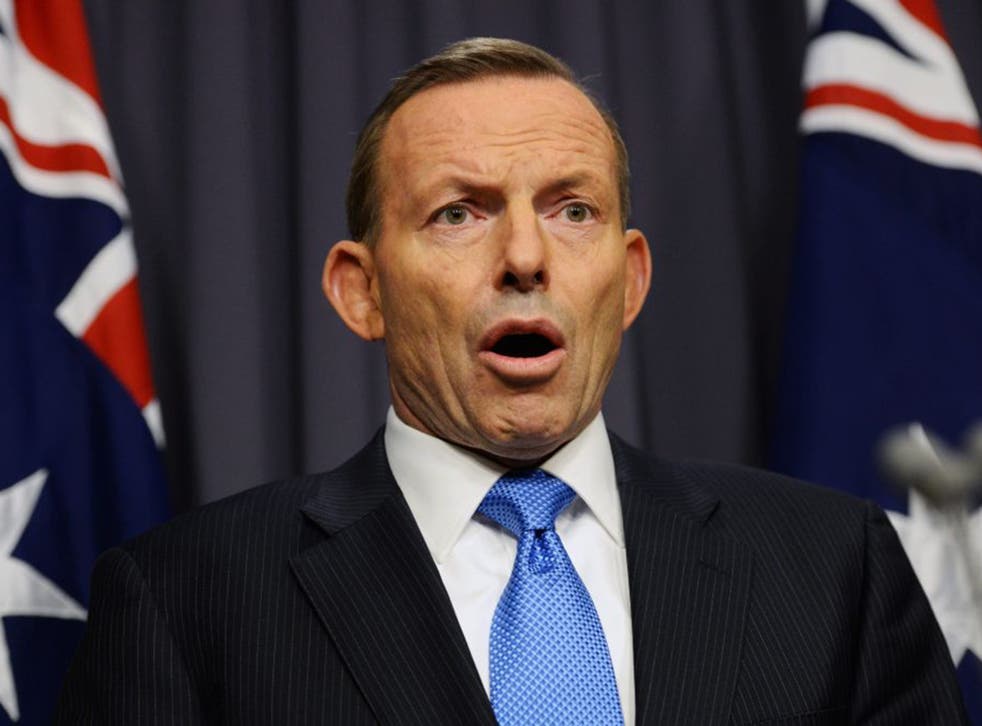 The brutal merry-go-round of Australian politics has dispatched yet another prime minister. Tony Abbott has been ousted by his own party following an ambush by his long-time rival, Malcolm Turnbull.
Mr Turnbull, 60, a leading progressive in the conservative Liberal Party, is expected to be sworn in as Prime Minister – Australia's fourth in just over two years – by the Governor-General, Sir Peter Cosgrove, tomorrow.
Seven months after a failed attempt by Liberal backbenchers to provoke a challenge to Mr Abbott's leadership, and amid a relentless stream of poor opinion polls, Mr Turnbull pounced today, in partnership with Mr Abbott's own deputy, Julie Bishop, Australia's popular Foreign Minister. An extraordinary day of drama in Canberra – reminiscent of the serial knifings of prime ministers by the previous Labor governments – culminated in a late-evening ballot of Liberal MPs, who voted 54-44 to ditch a leader who won a convincing election victory only two years ago.
That victory was in no small part due to Mr Abbott's promise of stable government following the period of Labor disarray, which saw Kevin Rudd unseated by his deputy, Julia Gillard, only for him to return the favour three years later, just before the 2013 election.
Now the Liberals – who excoriated Labor for sacking elected prime ministers – are at it, too. And while some Australians rejoiced yesterday at the involuntary departure of a little-liked right-wing ideologue, others lamented that federal politics had degenerated into a circus. With no prime minister allowed to finish a term in office since John Howard in 2007, there are fears this latest coup will turn the country into an international laughing-stock.
A former lawyer and merchant banker, Mr Turnbull was himself ousted as party leader by Mr Abbott in 2009, by just one vote.
Wealthy, smart and ambitious, he never hid the fact that he wanted to regain the leadership and become prime minister – and that he believed he deserved it. But he has played a clever waiting game, waiting for the right moment.
Mr Turnbull – who led the abortive campaign in 1999 to persuade Australians to renounce the Queen and vote for the country to become a republic – bided his time when the polls turned against Mr Abbott's government, after it handed down a deeply unpopular budget in May last year.
He declined to challenge Mr Abbott in February, believing he lacked enough support. But with leadership rumblings growing deafening in recent days, and the government facing a demoralising by-election result this weekend, he finally made his move, resigning as Communications Minister and launching a blistering attack on Mr Abbott's leadership style and political judgement.
He accused the Prime Minister of failing to provide "the economic leadership our nation needs", of not consulting his cabinet colleagues and of reducing policy to slogans – a reference to Mr Abbott's oft-repeated boasts that his government had "stopped the [asylum-seeker] boats" and "axed the [carbon] tax".
Crazy things Tony Abbott's said (mainly about women)

Show all 16
The two men could hardly be more different. Mr Turnbull is a passionate republican, Mr Abbott a dyed-in-the-wool monarchist. Mr Turnbull supports same-sex marriage; Mr Abbott, a committed Catholic who studied for the priesthood, is firmly opposed. Mr Turnbull wants robust action to counter climate change; Mr Abbott is barely convinced of the science.
In recent months, Mr Abbott – already languishing in the polls – had seen his ratings dive even further. In July, he unwisely defended the parliamentary Speaker, Bronwyn Bishop, a close friend, after it emerged she had chartered a helicopter, at taxpayers' expense, to attend a Liberal fundraising event. She was eventually forced to resign.
Last week, the Prime Minister was praised for agreeing to resettle an extra 12,000 Syrian refugees. But only days later, he committed the latest of his many gaffes, joking with the Immigration Minister, Peter Dutton, about the plight of low-lying Pacific island nations – not realising that a television camera was picking up their conversation.
Julie Bishop, regarded as another prime ministerial hopeful, publicly switched allegiance to Mr Turnbull, and was re-elected as deputy leader, beating an Abbott loyalist, Defence Minister Kevin Andrews, by 70 votes to 30.
The pair will not have a smooth ride. Nearly half of Liberal MPs wanted Mr Abbott to stay on, and the party's conservative wing will be gnashing its teeth.
Then there is the rural-based National Party, the Liberals' coalition partner in government. Its deputy leader, Barnaby Joyce, warned that the agreement between the two parties would need to be renegotiated.
And with the next election due by next August, and backbenchers in marginal seats worried about their jobs, Mr Turnbull faces intense pressure to revive the government's fortunes, and quickly. He has already pledged to stick with Australia's recently announced carbon emission reduction target, which many consider unambitious.
If he fails to turn around the polls, he himself could be under threat. After all, once you've dumped three prime ministers in five years, it can become a habit.
Register for free to continue reading
Registration is a free and easy way to support our truly independent journalism
By registering, you will also enjoy limited access to Premium articles, exclusive newsletters, commenting, and virtual events with our leading journalists
Already have an account? sign in
Register for free to continue reading
Registration is a free and easy way to support our truly independent journalism
By registering, you will also enjoy limited access to Premium articles, exclusive newsletters, commenting, and virtual events with our leading journalists
Already have an account? sign in
Join our new commenting forum
Join thought-provoking conversations, follow other Independent readers and see their replies