Australia's 10-tonne Big Mango 'seized in overnight heist'
Thieves made off with the three-storey tourist attraction - but there are suggestions the robbery was a publicity stunt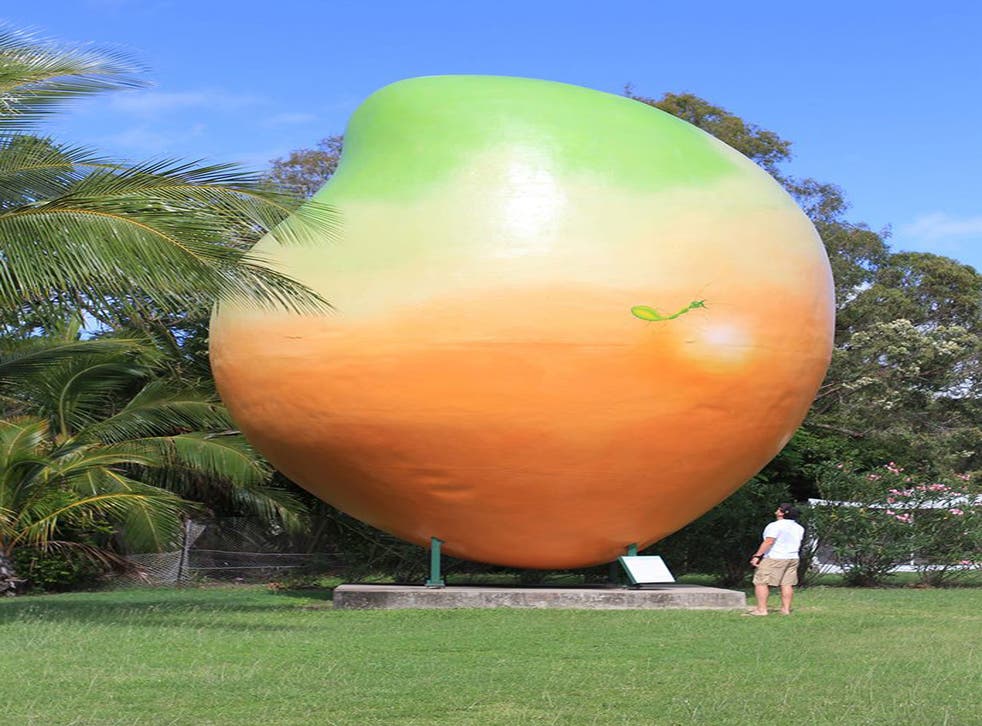 As thefts go, it was rather an unusual one – thieves made off with a 10 metre high, 10 tonne mango replica from a town in northern Queensland, Australia.
The Big Mango is a nod to the thriving fruit industry in Bowen and is one of 150 Big Things erected as tourist attractions across the country.
CCTV footage appears to have captured the robbery during the early hours of Monday morning.
A crane was used to rip the three-storey giant fruit from the concrete platform on which it had stood since 2002.
The Big Mango was nowhere to be seen when staff showed up for work on Monday morning.
But Bowen Tourism chairman, Paul McLaughlin, told Sky News that he was optimistic about the mango being recovered.
"At the end of the day it's a bloody big mango and I'm sure someone will see it and we'll find it anyway," he said.
"I think it'll definitely turn up, no doubt about that. We're not sure what has happened but I'm sure we'll get it back."
However, there are suggestions that the theft is actually part of an elaborate marketing stunt.
And police have received no reports of the robbery, according to Guardian Australia.
In the aftermath of the theft, a Facebook page called Bowen's Big Mango was set up and a press release detailing the incident was posted soon after.
A number of Facebook users expressed their suspicion that the disappearance was a set up. Geniene Prater said: "Hahaha I can't help but think this is a stunt, but OMG what a ripper of one."
But Megan Jane Milosevich was more critical. "If this is a joke Bowen's community will never trust our council, mayor, or whoever is involved for whatever reason - publicity or not," she said.
"It's pretty stupid to not let the town know what is happening – and if it is stolen I hope the idiots return it."
North Sydney advertising agency, Banjo Advertising, told Guardian Australia that they were helping with the media blitz to locate the missing mango, but could not categorically deny it was a marketing stunt.
The Bowen tourist centre said it was reviewing security footage in the hope of tracing the mango.
The $90,000, fibreglass structure was erected as a celebration of Bowen's claim to be the mango producing capital of Australia.
Register for free to continue reading
Registration is a free and easy way to support our truly independent journalism
By registering, you will also enjoy limited access to Premium articles, exclusive newsletters, commenting, and virtual events with our leading journalists
Already have an account? sign in
Register for free to continue reading
Registration is a free and easy way to support our truly independent journalism
By registering, you will also enjoy limited access to Premium articles, exclusive newsletters, commenting, and virtual events with our leading journalists
Already have an account? sign in
Join our new commenting forum
Join thought-provoking conversations, follow other Independent readers and see their replies