New Zealand becomes first country to fully ban controversial vaginal mesh procedures
Updated guidelines due this week are also expected to recommend UK ban
Harriet Marsden
Tuesday 12 December 2017 18:36 Comments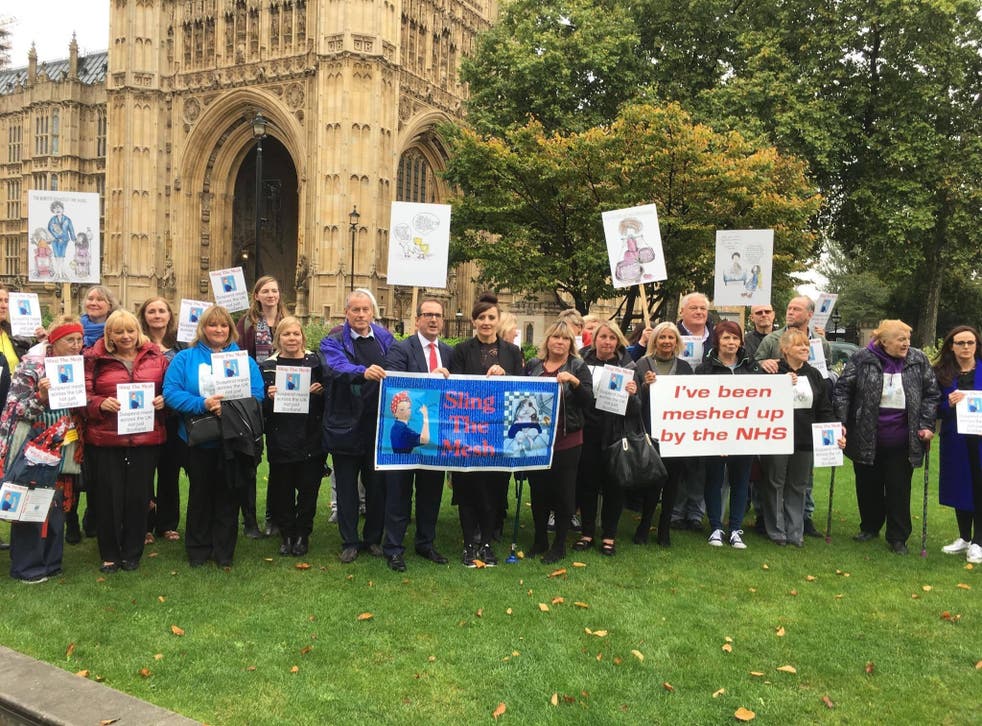 New Zealand has become the first major country in the world to ban all vaginal mesh procedures, which have been called "the biggest health scandal since thalidomide".
The New Zealand Medicines and Medical Devices Safety Authority (Medsafe) declared it would remove from supply and limit the use of surgical mesh products.
According to its statement, most suppliers in New Zealand have indicated that by January 2018, medical companies will "be taking the same steps to limit supply as they are in Australia".
It comes just two weeks after the death of Chrissy Brajcic, a prominent anti-mesh campaigner who developed an antibiotic resistant infection due to mesh complications, which led to sepsis.
It also follows the decision by the Australian Therapeutic Goods Administration (TGA) to ban single-incision minislings and transvaginal mesh implants specifically for treating pelvic organ prolapse.
In contrast, the health minister of New Zealand, Julie-Anne Genter, told companies they are not permitted to supply surgical mesh for any pelvic operations – including both urinary incontinence and prolapse.
Ms Genter said: "This is an important step to preventing more women from being put in the potentially harmful situation too many New Zealand women have already experienced."
Surgical mesh will still be available for other conditions, such as hernias. Such treatments have also courted controversy.
Kath Sansom, founder of campaign group Sling the Mesh, told The Independent: "We are thrilled that New Zealand is leading the way in stopping the devastation caused to women by pelvic mesh implants.
"Full credit must go to campaigners Carmel Berry and Charlotte Korte, who have successfully made political leaders realise the serious harm caused by these devices.
"For some women, problems do not cut in until years later – which means the mesh is merely a ticking time bomb with an unknown future for all those who have it."
She added: "It is now time for Westminster and governments globally to do the right thing and ban all pelvic mesh. It is a huge injustice to women whose lives have been shattered for two decades, in this profit-before-patient safety, money-making tragedy."
In October, Ms Sansom and Labour MP Emma Hardy took a cross-party campaign to Westminster to push for a suspension and full inquiry into the scandal.
However, minister for care and mental health Jackie Doyle-Price maintained that the risks were associated with clinical practice, not the mesh implants themselves, and ruled out a suspension or inquiry.
Cross-party call to end mesh procedure ends in disappointment
The Urological Society of Australia and New Zealand (USANZ) has condemned the decision, saying it left women in New Zealand without options.
A spokesperson said: "The Australian TGA decision to ban transvaginal mesh for pelvic organ prolapse is accepted by the urological community in Australia and New Zealand, but our health minister's decision to ban all forms of mesh for incontinence as well as prolapse in women in New Zealand is more far-reaching than the Australian decision.
"This will leave women without effective surgical options for these debilitating conditions."
One of the products specifically targeted by the New Zealand ban is the Johnson & Johnson "Gynecare TVT" device.
A BBC Panorama documentary on the vaginal mesh scandal, "The Operation that Ruined my Life", revealed that the Gynecare TVT was only trialled on 31 women – and some sheep.
It also discovered that Ethicon, a wholly-owned subsidiary of Johnson & Johnson, failed to update doctors with the full extent of risks associated with the device.
There has been significant backlash to the suggestion in the documentary that only a minority of the women implanted with a mesh device experienced chronic and debilitating side effects.
Based on the available data and testimony from device experts, gynaecologists and policy organisations including the Food and Drug Administration, the US regulatory body, the risks of such effects are estimated between 10 and 40 per cent.
Labour MP Owen Smith, chair of the All-Party Parliamentary Group on surgical mesh implants, said one in 10 women suffering due to the implants was not "a minority issue".
On Friday, the National Institute for Health and Care Excellence (Nice) will publish updated guidelines on the procedures. They are expected to recommend a full ban on vaginal mesh.
Register for free to continue reading
Registration is a free and easy way to support our truly independent journalism
By registering, you will also enjoy limited access to Premium articles, exclusive newsletters, commenting, and virtual events with our leading journalists
Already have an account? sign in
Join our new commenting forum
Join thought-provoking conversations, follow other Independent readers and see their replies