Video captures the rescue of skydiving student after seizure at 9,000ft
Australian man later regained consciousness and was able to land safely
Rose Troup Buchanan
Monday 02 March 2015 12:15 Comments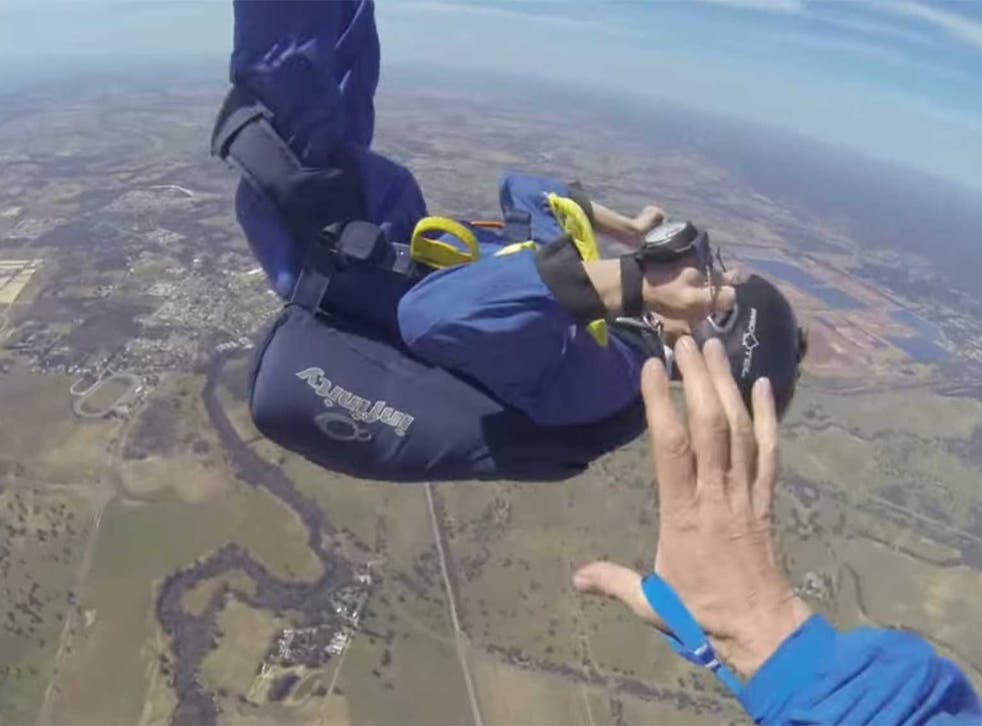 A video has captured the amazing moment an Australian skydiving student was saved by his instructor after suffering a seizure and blacking out 9,000ft from the ground.
Christopher Jones, 22, from Perth suburb Coolbinia, was halfway through completing a skydiving course last year when his instructor Sheldon McFarlane was forced to intervene during a routine dive.
Mr McFarlane's helmet-mounted camera recorded what happened next.
Mr Jones can be seen happily jumping out of the plane and freefalling in the expected position before he is seen spinning out of control.
Mr McFarlane, falling next to him, quickly realises this isn't a case of inexperience when he manages to get closer to his student. In mid-fall Mr Jones's body can be seen contorting as he tumbles out of control - and further away from his instructor.
Reacting calmly, Mr McFarlane's camera records the moment the instructor chases down his young student and pulls his rip cord, opening his parachute at 4,000ft.
Mr Jones regained consciousness at approximately 3,000ft after spending 30 seconds unconscious and falling 5,000ft unaided. He was later able to land safely in the designated zone.
On the YouTube video, which has been viewed more than three million times, he wrote: "Possibly the scariest moment of my life."
Mr Jones, who has been travelling for the past year, has not skydived since the fall and was taken aback by the media attention.
"It's a bit overwhelming, I didn't expect anything like this," he told ABC.
Although Mr Jones, who harboured ambitions of becoming a pilot, made clear he had epilepsy he was cleared to fly by his doctor as he had been seizure free for four years.
Mr McFarlane told ABC that the footage probably looked more dramatic than it was as Mr Jones had two AADs (automatic activation devices), monitoring the height and velocity of the individual, and would have automatically opened his parachute had he continued falling.
"It was fine. We don't do it all day every day, but part of our training is to look after students," his instructor told the Guardian Australia.
Even so, he admitted he had "never seen anything like this before," and described the experience as "pretty out there".
Register for free to continue reading
Registration is a free and easy way to support our truly independent journalism
By registering, you will also enjoy limited access to Premium articles, exclusive newsletters, commenting, and virtual events with our leading journalists
Already have an account? sign in
Join our new commenting forum
Join thought-provoking conversations, follow other Independent readers and see their replies