'Watermelon boy': Australian boy becomes viral hit after attempting to eat entire watermelon at cricket match
Mitchell Schibeci said he'd seen people do 'weird stuff' to get on the big screen and thought he'd try his own stunt 
Loulla-Mae Eleftheriou-Smith
Monday 04 January 2016 12:08 Comments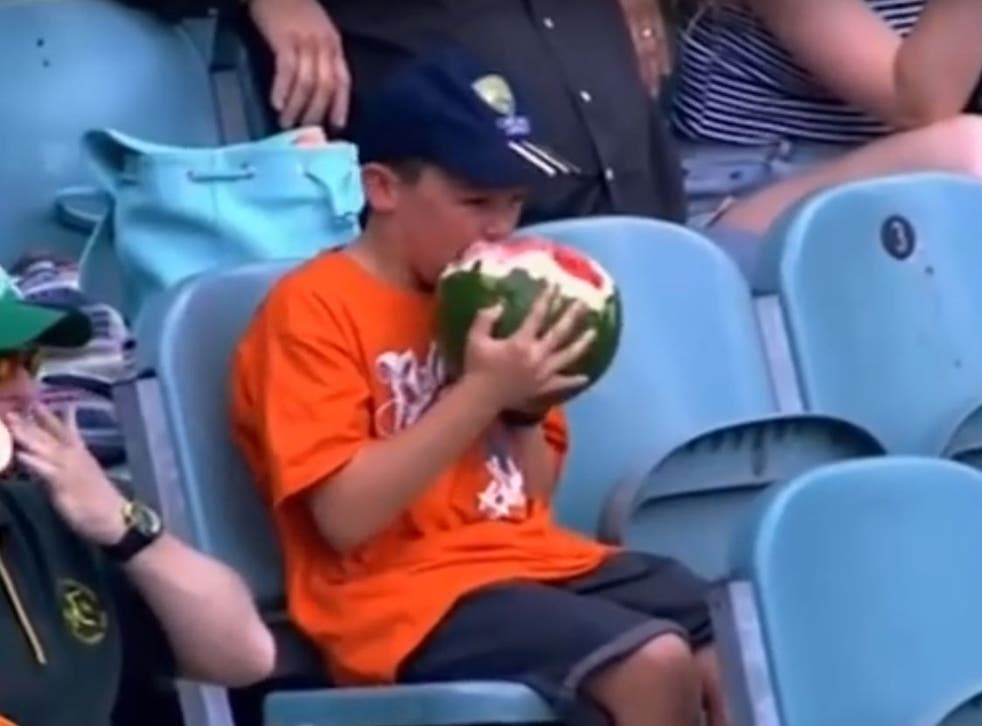 An Australian boy has shot to fame after being caught eating the best part of a whole watermelon – including the skin – at a cricket match, earning himself the name 'Watermelon boy'.
Mitchell Schibeci was spotted eating the watermelon by commentators at the Melbourne Cricket Ground on Saturday during the Women's Big Bash match.
He was nearly halfway through the watermelon when he appeared on the cricket ground's big screen and was seen biting off a huge chunk of the fruit's rind.
"I've never seen that before in my life," one of the commentators said as the camera focused on Mitchell, with another asking: "Is he eating the skin?"
Ten-year-old Mitchell quickly became an internet sensation as the hashtag #watermelonboy began trending on Twitter in Australia, and he was invited onto Australian news programmes to share his story.
Mitchell told the BBC he has been eating watermelon rind since the age of two: "I've been doing it for a long time – I just like the taste of it," he said.
But despite his penchant for eating the fruit's skin, when Mitchell appeared on Channel 9's Today programme he admitted to deciding to eat the watermelon in such a remarkable way in order to get noticed.
He told the show: "I've seen people do weird stuff and they got on the big screen so I thought I might do it myself."
Father Tony Schibeci said Mitchell was handling his new-found fame well: "He's really level headed about it and he knows it's not something that's going to propel him into stardom or anything, he's just taking it as his 15 minutes of fame," he told the Courier Mail.
Register for free to continue reading
Registration is a free and easy way to support our truly independent journalism
By registering, you will also enjoy limited access to Premium articles, exclusive newsletters, commenting, and virtual events with our leading journalists
Already have an account? sign in
Join our new commenting forum
Join thought-provoking conversations, follow other Independent readers and see their replies